EMO Hannover, one of the biggest trade fairs for production technology, will take place in September. Ahead of the event, AMS looks at what future insights the OEMs and tier-1 suppliers in attendance can expect to find.
Sustainability, connectivity and automation are prominent factors in manufacturing's race to digitalise the industry. But connecting machines to the Internet of Things (IoT) in a sustainable way brings its own challenges.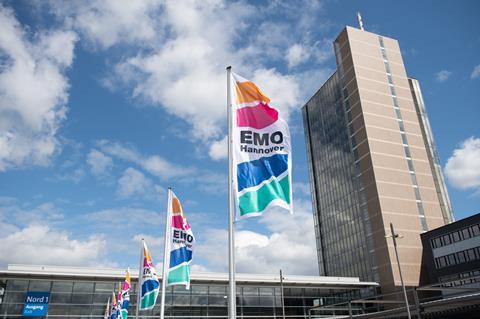 Dr. Wilfried Schäfer, executive director of the German Machine Tool Builders Association (VDW), told AMS that these challenges will be a point of prominent discussion in the upcoming EOM Hannover event, taking place between September 18-23rd.
One such challenge is in ensuring customer and company data is secured when connecting the automotive production process to the IoT and beyond. "Cybersecurity is a topic we heavily discuss with our members, because there are different perspectives on this," Schäfer told AMS at the EMO Hannover press conference this week. "This is because OT (Operational Technology) security is not the same as IT (Information Technology) security."
While connectivity is an inherent trait of IT systems, OT systems such as machines, equipment, industrial controls and production monitoring tend to be less connected.
"We have been setting up guidelines for our members on OT security, and we are going to set up a working group to continually discuss this with our companies about how this should be handled and where they use it," said Schäfer.
Schäfer said this is particularly a problem in small and medium-sized companies. "It's a real challenge for them to invest in this direction and to build up staff," he said. "The staff are not available because the Googles and the Microsofts of the world pull everybody from the market. But that's who are needed to create data-driven solutions to the customer."
Recruitment and retention can help combat this problem, as well as making the wider public more aware about the industry's need for highly skilled workers. Schäfer said hosting 'hackathons', coding events that bring programmers together to work on a software system, are a way to get people engaged. "We just recently had our second hackathon with 20 participating staff members from companies in our community who had the task to connect brownfield machines to IT platforms," he said. "It's creative and intensive and I think that's the way forward to get people involved."
But cybersecurity and staff shortages are not the only problem with connectivity. With so many different machines and software systems, data can be siloed within a factory, and the messaging infrastructure can have trouble communicating.
"In a lot of cases the problem is that [the solution] is proprietary. For example, you have to connect Siemens-controlled machines to Siemens platforms," he said. "So, the problem for the customer is that there are historical and new investments in varied technologies, and not every producer of machines delivers the same controller environment. We need open and standardised communication to offer the customer solutions out of the data in a secure environment."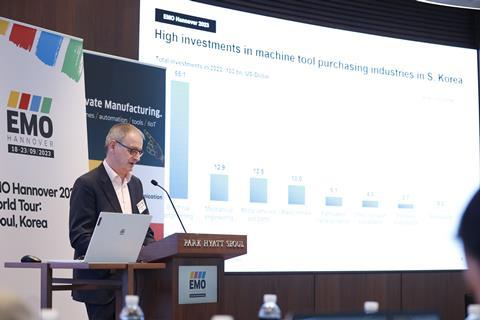 He said that VDW is leaning towards MQTT; a standard form of IoT communication. "It's kind of like a plug and play," he said. "Once you have the specification on your machine, it takes 20 minutes to connect and it's ready. I think it is a very important next step forward."
Sustainability is also on the agenda at Hannover. "It's not just about energy, it's about waste heat recovery, material efficiency, minimisation of water use, of coolants, packaging and beyond," Schäfer said. The digital lifecycle for the circular economy and producing tools from carbide scrap are also areas of interest for the industry, as well as the recent boom in EVs.
Recently, Jaguar Land Rover announced it is updating its own software systems. JLR will further enhance its operations with the integration of SAP S/4Hana across facilities in the UK. The cloud-based ERP will replace legacy systems with new tools such as data analytics and digital twin capabilities. The company, which recently spoke to AMS about the transition, aims to integrate key facilities including its Halewood plant this year and Solihull by 2024.
Circular economy principles have also been adopted by JLR in its Real Car collaboration. The initial phase of the partnership has involved using a specially developed, high-strength aluminium alloy made from recycled scrap aluminium in the body structure of its XE model.
Similarly, Renault is transforming its factory in Flins, France to focus solely on the circular economy. Over the next two years, the plant will end new vehicle assembly, moving to reusing and reconditioning parts instead.
The EMO event takes place from September 18th at Hannover.
Main suppliers at EMO Hannover 2023:
| Supplier base | Number of exhibitors |
| --- | --- |
| Germany | 524 |
| China | 200 |
| Italy | 187 |
| Taiwan | 142 |
| Switzerland | 93 |
| Japan | 67 |
| USA | 59 |
| Turkey | 54 |
| Spain | 52 |
| South Korea | 52 |