The Automatica exhibition 2023 focused on smart automation and robotics, with 650 exhibitors and 40,000 attendees from 88 countries. AMS speaks to leading experts who were there on the main takeaways from the show.
Balancing automation and digitisation: people, robots and 'cobots'
With the rapid development of automation and new digital solutions to recently analogue manufacturing processes, questions concerning the correct balance between human and machine manufacturing operations were headlining again.
Goetz Stefan Fuchslocher, head of print production at AMS sister titles Automobil Produktion and automotiveIT, reflected on the press conferences held at Automatica by automation experts ABB Robotics and Staubli, and moderated a panel with ABB on developing skills as robotics and AI advance. "A key question is how far automation and digitisation should actually go," he says. "The robot manufacturers and outfitters are emphasising that 'automation at any price', cannot be the objective." This presents a conundrum for automotive manufacturing, since, according to Marina Bill, President of the International Federation of Robotics: "The automotive industry effectively invented automated manufacturing."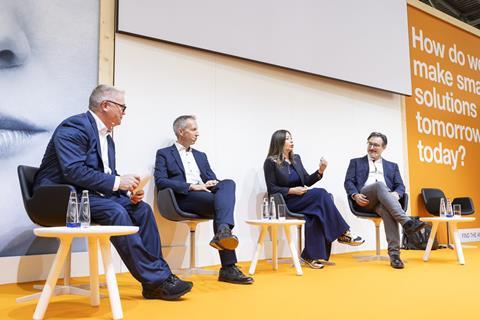 Fuchslocher says that tempering automation was a central issue dominating the talks, including how machines can best work with with those on the shopfloor. For example, automotive companies are increasingly using inexpensive and uncomplicated cobots (collaborative robots) that will augment human production processes, rather than replacing them. Industry leaders accept some level of automation as necessary, but there is an increasing voice that it shouldn't be at the expense of human labour forces. Of course, if it is the market that decides, this can be a problematic balance to achieve. Fuchslocher emphasised that this cobot offering has increased significantly in this area, and he wasn't alone in this view. But far from being a passing fad, robotic (and cobotic) automation is a mainstay of automotive manufacturing and is now finally spilling over into many other industries. This is likely to have a rippling effect across multi-tier suppliers, which will in turn, feedback directly into OEMs and automotive manufacturing processes.
"Automotive production now includes processes which are new to many car manufacturers and their suppliers, and also to many systems suppliers for automating car production." - Lionel Schaal, Global Automotive Market Leader, Robotics Division, Stäubli Tech-systems
Joerg Reger, Managing Director of ABB robotics, recognises that car manufacturers are already highly automated and digitised by their very nature: "The supplier industry is also catching up strongly," he says. "However, there is no general answer to the question of the degree of automation, as this always depends on the existing conditions. It also doesn't always make sense to automate everything down to the very last process step. This is where collaborative robots, so-called cobots, offer a good opportunity for cooperation between the employee and the machine."
Andreas Arnold, Communications Business Partner and Automotive at ABB Robotics and Discrete Automation, sees an untrammelled increase in robotics across automation and several industries: "Automation, especially robot-based industrial automation, is clearly on the rise. Robots are becoming like the new laptops of the work environment." He says that there are thousands of companies offering collaborative robots, "including many new companies that I have never heard of. Even start-up companies from China were exhibiting." Both from the OEM side and the supplier side – demand is rising – and the competition for these offerings is very high. Arnold adds: "Probably about half of these new companies won't exist in the next 5 years, but the other half are likely to be successful. Still, one thing's for sure, automation – and especially robotics automation – is booming."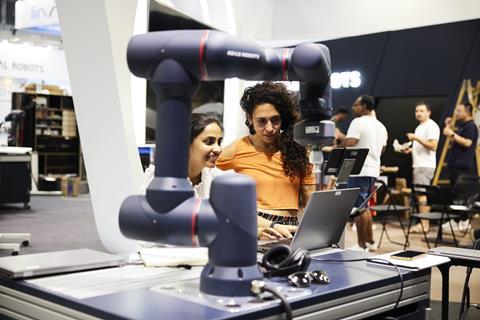 Lionel Schaal, Global Automotive Market Leader, Robotics Division, Stäubli Tech-systems, is in agreement with these ramifying industry trends. He says: "With transformation or even disruptions in the automotive industry, this is fertile ground for new applications with robots." And even though the automotive industry "effectively invented automated manufacturing," it is still ripe and receptive to transformation through technological change; quickly assimilating technologies to supercharge its processes across the entire production chain.
"Equipment suppliers are seeing numerous gigafactories coming that will accelerate the growth in automation." - Goetz Stefan Fuchslocher, head of print production at Automobil Produktion, AutomotiveIT
Acknowledging this, Schaal says: "Automotive production now includes processes which are new to many car manufacturers and their suppliers, and also to many systems suppliers for automating car production."
Electromobility and battery technology
This snowballing of varying degrees of automation throughout automotive manufacturing is increasingly palpable, and it's sweeping the industry in many forms, and across diverse processes. For Schaal, the form it's increasingly taking in automotive manufacturing is specifically in electromobility and battery technology.
Schaal says: "The tremendous change in the automotive industry, abbreviated with the acronym CASE (Connectivity, Autonomy, Sharing, Electromobility) will have an equally tremendous impact on automotive manufacturing. In terms of automation, the focus is on electromobility." But even this division is host to many subdivisions. For automotive production, there are endless ways that automation can be leveraged in electromobility, from body shop and paint, through inspection and testing. Interestingly, Schaal feels there is a broad interest in vehicle production-related automation towards diminishing unknowns and playing a part in manufacturing risk mitigation. Probably, lessons learnt from disruptions.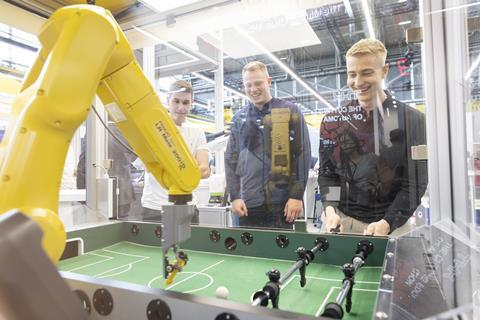 He says: "When batteries or fuel cells are produced, there are new processes which have to be automated – processes that until now are unknown to the car manufacturers and their suppliers. These themes have to be addressed, and many visitors at Automatica were looking for appropriate automation solutions." In terms of automating for these unknowns, Fuchslocher says: "An important theme that keeps coming up is around how the equipment supply industry in particular, can provide OEMs and suppliers with useful tools that they can use to master the tasks ahead."
Another central industry theme is the convergence of automation and electrification. Fuchslocher adds: "What stood out in conversations with equipment suppliers was the fact that they see numerous gigafactories coming that will accelerate the growth in automation. For example, Comau sees a 10% increase in automation by 2030. "Electromobility is a clear driver in the automotive industry. But classic topics such as assembly and body construction also rely on more automated solutions." An example of this convergence is megacasting (see Tesla and Volvo), which ABB in particular sees as an upcoming topic.
The future of automation for automotive: AI, machine vision and growth
The future of automotive production is promising, with fast-developing technologies and the industry quickly integrating them into their processes where possible and necessary.
Schaal says: "Automation will conquer new applications in automotive production. There will be new manufacturers, new technologies and new products. These are interesting times for automation specialists." Reger adds: "There are always new technologies coming along in automation, too, which will make it possible to automate production processes tomorrow where this is not yet possible today. In recent years, we have seen strong progress in vision technology, for example. AI and machine learning are new additions."
Machine vision is, of course, already a major aspect of automotive manufacturing, actively carrying out visual inspections, detecting defects, recognising different parts and ensuring product and process quality. It also enables automated assembly by mechanising repetitive processes and effectively reducing the potential for human error. With the added sophistication of machine learning, the technology holds a lot of potential for automotive production processes and the industry as a whole.
Arnold agrees, concluding: "In the automotive industry, there will be innovations coming in a very fast cadence. We already see this right now, but AI, for example, is still at the beginning. Everyone is playing with it and has it in their portfolio. We are seeing the integration of AI machine vision where images are analysed, through which decisions are made fully-automatically. And I predict that there will be an avalanche in these applications and products in the next few years."