Tesla's Cybertruck marks a pivotal milestone as it enters production at Giga Texas, while its latest financial report shows huge progress in production after years of manufacturing challenges and delays.
After four years of delay, Tesla has achieved a significant milestone by starting production of its highly anticipated Cybertruck, which is manufactured at its new plant near Austin, Texas, known as Giga Texas. The long-awaited debut comes as Tesla announced record production numbers in the second quarter of 2023, and plans to ramp up production further by the end of the year.
The production launch of the Cybertruck at Giga Texas marks a significant step for Tesla, reflecting the company's ability to navigate and address manufacturing challenges and delays. Its second quarter earnings report also shows its vehicle and battery production volumes growing at a fast pace. The Cybertruck's launch will give Tesla an EV entrant in one of the most profitable segments of the US market and will compete against electric pickups from the likes of Ford and Rivian. Initially unveiled by Tesla CEO Elon Musk in 2019, the Cybertruck's production faced several delays for reasons including component sourcing challenges.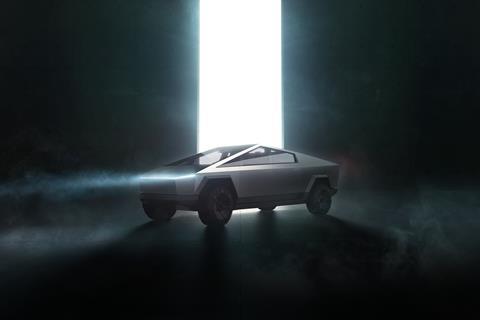 Originally slated for production and delivery in 2021, Tesla had to revise the timeline multiple times. Elon Musk, during Tesla's first-quarter 2023 earnings call, pledged to hold a delivery event for the Cybertruck towards the end of Q3. Musk expressed optimism about the Cybertruck's production potential, stating that once in full swing, Tesla could deliver between 250,000 to 500,000 units per year. Mass production is anticipated to begin by the end of 2023.
While Tesla has attributed delays to typical supply chain issues, leaked documents have indicated underlying design and engineering problems. In January 2022, a whistleblower leaked 100GB of files to German outlet Handelsblatt, revealing braking, powertrain, suspension, sealing and structural issues with pre-production prototypes.
However, despite these challenges, over 1.5m reservations had been placed for the Cybertruck as of November 2022, demonstrating strong consumer interest, which will require a ramping of production to meet customer demand.
Tesla's Q2 2023 financial report: insights into manufacturing and more
Tesla's second quarter financial update also demonstrated further progress in manufacturing volumes, and details of the Cybertruck ramp up.
During the second quarter of 2023, Tesla achieved significant milestones, setting records with its best-ever production and delivery numbers, and generating revenue of nearly $25 billion in a single quarter. In terms of operations, Tesla announced that the Texas Gigafactory's tooling had progressed as planned, currently producing 'RC4' builds (release candidate, pre-series production models for testing and validation).
At Giga Texas, where the company has ramped-up production of the Model Y, Tesla is installing equipment for Cybertruck production, which the report confirms is on track for initial deliveries later this year.
In the electric battery realm, meanwhile, substantial advancements have been made in yield improvement for the 4680 cell production lines and Tesla is diligently building capacity for cathode production and lithium refining in the United States.
The OEM has said it is conducting global testing of the Cybertruck to finalise the model's certification and validation, and almost in answer to the criticisms associated with the Cybertruck's delay, Tesla said the model represents an unprecedented vehicle product, "incorporating innovative technologies that require extensive testing and refinement."
The fiscal report reiterated that Tesla remains steadfast in its commitment to begin full production of the Cybertruck later this year at Gigafactory Texas. Concurrently, the company is making notable progress towards the production of its next-generation platform.
With the Cybertruck, Tesla is poised to enter yet another lucrative segment in the US electric vehicle market. However, the model could face serious competition from other electric pickups like Ford's F-150 Lightning, already available at around $60,000 and upcoming models such as the Chevrolet Silverado EV and Rivian R1T. Ford is currently expandings its factory in Dearborn, Michigan to treble production capacity for the F-150 Lightning.