Lucid Group has announced the opening of its new Advanced Manufacturing Plant (AMP-1) and Lucid Powertrain Manufacturing plants in Arizona at the US startup's Production Preview Week.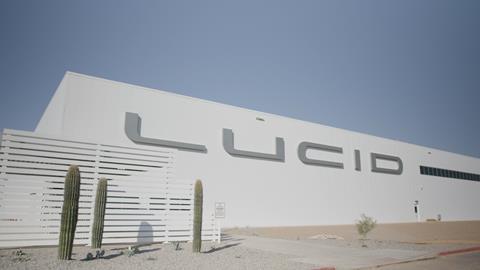 The electric vehicle manufacturer confirmed that it has completed the construction of the AMP-1 factory, located at a 590-acre (240 hectare) site in Casa Grande, Arizona, in under a year. It is the first vehicle production facility in Arizona.
The AMP-1 is also the first greenfield, dedicated electric vehicle factory to be built in North America and a massive expansion of the facility is already in the works. Tesla's Fremont, California factory was originally a General Motors and Toyota plant.
Lucid is building the Arizona factory in phases, with initial vehicle production capacity of 34,000 vehicles. Expansion plans will add an extra 2.85m square feet (265,000 sq.m) to support a ramping up of Air luxury fully-electric sedan production as well as the brand's first SUV, Gravity, expected to begin in 2023. At that stage, Lucid expects annual production capacity to reach 400,000 units.
The start of production of the Lucid Air was originally expected in spring this year but was delayed as a result of the coronavirus pandemic.
The EV manufacturer also revealed that it will begin delivering Air luxury electric sedans in October, followed by less expensive models: Grand Touring, Touring and Air Pure.
Production begins as US-based vehicle manufacturers begin to ramp up manufacturing and investment in electric vehicles, some of which is redrawing and expanding the map of EV and battery production in the US. Earlier in October, Rivian started production of the first electric pickup truck at its plant in Normal, Illinois. This week, Ford announced a $11.7 billion investment in new battery and EV factories in Tennessee and Kentucky.
EV startup Canoo, meanwhile, will use Nedcar in the Netherlands for contract manufacturing in the short term, with plans to build a new EV factory in Oklahoma, which would also be a new state for automotive manufacturing.
US government regulators recently released the official range estimate for the Lucid Air Dream Edition Range, which is the longest range for any electric car rated by the EPA: 520 miles (837 km) on a single charge. This is 100 miles ahead of its closest rival, market leader Tesla's Model S.
The new Lucid model represents a significant challenge to Tesla, whose sales of premium models have begun to stagnate. The higher price range of the Air saw Lucid's shares jump by 23% this month.
Lucid has said it has received more than 13,000 reservations for Lucid Air models, and it has increased the planned total output of the Lucid Air Dream Edition to 520 vehicles.