The new plant will be dedicated to production of Kia's electric PBVs, with planned annual capacity of 150,000 units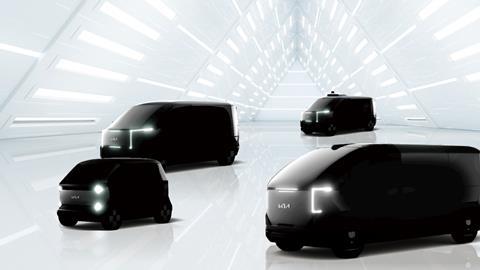 The new plant, located in Gyeonggi Province, South Korea, aims to mass produce battery electric PBVs in second half of 2025, and will feature flexible production technologies and be designed to minimise carbon emissions in the production operations.
Production will employ a cell-based approach, which Kia says will provide greater flexibility around vehicle customisation and improve efficiencies in materials and parts handling. The company adds that machine learning and artificial intelligence (AI) will be used to automate several processes, such as paint quality inspection under the vehicle, installation of parts such as glass, vehicle name, and company logo, and real-time automatic measurement quality data analysis to autonomously correct and install the vehicle body in real time.
Kia president and CEO Ho Sung Song, notes: "Hyundai Motor, Kia, and Hyundai MOBIS together plan to invest KRW 24 trillion (approximately US $18 billion) in the domestic electric vehicle industry by 2030, with the goal of making South Korea one of the top three players in the global EV market."
The company says it plans to show SW (project name), the first model in its dedicated PBV line-up, in 2025. The model will be a mid-sized PBV and will be based on the "eS" platform, a dedicated skateboard platform for battery electric PBVs, enabling various types of vehicle bodies to be flexibly combined.
After launching the mid-sized SW PBV, Kia plans to expand its product line-up to large-sized PBVs that can be used for logistics, fresh food delivery, multi-seat shuttles, and mobile offices.