Electric vehicle sales in North America have lagged other regions, but changing US policy and new technology is set to change that – as long as the region can develop a local lithium-ion battery value chain
As local EV production grows, it makes more sense to make lithium batteries local to the assembly plants, not least given the various quality and safety issues involved in transporting what is designated a dangerous good. But North America has a long way to go in developing the regional supply chain, according to analysis by Daniel Harrison, analyst at Automotive from Ultima Media.
Electric vehicle (EV) sales in North America made up just 2.8% of the market last year but are forecast to increase to 10% by 2025 and 20% by 2030, said Daniel Harrison, who was speaking at Automotive Logistics and Supply Chain Live North America. The penetration of electric vehicles in the US is lagging behind Europe and China, despite Tesla's best efforts, but it is slowly on the rise and a sympathetic Biden administration will likely boost it further. Local battery cell production is also ramping up slowly and providing opportunities for US manufacturers to take more control of the battery supply chain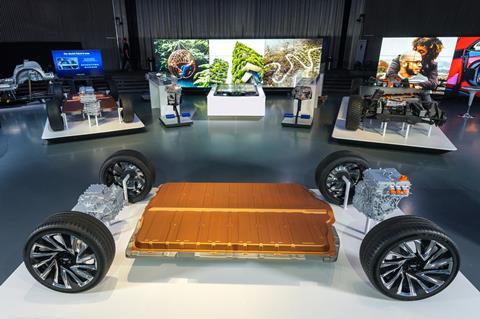 As local EV production grows, it makes more sense to make lithium batteries local to the assembly plants, not least given the various quality and safety issues involved in transporting what is designated a dangerous good. Accordingly, battery production in North America is set to grow from 44 GWh in 2020 (with most of that contributed by Tesla) to 280 GWh in 2030, though that will still only make up 10% of global battery output.
There are several steps to building a vehicle battery and for each of them there is currently a lot of dependence on Asia.
First there is the mining of the raw materials. Then there is the production of the anode and cathode – the poles of the battery. These are combined with an electrolyte and separators into a cell, and finally, cells are assembled into a battery pack with the associated battery management system.
Securing the minerals
Starting with the raw materials, very few of them are readily available in North America.
Harrison commented: "Tesla's comment at their recent battery day was very telling because they were starting to talk about the possibility of… capturing more of the upstream in terms of cathode production, but also lithium mining. I think that's somewhat questionable, but the fact that they're even looking at it and considering it is quite interesting."
Despite that, there is growing political awareness of the strategic importance for the economy of the minerals, as demonstrated by the Minerals Security Act, which recognises the national security element of raw materials like lithium cobalt manganese, and the Federal Consortium for Advanced Batteries, which is another government initiative to capture the high-value battery supply chain.
Anodes and cathodes are currently almost entirely sourced from China and Japan and Harrison reckoned it will be a big challenge to bring this production to North America, as it is very specialised work.
Cell growth
For cell manufacturing, there are much better prospects for growth, although it is likely to be dependent on joint ventures with suppliers that already have the expertise. Just five of the world's 100+ battery cell plants are in North America, and all of those are currently in the US. Most cell production comes from Tesla's gigafactory in Nevada, which represents 9% of global capacity.
With raw material mining and anode and cathode production largely out of reach for carmakers, cell production is an important sector to get into if they don't want to lose a large chunk of the EV value chain.
"The battery can be up to 30-40% of the value of the vehicle. Pre-electrification, of course, engines, gearboxes clutches would all be produced in-house largely speaking. So, the move to EVs is a risk to them," Harrison explained
One further element that should encourage carmakers in North America to produce their batteries locally is the USMCA free trade agreement that has recently come into effect. Its rules of origin require a minimum of local content and because of the high value of the batteries, the vehicles are likely to attract tariffs if the cells are not made locally.
Joint venture approach
The way to get the required expertise quickly, minimise some of the risk and allow faster ramp-up, is through joint ventures with established cell manufacturers such as Panasonic, LG Chem, CATL and SK innovation. Rather than working with one partner, carmakers are likely to hedge their bets and multisource, similar to Tesla, which started with just Panasonic but is now partnering with LG Chem as well, and with CATL for the Chinese market. This strategy is partly a result of different demands in different regions – Chinese customers require value above all, whereas European customers are willing to pay for a longer range.
Finally, battery pack assembly, which is crucial as the battery management system and software have a big impact on the actual performance of the battery, already tends to be more localised. That is so carmakers can keep tight control on quality and because of the difficulty of transporting a heavy battery pack that is also a potential fire hazard, over long distances.
The huge variety in suppliers and the control that carmakers want over the assembly process reinforces the notion that it is incorrect to consider batteries as a commodity.
"A commodity, literally, is defined as a something of a uniform quality and price," Harrison emphasised. "The reality of the battery technology is that there's huge variation – there are so many different types within lithium-ion," Harrison said, adding that the rate of development is a kind of arms race at the moment and stops batteries from being commoditised any time soon.
Ultimately, for North America to claim its share of the battery supply chain will require a combination of both consumers being persuaded of the benefits of EVs, as well as support from the government.
"The EU is actually legislating to essentially capture the battery supply chain for Europe," said Harrison. "I foresee a similar thing happening in North America because they can see the battery supply chain slipping away to Asia and Europe, unless [they] legislate to either subsidise or incentivise localisation of that battery supply chain. I see that there's a strong potential for growth there and in my forecast I see the US expanding its capacity around six fold over the next 10 years, so it's a huge growth rate."
All sessions from Automotive Logistics and Supply Chain North America Live can be viewed on demand here.