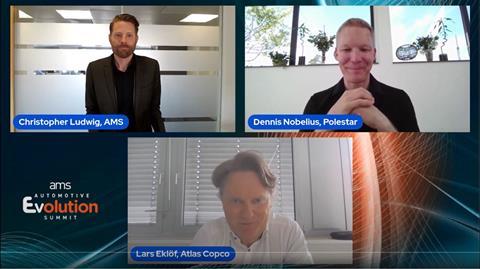 The pace of development and ramp up in electric vehicle and battery production requires OEMs, suppliers and technology partners to work together more closely to plan and co-create production processes. At Polestar, COO Dennis Nobelius anticipates that battery chemistries will change every two years, while the need to manage over-the-air updates will require new processes in software validation. The carmaker is also pushing its suppliers to meet its ambitions to not only offset emissions but to eliminate them from production and supply chains.
At supplier Atlas Copco, Lars Eklöf points to the importance of data process management and analysis, for example in battery cell and enclosure production.
In all cases, the power of partnerships is becoming evermore apparent in achieving EV manufacturing targets and sustainability goals.
Featuring
Dennis Nobelius, COO, Polestar
Lars Eklof, President, Motor Vehicle Industry Division, Atlas Copco
Hosted by Christopher Ludwig, editor-in-chief, AMS and Ultima Media

Download session slides

Watch more sessions from the AMS Automotive Evolution Summit on-demand

Sneak preview: the AMS Automotive Evolution Summit is coming in person to Munich! We will host a hybrid event this autumn at the SV Hochhaus in Munich. ZF's Arno Güllering and BMW's Dr Peter Weber will be among the keynote speakers at the event.

Interested in participating? Get in touch with our team:
Christopher Ludwig, editor-in-chief
Ahmo Saric, senior content producer
Download Slides