A new solar project aims to generate 70% of Toyota Motor Manufacturing Alabama's power requirements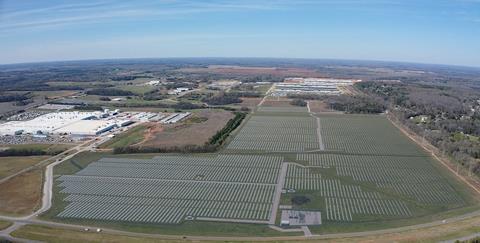 Huntsville Utilities, Toyota Alabama and Toyota Tsusho America, have announced a power purchase agreement (PPA) to support a 168-acre, $49m solar project. The 30-megawatt solar-generated system will be located in the North Huntsville Industrial Park, surrounding the Toyota engine plant, and is expected to generate 62,000 megawatt hours annually – reducing approximately 22,000 metric tons of CO2 emissions per year.
"Toyota is taking a transparent, science-based approach to address climate change," said Jason Puckett, president of Toyota Alabama. "By relying on the sun to power our operations, we will reduce our carbon footprint and create a model of environmental stewardship in North Alabama."
The company says the solar facility is scheduled to begin generating solar energy in summer of 2024.
The Alabama plant has been expanded six times since 2003 and represents a $1.5 billion investment. The plant currently supplies engines for the Tundra, Corolla Cross and Sienna models.