Audi is using artificial intelligence (AI) to improve its quality control in spot welds in car body construction.
The carmaker said the AI system can analyse around 1.5m resistance spot welds on 300 vehicles each shift at its Neckarsulm site in Germany, where Audi previously tested the technology. By the year end, Audi plans to install the same technology at three other Volkswagen group locations, with preparations having already begun.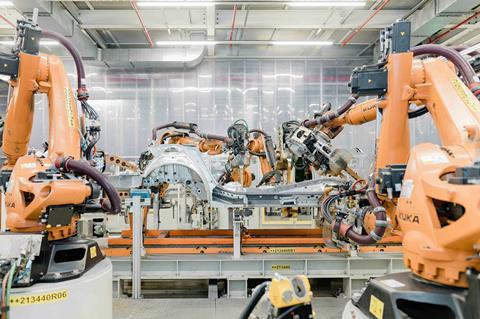 The installation of the technical infrastructure however requires time. At the moment, this is being done in Brussels, with Volkswagen's plant in Emden and Audi's headquarters in Ingolstadt also set to receive the infrastructure. To do this, a team of experts is needed to identify differences in weld settings in order to retrain the AI model.
Previously, Audi had used ultrasound to monitor the quality of the welding process based on random analyses, checking around 5,000 spot welds per vehicle. The use of AI will allow the carmaker to perform quality control more efficiently and in a more targeted way, with the data generated being used to optimise processes for the future and perform predictive maintenance.
Read more about the latest developments in Industry 4.0 featuring SEAT, Audi and more from AMS sister publication Automobil Produktion in this special edition for the Hannover Messe
"Digitalised assembly lines are a foundation for Audi's vision for the production of the future," said Gerd Walker, board member for Production and Logistics, Audi. "As part of our 360 factory production strategy, we will make production at Audi locations worldwide even more efficient. In this regard, the use of AI in series production promises huge potential."
AI is being used more frequently in manufacturing, with the likes of BMW using AI and data analytics to develop better preventative measures against airborne dusty in the paintshop.
Mathias Mayer, an AI implementation specialist at Audi's Neckarsulm site, previously spoke to AMS about the benefits of AI and how it was working across the carmaker's test sites.