As the automotive industry rapidly electrifies, powertrain suppliers have to adapt, but Illya Verpraet finds out that ZF is on board with the transition, enjoying more freedom in both engineering and manufacturing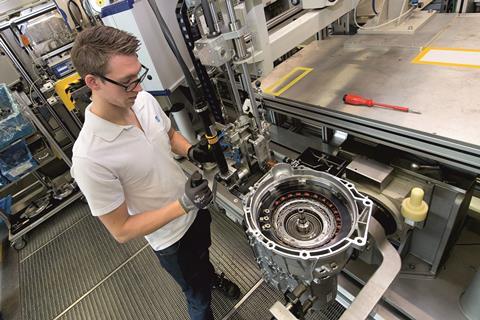 ZF is very well known for its automatic transmissions, and while those have become far from obsolete as ICE vehicles and their hybrid derivatives remain dominant, the firm is not waiting around to be consigned to history. It has been building competence and a range of products for electrified drivetrains and is branching out into technology for autonomous driving, among other things. Last year, it even announced it would no longer invest in transmissions exclusively designed for ICE vehicles.
That shift is requiring investment in new competences, facilities and sustainability, while relationships with OEMs and upstream suppliers are changing. Meanwhile, there is also a pandemic on.
New relationships
"You definitely see the behaviour changing," says Arno Güllering, ZF's senior vice president operations – division electrified powertrain technology. "The OEMs are looking much more for complete systems. That gives us the benefit of being able to balance development capacities and efforts, and industrialization of complete systems is not on the side of the OEM anymore."
Overall, this arrangement suits ZF, as it leads to a tendency for strategic partnering and ultimately results in a better product, as efficiency and quality become the primary driver, rather than just a price war.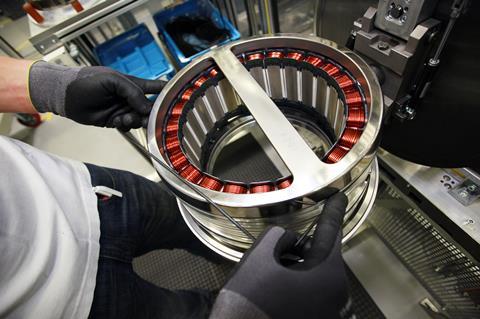 OEMs looking for complete turn-key drivetrain assemblies moves the system responsibility to the supplier and Güllering sees that as a win-win in both product development and manufacturing: "it's also a cost saving for the OEMs, as they do not need to invest in the manufacturing area. It gives us more freedom to develop both in the area of manufacturing, but also in product engineering."
The same change is also reflected upstream, with ZF looking for more added value from its own suppliers too. As well as system knowledge, clear sustainability goals become increasingly important throughout the supply chain. ZF is aiming to become climate neutral by 2040, both as far as its own production and energy use is concerned, but also those of its suppliers.
"We strongly believe that sustainability – and we hear this from our most important customers – is really a USP for the future … and it will be a decision point [when it comes to choosing suppliers], next to the quality and innovation of your product," he explains, adding that it's only natural to transfer that philosophy to ZF's own supply base and look for suppliers that share the same values and targets, not just on environmental performance, but also when it comes to human rights.
"The OEMs are looking much more for complete systems. That gives us the benefit of being able to balance development capacities and efforts, and industrialization of complete systems is not on the side of the OEM anymore." – Arno Güllering, ZF
Watch Arno Güllering from ZF's electrified powertrain division in an exclusive panel with experts from Gestamp, ABB and Henkel focusing on how electrification is transformation production for tier suppliers on the AMS Livestream Hour March 31, 2021. Find out more here
Building up manufacturing
Güllering says that ZF's investments in multiple verticals of electrification have paid off, as the company is well-prepared with manufacturing capability in the familiar area of gearboxes, which retain their relevance as any NVH produced by gearing is especially noticeable in an otherwise silent EV, but also in electric power units and the dedicated electronics such as SMDs.
The drivetrain manufacturing, which comes as one unit incorporating both the motor and the gearing, builds on ZF's established experience as a transmission manufacturer, but to get going with electronics, it started by taking over an established electronics supplier. "In general, ZF is always looking into new acquisitions, to really speed things up," explains Güllering.
ZF started by setting up some dedicated plants for the electronics products, and is now in series production for 400V EV architectures and is ramping up production for 800V architectures. The latter are still uncommon today, with only the Porsche Taycan using 800V, but it is likely to become the standard for higher-end EVs such as the Audi's upcoming E-Tron GT sport saloon and the upcoming GM EVs. Kia/Hyundai also announced they are working on an 800V platform.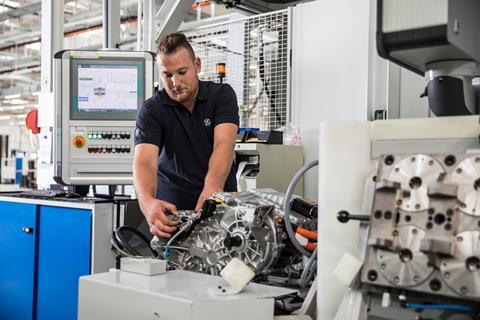 Despite the potential crossover between the manufacturing of traditional multi-speed gearboxes and of EV drivetrains, ZF is keeping them largely separate, although the expertise of the workforce will of course be an asset as EV drivetrains become dominant and plants switch to EV products.
What does transfer today is the experience with automation within the plants that assemble the drivetrains. The level of automation there is comparable to the assembly of transmissions for hybrids and ICE vehicles, but there is added complexity as the end-of-line testing incorporates more electrical and software testing than with conventional gearboxes.
With SMD assembly, further development is needed to reach the same level of automation, while innovations in the field of high-power PSMs (permanent-magnet synchronous motors) and so-called hairpin technology for motors will also require further development of manufacturing techniques.
Learn from the hard times
ZF's enthusiastic leap into electrification certainly hasn't been made easier by the coronavirus pandemic. Like the whole industry, it suffered a lot during April and June, when plants had to shut down completely. Güllering says that the third and fourth quarters of 2020 were a huge pressure test for both manufacturing and the supply chain, as operations had to be ramped up again rapidly when demand recovered more quickly than expected.
He reckons that what has been essential is 'high-cadence steering' of the division, with regular revisions of supplier rates and daily and weekly adjustments of what volume of material and components is coming in how much is going out. The current semiconductor chip shortage hasn't helped, although ZF hasn't been affected very much so far.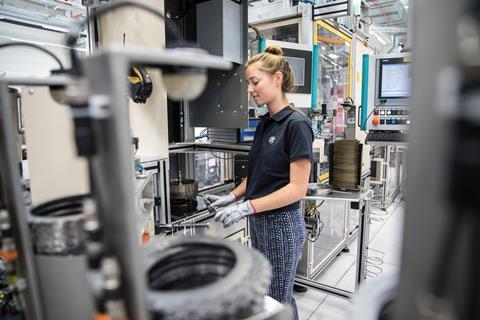 In addition to the ability to make rapid adjustments, the biggest adjustments have come from protecting the workforce by equalising shifts, installing partition walls, providing sanitiser, introducing schedules for the canteen and really enforcing home working for white collar staff. The latter has been a big change, but one that has worked amazingly well and has partly been enabled by remote working tools such as Microsoft Teams improving dramatically since the start of the pandemic.
"From my personal perspective, I hope that when Corona is gone, whenever that is, that we will not get back to these travelling excesses – the flying around the world which took place before," Güllering concludes. "I look forward to where, from a sustainability perspective, we can extrapolate a lot of the things we learnt in these hard times."
Images supplied by ZF Group
ZF'S ARNO GÜLLERING WILL BE SPEAKING ABOUT TRANSFORMING PRODUCTION FOR ELECTRIFICATION AT THE AMS AUTOMOTIVE EVOLUTION SUMMIT ON MAY 17-19, WHERE HE WILL BE JOINED BY EXPERTS FROM BMW, SCANIA, VOLVO CARS, GESTAMP AND OTHERS. REGISTER TO JOIN THE CONVERSATION