Both General Motors (GM) and Mercedes-Benz have signed agreements for the supply of green steel for the production of their vehicles.
GM has signed a deal with steel manufacturer ArcelorMittal North America for the supply of its XCarb recycled and renewably produced steel.
Shipments of the XCarb steel will begin this quarter, with the material supplied from Dofasco in Hamilton, Ontario.
The steel has significantly reduced CO2 emissions compared to other carbon steel available in North America, as it is made in an electric arc furnace and contains a minimum of 70% scrap.
"This agreement provides another example of how we are innovating with our suppliers to reduce emissions throughout the supply chain," said Jeff Morrison, vice president of Global Purchasing and Supply Chain, GM. "It also highlights how strong supplier relationships can help build a better, more sustainable future."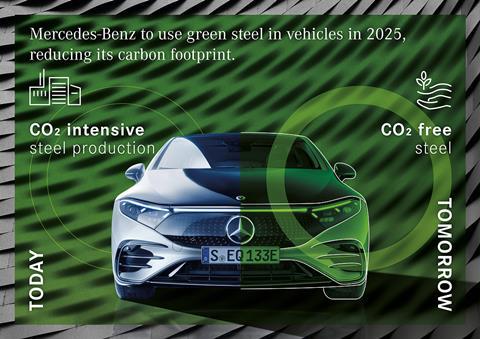 Meanwhile, Mercedes-Benz signed a supply agreement with Swedish start-up H2 Green Steel (H2GS) for 50,000 tonnes of reduced CO2 steel per year for its European press shops. The two companies also signed a Memorandum of Understanding (MoU) with the aim to establish a sustainable supply chain in North America.
Mercedes-Benz took an equity stake in the start-up in 2021, and the new supply agreement will see the 'almost CO2-free' steel come into production in 2025. H2GS' green steel is produced by using hydrogen and electricity from 100% renewable sources, instead of coking coal in steel production using a classic blast furnace.
"With the supply deal of around 50,000 tonnes of almost CO2-free steel from H2 Green Steel for our manufacturing plants in Europe, Mercedes-Benz and H2 Green Steel are accelerating the creation of a decarbonised, regional and resilient steel supply chain," said Markus Schäfer, chief technology officer, development and procurement, Mercedes-Benz. "At the same time, we are taking our partnership to the next level with the aim of establishing a sustainable steel supply chain in North America, another important step towards making the auto industry more resilient and sustainable."
At the beginning of the year, Mercedes-Benz partnered with Norwegian aluminium producer Hydro to reduce the CO2 footprint of the material in automotive production.