As Aston Martin opens its brand new St Athan facility ready for production of its DBX, Nick Gibbs meets director of manufacturing at the plant, Scott Ward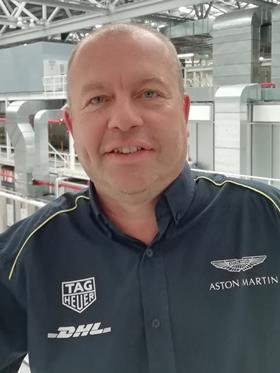 It is Scott Ward's job to make sure production of the DBX starts on time in late spring of next year. He has been in charge since 2017, when he was promoted from director of production in charge of body construction and paintshops at Gaydon.
Ward has been at Aston Martin since 2011, joining initially to work on the ill-fated Cygnet baby Aston. Before that he spent eight years at Bentley at Crewe after starting out in the business at (where else?) MG Rover.
How many employees have you got right now and where do you expect to get to?
We're just short of 100 right now, eventually in manufacturing we'll get 500. Then there's another couple of hundred support functions, then engineers. Within next two years we'll be pushing towards the 1,000 mark. We're starting a major recruitment drive later this year.
Will you recruit many from Ford's plant Bridgend as it closes?
Obviously, potentially, there will be a lot of interest from there. There will be some natural skill sets that we will want here. They're a step ahead of the dance in terms of opportunities. We've got a few of the Bridgend guys here already.
How familiar would a worker from Gaydon be with the set up here?
I'd say they'd be 70% familiar, they've just got to adapt to the new technology. A good example would be the robots in the paintshop and in the tub and bodyshop. It's more automated than it is at Gaydon, but just because we're 10-15 years on.
You're starting with one shift?
The slowest part is the curing, everything else is around 20 minutes takt time, but it's 40 minutes in body and tub, hence the two shift patterns. You've got to bake the car for an hour, so basically there's a takt time issue.
How long will it take to build a DBX end-to-end?
85 hours, if it all comes through without stopping. The slowest part is the curing, everything else is around 20 minutes takt time.
Of the 500 manufacturing staff, how will they be spread out?
About 100 for paint, 100 for body and tub, and 200 or so for final assembly. Off-track is about 50. Then we've got quality technicians and other facilities, maintenance and support functions that work around that.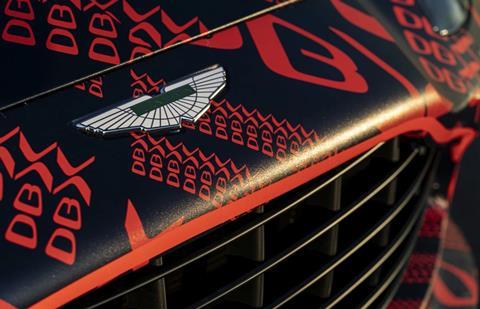 Would you like the leather trimming to be done in-house, as it is at Gaydon?
That's being done off-site for now by four individual suppliers until we get up to speed. Two are in Germany. There are arguments for and against trimming. There's not a whole skill level of trimming nearby so we'd have to train up people, whereas suppliers can get that quality straight away. It's a decision you've got to make.
How about other skills locally? There's never been any major scale car manufacturing in South Wales
We've great success in getting engineering skills, so we've found all the mechanics we need, all the electricians we need, and there are plenty of paint skills in the area. All barring 15 are Welsh recruits. We've taken people on from the Royal Mint, from British Steel, from Ford at Bridgend. We've taken people on from various car dealer networks who've got basic analysis skills on mechanics.
We've been really pleased. We've trained them in Gaydon for two years and taught them the Aston Martin way. Technicians get the same wages as at Gaydon.
What has been the response to job applications?
We've had no shortage of takers. The first time we announced we were recruiting three years ago, we had 3,000 turn up at the door, queuing around and around. We filtered those down to 300 applicants for the first jobs.
In terms of your ideal plant, how has St Athan shaped up?
The building lends itself to what do what we do in the three areas, then we just needed to make sure the shell of the building was up to what we wanted to fit inside it. We have a massive advantage on what we've previously had. It's a far better layout than Gaydon because Gaydon has grown, whereas this is purpose-built for this car. I don't think I could have asked for anything more for this facility. We've got a good fighting chance. There is room to grow too, there's a big expanse either side.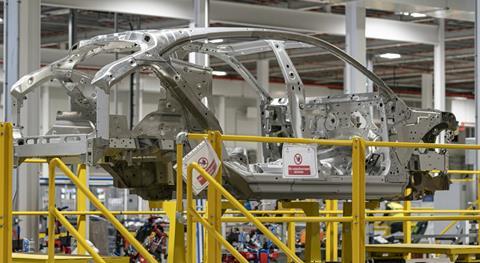 St Athan is also Aston Martin's production centre for electric cars, starting with the Rapide-E saloon. What has been your preparation for that?
It's another part of our journey. We're going to build Rapide-E in the side buildings we're converting. We get the shell of the car and add the electric drivetrain and do the final proving for it. Rapide-E also comes in the first half of next year.
How much training have you had to do for the electrification?
Every member will get extensive EV training. First and foremost, you've got to make sure people are safe. We've just got to marry the battery pack in there, but it's teaching ourselves about the way in which the car operates – charging, battery storage, connections, safety – 800v is not something to be trifled with. We've got a lot of work to do to prepare ourselves.
Getting St Athan up and running must have been an exciting project for you? I've launched car after car for various brands, but never been involved in one from start to finish. This is it. New building, new car. From a whole process chain, it's almost the culmination of my career – what I've been working these last 35 years for.