Renault and Geely have signed a 50-50% joint venture agreement to form a new company, to develop and produce next-generation hybrid and highly efficient ICE powertrain solutions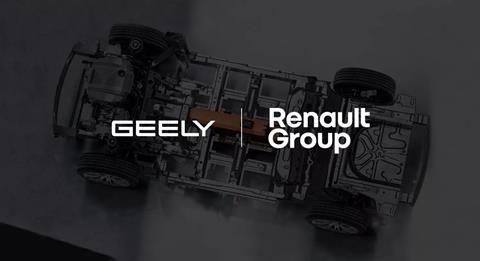 The two OEMs announced a framework agreement in November 2022, and have now signed today a binding 50/50 joint venture agreement to launch a new powertrain technology company.
The new company's operations will include 17 engine plants and five R&D centres on three continents with 19,000 employees. The output is not reserved just for the partner's own brands as the new business aims to offer powertrain solutions for multiple OEMs and claims to offer an attractive business model to welcome new partners.
In fact, further investment could come from Aramco, the Saudi Arabian public petroleum and natural gas company, which signed a letter of intent with Renault and Geely in March this year and is evaluating a strategic investment in this new powertrain technology company.
Aramco's investment would contribute to research and development across synthetic fuels solutions and next-gen hydrogen technologies.
The joint venture company aims to have an annual production capacity up to five million internal combustion, hybrid and plug-in hybrid engines and transmissions per year, and supply multiple brands worldwide with a complete range of powertrains.
To begin with the new company is expected to supply units to Renault-Nissan-Mitsubishi Alliance, Geely Auto, Volvo Cars, Proton, and PUNCH Torino.
The initial organization will have two operational centres in charge of the respective operations: Madrid for Renault Group and Hangzhou Bay for Geely. The company plans to establish a new headquarters the UK, to consolidate operations, build on synergies, and define future plans.
A big part of this planned joint venture is to cover a large part of the global powertrain market. It's claimed the new joint venture's complementary product portfolio and regional footprint could offer solutions for 80% of the global ICE and hybrid market. To enable its operations to be adaptable to differing regional market requirements, Renault and Geely say they will transfer intellectual property to the operational centres enabling them to be fully autonomous in developing future powertrain technologies capable of addressing all market expectations.
Subject to applicable laws and regulations, Geely Auto and Renault will enter into a long-term procurement agreement from the joint venture for ICE, hybrid and plug-in hybrid powertrains (engine and transmissions) for passenger vehicles. In addition, Renault will procure powertrains from the joint venture for light commercial vehicles as well as the development of hybrid batteries.