The technologies required by the powertrain systems of electric vehicles offer new possibilities for innovation on the part of supplier companies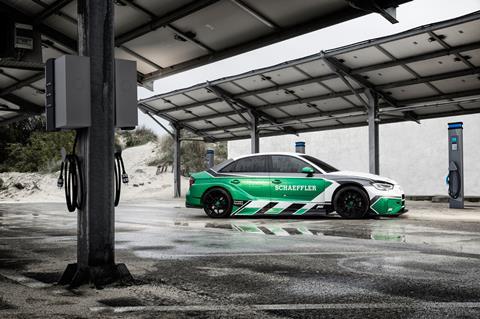 One example of a company that is seizing opportunities in the growth of the EV market is Japan-based Nidec Corporation. Now some 45 years old, the company has been in the business of making electric motors since it started and was already established in the automotive sector as a supplier of electric power steering motors when it began to move into the traction motor market with its own E-Axle product over the last two years. Its first such product to integrate motor, inverter and reduction gearbox was a 150kW unit announced in April last year. It was followed in April this year by 100kW and 70kW units that allow the company to claim that it can now provide appropriate traction units for cars in the A, B and C segments as well as dual motor four-wheel-drive D segment vehicles.
Details of the company's existing product range and its future development plans are provided by Dr Kazuya Hayafune, chief engineer and deputy executive general manager of Nidec's Automotive Division. "One model is currently being mass-produced – a slightly modified version of the initial 150kW model," he confirms. Meanwhile the company is waiting for orders for the 100kW and 70kW variants, and also for a 110kW model with a more compact design achieved through a different gear configuration. "With this line-up we have 90-95% of the market covered," he states.
"We are using our own patented oil-based cooling technology… This lets us reduce the overall size of the system by 10-20% compared to a traction motor system with water-based cooling." – Dr Kazuya Hayfune, Nidec
Hayafune also confirms that though American subsidiary Nidec Motor Corporation in St. Louis, Missouri, manufactures switched reluctance motors for commercial vehicles, all the models in the E-Axle line-up use rare earth magnets. He explains that while switched reluctance motors have advantages in terms of material cost, simplicity of mechanical design and efficiency at high speeds, they also have some drawbacks. "They tend to be larger than motors that use magnets and they also have high NVH levels," he observes. "So there is still some way to go before they become a viable option for passenger vehicles."
Compactness and light weight are consistent attributes of the whole range. "The 150kW model is 485x325x460mm and weighs 87kg," says Hayafune, adding that a 2.5-litre internal combustion engine with an equivalent power output would weigh around 160kg. Nevertheless, though Nidec also claims an efficiency for its E-Axle products of 96% he does not regard this as exceptional. "Our competitors are developing very efficient motors as well, so Nidec's E-Axle doesn't necessarily stand out in this regard," he says.
In contrast, Hayafune does make a claim for exceptionalism in the cooling technique the units employ. "We are using our own patented oil-based cooling technology," he states. "Water conducts electricity so it cannot be used to cool the internal parts of the motor directly and instead has to be used with a water jacket surrounding the motor," he further explains. "But oil is not conductive and so can be used to cool the heat sources directly." As such, the Nidec products use a patented oil-based cooling system where the oil passes through the inside of the shaft and, due to the rotation of the shaft, sprays the oil all over the insides of the motor. "This lets us reduce the overall size of the system by 10-20% compared to a traction motor system with water-based cooling," he says.
Hayafune concedes that Nidec's previous experience with steering motors has facilitated the company's entry into the traction motor field. "The underlying technology that allowed us to reduce the size and weight of our electric power-steering motors proved very useful in the development of the E-Axle," he states. "We used the same CAE (computer-aided engineering) tools when designing both products." But he also notes that the company has maintained a consistent emphasis on innovation. "Our basic philosophy in product development is always to have the mindset of a challenger and think outside of the box. Combined with the fact that we are a relative newcomer to EV traction motors this gave us the opportunity to abandon conventional ideas and start with a blank slate," he says.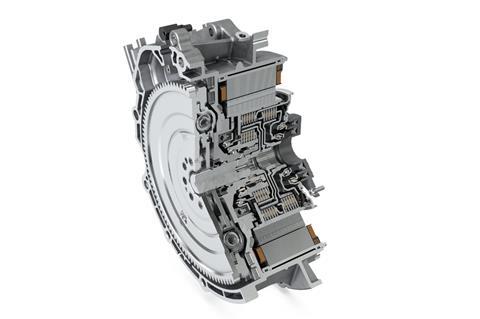 Designing smaller, lighter motors
Hayafune adds that experience gained in a quite different field has also fed into the company's development of EV traction motors. "We used to mainly focus on motors for IT equipment," he explains. "We have been the number-one supplier in terms of market share of hard disc drive (HDD) motors since the very inception of the technology. HDDs used to be quite a bit larger than they are today, but as they became smaller so did the spindle motors that rotate the disks. Consequently, Nidec has a lot of experience with pushing the limits of motor size and weight, which we are now exploiting to design smaller and lighter motors for automotive applications."
Part of this again involves the use of software tools to implement similar exercises in optimising material usage. "We use CAE software to run simulations and identify elements that are excessively thick and sturdy and then adjust our designs accordingly," confirms Hayafune. "But another way we downsize our motors is by making their magnetic circuits smaller with the help of technologies and techniques that we originally developed for the IT market."
Moreover, the company has also invested in the production of the E-Axle units with a new 66,000 sq. m manufacturing facility going into operation just this year in the Pinghu Economic Development Zone near Shanghai, China. Hayafune indicates that the company has developed some new production techniques for use there. "We use special winding technology that gives us an advantage over competing systems," he states, though the details remain confidential. So does the number of people working in the factory, but he does reveal that the output target is "200,000 E-Axle units per production line per year".
It seems likely that capacity may well be realised quite soon. The first vehicle to use Nidec's E-Axle has already come onto the market; the Aion S from GAC NE, part of Chinese OEM, GAC Motor. Hayafune reveals that Nidec has already received one further order for the full E-Axle system from GAC NE as well as another order from a European tier one supplier for standalone traction motors. "We are also in discussion with 15 different OEMs – eight in China, three in Europe, one in the Americas, two in Japan and one in Korea – that have expressed interest in the E-Axle, and six other companies – one OEM and five tier one suppliers in Europe - that are interested in our stand-alone traction motors," he confirms.
Meanwhile Nidec also has a joint venture with Groupe PSA concerning traction motors, though quite separate from its E-Axle product line, which draws only on Nidec's own resources. "The PSA joint venture is a collaboration between Groupe PSA and Nidec Leroy-Somer, a French subsidiary that became part of the Nidec group in 2017, to develop an entirely separate product line of traction motors to be sold to PSA and other OEMs," explains Hayafune. "In the future, customers will be able to choose between the two systems."
European supplier adds EV units
Another company that is once more gearing itself up to be a major supplier of EV traction units is German-based Schaeffler. The company has, in fact, had relevant background R&D activities for the last couple of decades but within the last couple of years those activities have accelerated with the establishment of an E-Mobility division and the appearance of real products for use in EVs at a volume level.
This increasing focus is confirmed by the company's chief technology officer, Professor Peter Gutzmer. "Since 2018 Schaeffler has consolidated all its activities in this field in its new E-Mobility business unit," he states. "More than 2,200 employees work in E-Mobility with a global presence in Europe, China and the US. In fact, we have been manufacturing volume-production components and system solutions such as electric axles and hybrid modules in plants located in Germany, China, and US for some time."
The company has also been building up its expertise through involvement in Formula-E racing. "In 2016-17, Team Audi Sport ABT Schaeffler won the drivers' title with Lucas di Grassi and in 2017-18, the team title," says Gutzmer. "So, we are looking to demonstrate our expertise in forward-looking technologies and presenting ideas for the sustainable mobility of tomorrow in electric racing series as well."
Current activities, Gutzmer confirms, include electric axle drives specifically developed for all-electric cars or all-wheel drive hybrid cars. "Our P2-hybrid drives make it relatively easy to combine the internal combustion engine and electric driving based on well-known technology modules," he states. "But recently Schaeffler has been adding unique electric motors for hybrid modules and electric axles to its e-mobility portfolio with prototypes already undergoing trials on test rigs." The next steps, he continues, will include "the integration of electric motors designed and produced by Schaeffler, as well as torque converters integrated into the rotor or integrated power electronics in order to further optimise packaging requirements, costs and robustness. We are working on several concepts regarding hybrid transmissions. With regard to technological aspects, the combination of a serial and parallel arrangement of electric motors promises advantages in terms of efficiency and drivability."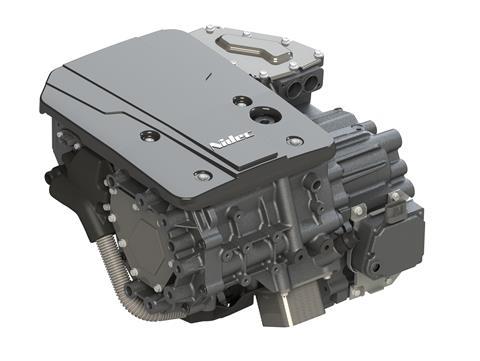 All-wheel drive developments
Real driving platforms are an essential means of developing future products. "We create our own advanced concept cars to develop highly integrated and compact solutions," Gutzmer confirms. One example is the 4e Performance vehicle debuted in 2018. The vehicle is powered four electric drives sourced from within the Schaeffler group, each of which provides a power output of 220kW. Each individual motor is directly connected to a wheel by means of a spur gear unit, while two motors share one gearbox housing and thereby form an electric twin axle. This architecture enables 'torque vectoring' i.e. selective control of drive torque to individual wheels. Total motor and gearbox efficiency is rated at 95%. "The vehicle is based on the idea of building a high-end, all-wheel electric drive powertrain structure based on existing drives designed and manufactured by Schaeffler and successfully raced in Formula E," Gutzmer confirms.
"More than 2,200 employees work in E-Mobility… we have been manufacturing volume-production components and system solutions such as electric axles and hybrid modules in plants located in Germany, China, and US for some time" – Prof. Peter Gutzmer, Schaeffler
In addition, transmission elements separate from the motor itself are also an area where Schaeffler can build on previous experience with IC engines. On the latter score, the most significant recent development has been the start of production, at Herzogenaurach and Bühl in southern Germany, of transmission for the Audi e-tron vehicle.
The transmission is available in both parallel axis and coaxial versions and is described as offering a high input torque within low design envelope requirements. It involves a highly integrated stepped planetary gear set combined with a spur gear differential developed by Schaeffler. This means that despite an axial design envelope requirement of just 150mm the transmission concept fitted in the e-tron enables an input torque of 400Nm with a weight of only 16kg. The planetary gear design concept is also applied to the parallel axis drive variant on the front axle.
Up to 40,000 transmission units will be produced in the Herzogenaurach plant each year. Both variants are fitted in the Audi vehicle. The coaxial variant provides rear-wheel drive while the parallel axis variant on the front axle enables all-wheel drive. The two transmissions have, in fact, been in volume production since August of last year and Schaeffler indicates that it expects volumes to reach as many as 250,000 units per year when further customers come on-line. It also says the modularity of the units means that they would adaptable for use in IC powertrains.