The impact of the recent UAW strikes could leave suppliers at financial risk, according to a supply chain and manufacturing legal expert.
The strikes against GM, Ford and Stellantis began on 15th September, lasting for more than six weeks. Now the 'big three' Detroit OEMs have reached tentative agreements, but Linda M. Watson, Attorney at Law, Clark Hill said the damage may already be done for some manufacturing suppliers.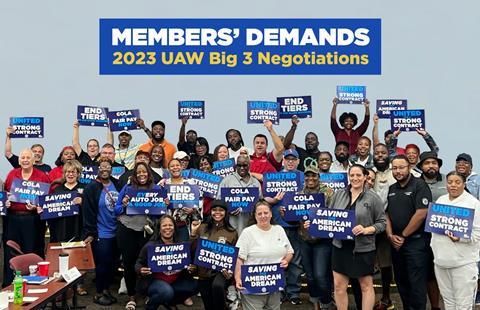 "Some suppliers may already be facing financial problems, and their banks and financers will be asking if and when they'll be back at full volume and putting the pressure on," Watson said. Before the strikes began, other legal experts told AMS that it could lead to suppliers not getting paid on time, leading to layoffs and ongoing financial problems, potentially even causing "a major economic crisis".
Watson said that having been aware of this possibility, some trade associations are preemptively looking at options for emergency financial aid to prevent supplier bankruptcies before they happen. "Trade associations are speaking about this and have been out in front of it," she said.
The Motor & Equipment Manufacturers Association (MEMA) is one of the groups already taking action. Watson said: "MEMA have already been working with the federal government to see if they can make some short-term loans and grants available for some suppliers who have been hit the hardest by the impact of the strikes."
Despite the brief relief of the union having reached a tentative deal with the OEMs and calling off the strikes, there is now an ongoing ratification process during which the suppliers need to get back up and running. Watson says this is a cash-draining process at the best of times as suppliers need to order materials and components to restock their inventory and is particularly difficult after the disruptive few years the industry has faced with the pandemic and the semiconductor shortages.
"The automotive manufacturing industry has been impacted by issues over the last few years even before the UAW strike, and as ratification continues, suppliers are trying to bring back their workforce," she said. "Some of the workforce may have been laid off and getting them back to work could be difficult as it's a competitive industry and some of them may now be employed by their competitors."
Watson said that the OEMs may also push production volumes higher to make up for lost time during the strike, which would pile even more pressure onto the suppliers that may be struggling with a lack of labour and cash.
"The just-in-time model means that there is not a lot of inventory at any one time, so if volumes are on par with before the strike or even higher because the OEMs want to play catch up, suppliers may need to pay a premium to get those in the door quicker," she said. "They may also need to switch sub-suppliers that has more readily available material or that's closer in terms of delivery."
There may also be a change in the types of parts being made and supplied to carmakers, according to Watson.
"All three OEMs have taken steps to be more cost-efficient, and they have also tried to really push volumes on more profitable vehicles, and I think we'll see those efforts trickle down and see volumes change in terms of what parts suppliers are making," she said. "There might be a change where less parts are being purchased or ordered for less profitable vehicles and more parts are purchased for more profitable vehicles, in alignment with what the OEMs are doing."
The ratification process is ongoing. At the time of publishing, hourly workers at Ford voted 66.1% in favour of the tentative agreement and Stellantis 79.7% in favour. GM is currently evenly split, with 52.2% in favour of the deal.