Audi has begun testing the ergonomic benefits of exoskeleton systems for workers at its Ingolstadt plant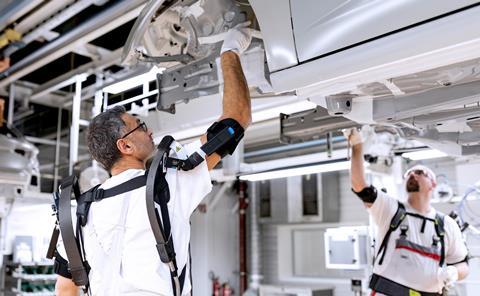 A comparative study comprising around 60 employees from Audi's assembly, paintshop and toolmaking is running two devices – the Paexo from Ottobock and the Skelex 360 from Skelex – to assess performance in difficult overhead jobs…
"Our employees are our most important asset. By constantly reducing the burden at the workstations, we can enhance their health and wellbeing. New technologies such as exoskeletons, with which we are making production more and more progressive, also contribute to this," said Peter Kössler, Audi board of management member for production and logistics.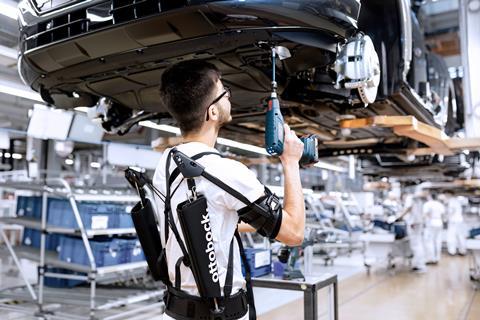 As well as evaluating how much support an exoskeletons offers an employee performing tasks, the study also focuses on the extent to which the worker's movement is restricted and the comfort, or otherwise, of wearing the device for a period of time.
The tasks being tested at Ingolstadt are for both static and dynamic activities, for example, brake line installation, attaching the underbody paneling and applying corrosion and sealing protection.
Ralph Hensel, a specialist in exoskeletons at Audi, said the goal is to implement exoskeletons "in the long term and on a cross‑site basis at specifically selected, predetermined workstations."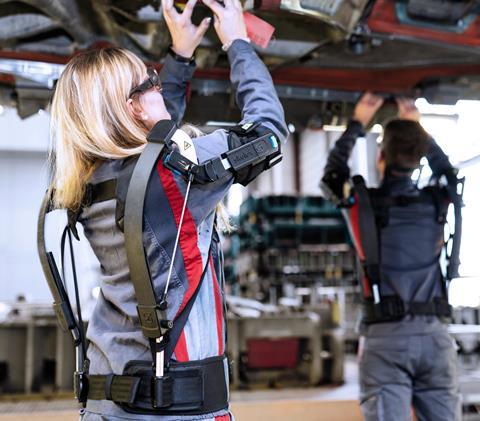 The devices are worn by the employee on the shoulders and secured in place with a belt around the hips, similar to a backpack. Arm shells provide support to the arms for performing overhead work, absorbing part of the arm's weight, redirecting it mechanically to the hips, reducing burden on the shoulder muscles.
Audi has already gained initial promising experience with one of the two exoskeletons in the Győr plant in Hungary. Overall, Audi has tested and piloted exoskeleton devices, to some degree, for around four years. Tests on lifting or moving objects in press shop, assembly and logistics environments, yielded promising results, Audi said.