The joint plant will offer cost savings to both automakers and speed start-up Rivian's establishment of a presence beyond North America.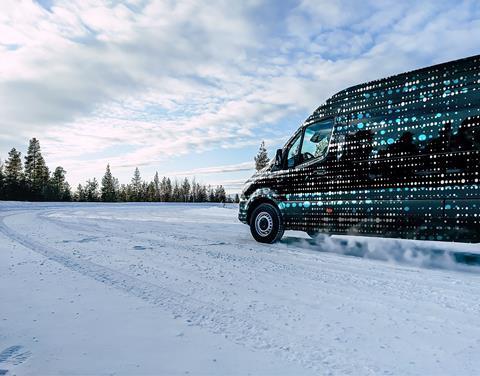 Mercedes-Benz and U.S.-based EV start-up Rivian will jointly invest in and build electric vans at a factory to open in the next few years in Central or Eastern Europe, sharing assembly lines, Mercedes-Benz said in a statement.
The German automaker says cost savings through operational synergies and speeding up higher-volume production of electric vans are the primary objective of the project which aims to make zero emission vehicles more affordable for commercial customers, it said.
The plan will also make it simpler and faster for Rivian, which is in its first year of production with an SUV, a pick-up truck and delivery van, to establish a presence in Europe and reap some of the benefits of being an early mover in offering electric products in these segments.
The company says it produced about 8,000 vehicles from production start until the first half of 2022 with 98,000 preorders to fulfil. It aims to produce 25,000 vehicles this year, it said in a quarterly financial update to investors.
In vans specifically, Rivian's profile has been heightened by its development of a van for online retailer Amazon which has initially ordered 100,000 units.
Mercedes-Benz and Rivian have signed a memorandum of understanding to be followed by final binding agreements, also contingent on standard regulatory approvals.
The Mercedes-Benz statement said the partners plan to produce two large vans one with the Mercedes-Benz Van Electric Architecture or VAN.EA platform and one with the Rivian Light Van or RLV platform, sharing the investments and costs.
"We are sharing investments and technology because we also share the same strategic ambition: accelerating the electrification of the van market with sustainable and superior products for our customers," said Mathias Geisen, Head of Mercedes-Benz Vans.
Rivian is opening a second $5 billion manufacturing facility in Georgia in addition to its Illinois factory, with the first production expected in 2024, it said.
CEO RJ Scaringe hailed the partnership with the German automaker which he said would help Rivian in its objective of furthering zero-emission transport.
"Mercedes‑Benz is one of the world's best known and respected automotive companies, and we believe that together we will produce truly remarkable electric vans which will not only benefit our customers, but the planet," said RJ Scaringe, Rivian's CEO.
Mercedes-Benz has more than a decade of experience in electric vans starting with the Vito E-CELL in 2010 with four models now on sale, the eVito panel van, the eSprinter, the eVito Tourer and the EQV.