Rigorous testing of new vehicles, systems and components has become more important as complexity of the products increases and pressure to reduce time to market grows. AMS visits Test World in Finland to see some of the developments introduced to meet this demand…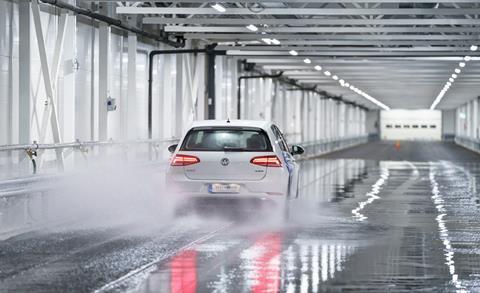 A place where vehicle testing is a year-round activity is Ivalo in northern Finland. That is the location for Test World, a complex of indoor and outdoor test tracks founded in the early 1990s. In the latter part of 2015, Test World was acquired by UK-based testing company Millbrook Group, which itself was taken over 12 months later by test and measurement equipment maker Spectris.
But, as Alex Burns, president of Millbrook, confirms, none of those corporate manoeuvrings made any difference the basic purpose for which Test World exists; the winter testing of tyres and increasingly whole vehicle systems. Indeed, the latter takeover, which occurred in September 2016, has been the spur for a sustained campaign of investment in both Millbrook and Test World. "Since Spectris acquired Millbrook it has invested over €100m ($111m) in Millbrook facilities around the world, plus tens of millions in Finland," he states.
There are two external proving grounds at Ivalo – one set of tracks adjacent to the indoor facilities and another a short distance away at what used to be an airfield. They enable the facility to offer outdoor winter testing – driving on snow and ice – for something under half of the year. Burns says that the appropriate conditions exist from roughly "late November to mid-April".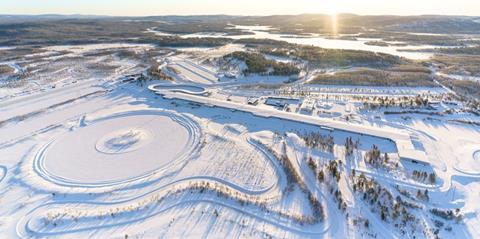 Investment in track capabilities
The investment at Ivalo that Burns mentions has gone towards making the indoor facilities there capable of offering a wide range of year-round capabilities. Between 2018 and 2019 the previously existing indoor resources were significantly enhanced. Those initial resources comprised a 'snow flat' – a straight section, 205 metres long and 13 metres wide with a parallel three-metre-wide ice surface – and a snow handling circuit with a surface 350 metres in length and nine metres in width called, respectively, Indoor 1 and 2.
The latest round of investment, though, has seen a replication of Indoor 1, referred to as Indoor 3, and the addition of two completely new straight sections – Indoor 4 and 5. Together, the latter two have added further 410 metres by eight metres of straight surface, which can if necessary form two 205-metre-long ice testing resources.
Straight-line testing involves driving a car at whatever speed is necessary along the track, then hitting the brakes hard to bring the car to a controlled halt. Air temperatures throughout are adjustable between -13°C to +15°C in winter, though the minimum temperature becomes -8°C in summer with actual track surface temperatures ranging from -10°C to +10°C. But, as Burns confirms, the real significance of Indoor 4 and 5 lies in the surface they provide when no ice is present – asphalt, which can be used either dry or wet and can also provide aquaplaning conditions.
The addition of the asphalt surfaces is an innovation that significantly broadens the range of test resources the Ivalo site can offer with no regard to the local weather conditions. "Now the latest addition to the internal test environment ensures not just snow and ice surfaces all the year round, but straight-line wet and dry asphalt in controlled conditions as well," states Burns.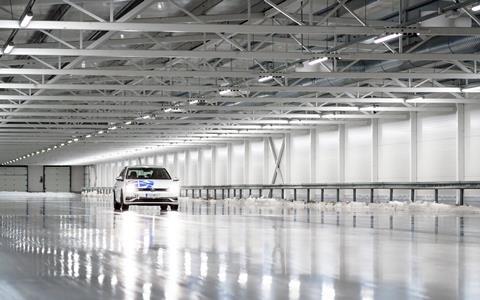 The commercial importance of these newly added capabilities, he says, is simply that in a business environment in which development timescales must be as compressed as possible, all necessary winter tyre braking testing can now be carried out at a single location at any time of year.
Previously, testing on asphalt surfaces might have had to take place possibly "thousands of miles away". But for use on European roads, wet asphalt braking testing of tyres remains mandatory. "To be sold in Europe a tyre must pass a wet braking on asphalt test," Burns confirms.
As such, Burns continues, tyre-makers rather than vehicle OEMs have been the main users of the Ivalo facilities since they were first opened. Nevertheless, vehicle-makers certainly have had cause to use the site, and the expansion of the indoor spaces in recent years has increased their scope to do so.
One particular application that has been enabled is, he says, testing for brake squeal in cold conditions something which, he notes, is a "major cause of warranty returns".
Burns explains that in order to facilitate such testing "we have cold boxes adjacent to the long indoor snow platform that can cool a vehicle down overnight to -40°C after which we drive it straight out onto the snow surface at a temperature of -10°C and carry out the testing straight away."
The testing itself can be carried out either by an OEM's own staff or by the site's own personnel, with test results then simply communicated to the vehicle-maker. That form of testing is normally subjective, with human judgement used to estimate the severity of whatever noise is generated but, says Burns, "we can install microphones and record sound objectively if required."
In contrast, tyre testing will almost certainly involve a mix of subjective and objective working procedures. "We want to do both objective straight-line testing for traction and braking performance, and subjective tests, which tend to focus on how quickly a vehicle can be driven round a course with different tyres, which means that there is still need for outside tracks," he states.
Burns concedes, though, that there are still "a couple of pieces missing in the jigsaw" of resources at Ivalo. These are internal handling testing, in other words circuit rather than straight-line driving on ice and wet asphalt surfaces. But, he notes, "wet asphalt handling is a development requirement, not a regulatory requirement, so for the moment what we tend to find is that tyre manufacturers bring a lot of tyres to Ivalo to carry out objective testing in our indoor straight line tracks to slim down numbers before carrying out wet handling tests elsewhere."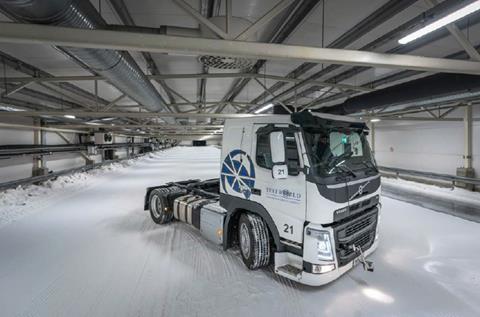 Increased EV testing
Tyres are increasingly not the only thing tested at Ivalo. "We are now getting a lot of interest from developers and manufacturers of electric vehicles who want to find out how those vehicles perform in cold conditions," Burns reports. As he explains, one factor driving this trend does not relate to the technologies involved at all, but to the business plans of the companies involved.
Quite simply, the race to be seen as a leader in getting electric vehicles on to the market means the pause in development that the warmth of the European summer months would entail, is not acceptable.
"We are now getting a lot of interest from developers and manufacturers of electric vehicles who want to find out how those vehicles perform in cold conditions"

Alex Burns, Millbrook Group
As for the actual testing requirements of electric vehicle developers, Burns says they can include, for instance, "battery heating and cabin heating performance". The second of those is of more significance than just occupant comfort because of the fact that cabin heating will be provided by the vehicle's on-board batteries, which in turn will have an immediate impact on vehicle range.
"Something they want to find out is how much range is depleted by cabin heating, since that comes directly from the main power source," Burns confirms.
Other issues raised by the interaction of extreme cold with electric vehicle systems are possible implications for NVH performance and more generally simply how robust vehicle electronic systems may be in such conditions.
Increased demand for the testing of electric vehicle systems is a trend that, Burns reports, has been becoming more noticeable at Ivalo over the past couple of years. It is one that he expects to see increase and for which in practical terms the site is well prepared. As well as the obvious large-scale resources the indoor areas at Ivalo provide – the tracks and environmental control systems - there are, he points out, "a lot of charging points around the place". In fact, he says, the reality is that "the whole facility is designed with electric vehicles in mind."
To download the full AMS January-March 2020 digital magazine click here.