Partnerships with BMW, Mercedes, JLR and Mahindra revolve around automotive digital advancements and driving industry transformation.
Qualcomm Technologies has unveiled a series of innovative collaborations with prominent automakers, marking a significant stride in the evolution of automotive manufacturing.
These partnerships, announced at the IAA Mobility 2023 event in Munich, are underpinned by Qualcomm's innovative software platform, the Snapdragon Digital Chassis. The platform represents a comprehensive suite of cloud-connected automotive solutions, encompassing telematics and connectivity, computing capabilities and advanced driver assistance systems.
BMW, Mercedes, JLR and Mahindra to integrate digital solutions
Beyond their individual merits, these collaborations bear important implications for the future of automotive manufacturing, potentially reshaping the industry in several crucial ways. The collaborations are with automakers BMW, Mercedes, Jaguar Land Rover, Mahindra, and web services company AWS, signalling a collective commitment to developing vehicle architectures. Qualcomm's technology, beyond in-vehicle entertainment, plays an important role in the development of Advanced Driver Assistance Systems (ADAS).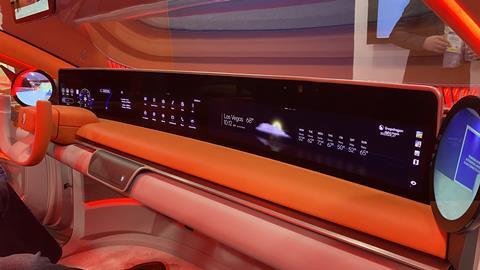 These systems, expected to debut in 2025, are poised to redefine the driving experience by enhancing safety and automation. For automotive manufacturers, integrating Qualcomm's ADAS technology represents a significant step toward achieving in-vehicle digital ecosystems and will have implications for automotive manufacturing systems and processes.
The news underlines the push to integrate digital, cloud-connected and 5G technologies, not just in finished vehicles; but also in auto production landscapes themselves. The implementation of these technologies is palpably advancing across the industry.
5G and digital technologies are reshaping automotive manufacturing processes
German multinational automotive parts manufacturing company, Continental, recently reached a significant milestone in its own journey toward a fully-realised digital smart factory. This achievement comes in the form of Continental's inauguration of its private 5G network, deployed at its display solutions plant located in Brandýs nad Labem, Czechia.
The establishment of a private 5G network within the confines of Continental's display solutions plant, signifies a shift in how the company approaches its manufacturing operations. By harnessing the capabilities of 5G technology, Continental aims to transform its production processes with increased levels of efficiency, connectivity and flexibility.
One of the key advantages of deploying a private 5G network in manufacturing is the unparalleled connectivity it offers. The ultra-fast and low-latency nature of 5G ensures that machines, sensors and devices can communicate in real-time, enabling a level of coordination and synchronisation previously unattainable. This real-time connectivity paves the way for enhanced automation, predictive maintenance and precision control, all of which contribute to heightened efficiency and reduced downtime.
Furthermore, the adoption of 5G within a manufacturing environment facilitates the implementation of cutting-edge technologies such as the Internet of Things (IoT), artificial intelligence (AI) and augmented reality (AR), which can be seamlessly integrated into the production process.
Opportunities and threats of automotive digitalisation
AMS recently reported on a major disruption in Toyota's Japanese production, which came to an unexpected halt. Initially, the cause of this shutdown was vaguely referred to as a 'systems' failure. The cause of the production shutdown has since been revealed to have arisen from a seemingly routine software update to Toyota's parts ordering system. While this revelation may appear trivial on the surface, its relevance reverberates globally.
The Toyota incident serves as a stark reminder that even routine software updates, if not managed with utmost precision and diligence, can disrupt operations on a grand scale. It underscores the critical importance of robust cybersecurity measures, meticulous software testing and contingency planning in an era where digital systems underpin nearly every facet of modern industry.