Volkswagen Group IT has opened or expanded global IT and software centers, with growing significance across the company's IT research and operations. Check out a map of their key locations and functions.
Volkswagen Group has expanded the number of IT centers and laboratories it is running across the world. Their functions range from service delivery to pure technology research, though increasingly they are delivering more solutions and technology applications, according to Martin Hofmann, CIO of the Volkswagen Group. With the Volkswagen Industrial Cloud project with Amazon Web Services and Siemens, Volkswagen has been adding more staff at key locations to develop the cloud.
The IT and software development centers are also designed to attract global software talent through their attractive locations and agile working cultures.
Below is a selection of some of the most important IT center locations with group-wide responsibility (click to expand).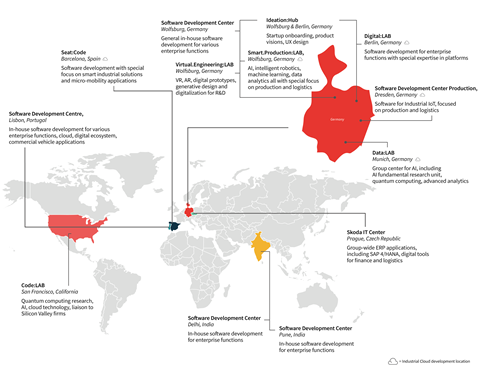 For more detail on how Volkswagen Group is building its Industrial Cloud architecture with Amazon Web Services and Siemens, click here.
This story originally appeared in our sister publication, automotiveIT International.
A program of change for Volkswagen Group IT
1

2

3

4

Currently reading

Map: Volkswagen's growing network of IT expertise