Hyundai's Alabama plant gears up for expanded 5th gen SUV production, reflecting its evolving global manufacturing strategy.
Hyundai has announced it is investing $290m to enhance production of its sport utility vehicles (SUVs) at the Hyundai Motor Manufacturing plant in Montgomery, Alabama (HMMA), with $190m to be committed to tooling and equipment upgrades in preparation for production of the all-new fifth generation Santa Fe.
HMMA President and CEO Ernie Kim commented: "Today, the legacy of the Santa Fe continues with HMMA investing $190m to prepare our assembly plant for the next generation of this popular SUV.
"An additional $100m dollars will be invested to support ongoing production of the Tucson SUV and Santa Cruz Sport Adventure Vehicle.
HMMA and the Santa Fe
HMMA has been assembling the Santa Fe since 2006, with the all-new model set to begin assembly later this year, which will include the first US-built Santa Fe Hybrid. This will be the first full model change since 2018, and the new model features a range of updates and improvements.
When assembly begins later this year, the model will join Hyundai's Tucson SUV, the Santa Cruz Sport Adventure Vehicle, and both the electrified and ICE versions of the Genesis GV70 luxury SUV on HMMA's assembly line.
Hyundai: continuous production progress
The $290m investment at HMMA is another step in the continuous enhancement of production for the OEM in the region. Earlier this year, the Alabama plant underwent a significant transformation, incorporating electric vehicle production into its operations. This marked the inauguration of the first domestically manufactured Genesis model within the United States. This strategic pivot also resulted in the creation of 200 employment opportunities.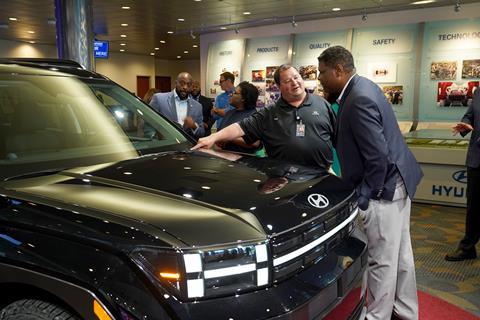 Not stopping there, Hyundai formally disclosed their plans to establish a 50/50 joint venture dedicated to EV battery production in collaboration with LG Energy Solution. This venture is set to be located in Savannah, Georgia, and was confirmed through the signing of a memorandum of understanding. The proposed battery factory will boast a capacity of 30GWh and carries a valuation exceeding $4.3billion. Hyundai further declared its intentions in April to commit $5billion in partnership with SK On, to establish a new EV battery cell manufacturing facility in Georgia, with production slated to commence in the latter half of 2025. The 50/50 joint venture is poised to bolster the group's electrification initiatives and ensure a reliable battery supply for EV production in the United States, aligning with Hyundai's corporate strategy.
The chosen location for this facility in Bartow County, Georgia, positions it in close proximity to Hyundai's key US production facilities, including the Kia Georgia plant, the Hyundai Motor Manufacturing plant in Alabama, and Hyundai's Motor Group Metaplant America.
Hyundai's domestic investments and reorientation away from China
Continuing to focus on western-aligned projects and collaborations, Hyundai recently made a significant announcement regarding its plans to sell its vehicle manufacturing plant in Chongqing, China. This decision marks a strategic move by the OEM to restructure its operations and optimise its business performance in the region. The Chongqing plant, operated by Beijing Hyundai Motor Co., is a joint venture between Hyundai and BAIC Motor Corp. It had suspended operations since December 2021, and the decision to sell the plant comes as a response to various challenges faced by the company in the Chinese market.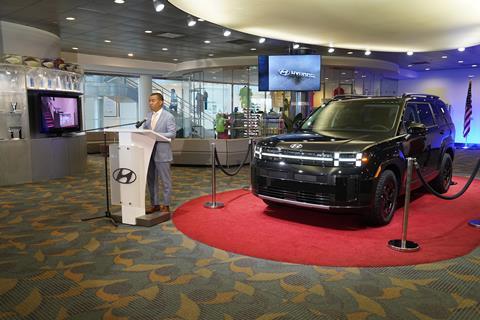 One of the key factors influencing this decision is the issue of low sales. Hyundai has been grappling with declining sales figures in China, which have impacted the plant's overall production capacity and financial viability. Additionally, overcapacity in the Chinese automotive market has further complicated the situation, prompting Hyundai to reassess its manufacturing footprint in the region.
In light of these circumstances, Hyundai has formally put the Chongqing plant up for sale, listed at a price of 3.68billion yuan ($505m).
The move is part of Hyundai's broader strategy to streamline its operations and focus on markets and segments that offer greater growth potential and profitability. The Chongqing plant, which broke ground in 2015 and commenced operations in 2017, was Beijing Hyundai's fifth factory in China. It was established with the aim of meeting the growing demand for Hyundai vehicles in the Chinese market, however shifting market dynamics and strategic considerations have led to the decision to divest from this particular facility, and to focus its efforts on markets that promise greater demand and supply potential.
As part of this refocusing Hyundai Motor India (HMI) has signed an Asset Purchase Agreement (APA) with GM's Indian subsidiary (GMI) for the acquisition of the carmaker's plant in Talegaon, in the state of Maharashtra. The plant has been dormant since GM's withdrawal from the Indian market in 2017.