The "ultra-luxury" sedan will be the first model ever produced at GM's research-focused Global Technical Centre in Michigan.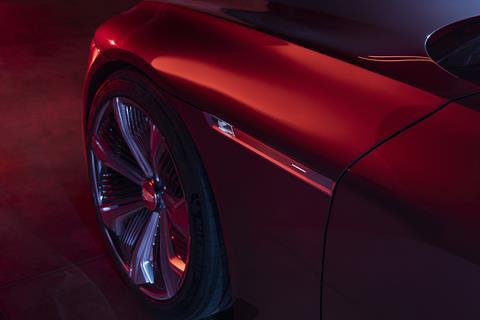 GM will build the luxury and all-electric Cadillac Celestiq by hand at its Global Technical Center, making it the first car the company has ever manufactured at the site which opened in 1956.
The automaker will invest $81m to prepare the centre in Warren, Michigan state to produce the large "ultra-luxury" large sedan, GM said in a statement.
The investment will pay for refurbishments and the installation of equipment to build the car at the centre, which is GM's hub for engineering and design.
The Celestiq will be built on the Ultium platform which GM will use across all of its battery-electric range including mass-market cars, with plans to standardise and streamline factory machinery, tooling and processes to accommodate it.
Ultium comprises of the platform as well as the batteries, motor and power electronics. Ultium batteries are being developed through a joint venture with LG Energy Solution.
GM says the batteries feature a unique large pouch format enabling them to be stacked horizontally or vertically within a battery pack, allowing for flexibility in vehicle design.
The automaker has been working to source the materials to produce the batteries and is building a $400m plant in Quebec in a joint venture with POSCO Chemical to process so-called cathode active material, one of the inputs needed for the battery cells.
GM plans to raise North American capacity for EV production to 1 million vehicles by the end of 2025 and will invest $35 billion to reach that target.
About $2.6 billion will go towards a battery manufacturing plant in Michigan and $4 billion to develop EV pickup production through the conversion of the Orion Assembly plant in Detroit which will make the Chevrolet Silverado and GMC Sierra models from 2024.
Facilitating GM's approach of manufacturing of the Celestiq at the centre which exists primarily for research and development, is a 3D printing centre which opened on the same site in 2020.
The so-called Additive Industrialization Center 3D prints parts including the shifter emblem, transmission components and heating, cooling and ventilation ducts for the CT4-V and CT5-V models.