The automaker will partner with Vitesco to produce power electronics units, part of a trend of OEMs, supplier and battery producers partnering in areas of R&D and manufacturing to ramp up EV and battery output – including Mahle and AMTE Power.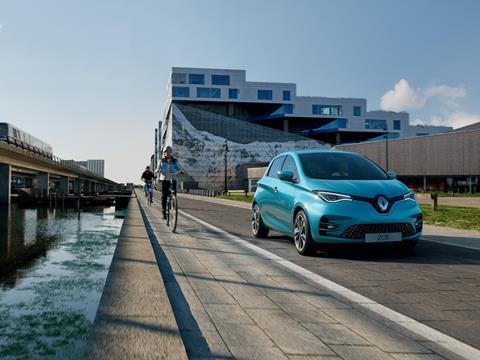 Automaker Renault and Germany's Vitesco Technologies, a spin off from component maker Continental, have agreed to partner on production of a single, compact unit housing the power electronics in Renault electric and hybrid cars, the companies said.
The partnership will develop a so-called "one box" unit which will contain the three major components managing power flows into the battery under charging and braking and outwards to drive the motor – the on-board charger, the inverter which changes DC current to AC for the motor and a voltage-reducing DC-DC converter to run vehicle accessories.
"With this strategic partnership, we are also further strengthening our mastery of the electric value chain and reaffirming once again our determination to anchor our technological and industrial developments for the electric vehicle in France," said Gilles Le Borgne, executive vice-president for engineering at Renault Group.
Vitesco CEO Andreas Wolf said the company, previously Continental Powertrain and now an individually listed company in Frankfurt focused on EV powertrains, was pleased to partner with Renault and to reinforce Vitesco's growth in electrification.
Renault says the concept, to be developed in Toulouse, France, will lead to unprecedented compactness, reducing the volume of the components by around 45%, resulting in more cabin space for passengers. The automaker will deploy the unit to its core range from 2026 and produce it at Renault plants in France dedicated solely to electrified vehicles.
Renault will sign a multi-year supply deal for Vitesco to produce the power electronics for Renault's hybrid vehicles and Vitesco will also provide DC-DC converters and charging units for EVs from 2025.
AMTE parters with tier-1 Mahle to scale up testing
Marking a further partnership in the race to scale up production of batteries and electrified powertrains, UK battery cell manufacturer AMTE Power has signed a memorandum of understanding for the supply of batteries to Mahle Powertrain, which works with major automotive OEMs and high-end car manufacturers on powertrain design and development.
The partnership will facilitate testing of AMTE Power's Ultra High Power (UHP) cells at Mahle's new Battery Development Centre in Northampton, addressing what the companies said had become a bottleneck for the industry. The battery supply will also support Mahle's development of high-performance powertrain products, the companies said in a statement.
AMTE currently has a small battery factory in Thurso, Scotland, which builds specialised sodium-ion batteries, whilst it is currently planning to build a gigafactory up to 10 GWh in the UK. Earlier this year, AMTE CEO and founder Kevin Brundish told the AMS Automotive Evolution online summit that the company's development and manufacturing partnerships would be essential to the company scaling up battery output. Brundish cited AMTE's work with the UK Battery Industrialisation Centre (UKBIC), where it is testing production processes at high speeds, to be amongst its most important partners.
On July 28, the AMS Automotive Evolution livestream will further explore partnerships and constraints in ramping up EV battery and powertrain production, featuring Italvolt founder Lars Carlstrom, AMS battery expert Daniel Harrison, and more. Register or watch on-demand for free.