The new plant will support Hyundai's growth in electric vehicle production and will use an innovative manufacturing platform developed at the company's innovation centre in Singapore with a focus on improving worker safety, convenience and efficiency.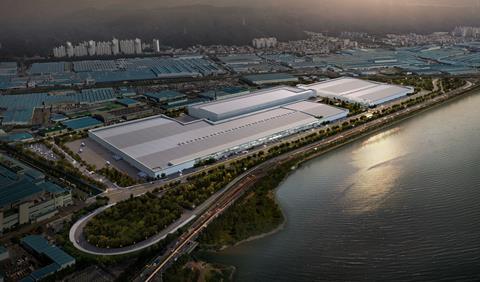 The OEM will invest KRW 2 trillion ($1.53 billion) in the project with construction scheduled to be completed in 2025 and production to start in the Q1 2026. The 548,000 sq.m site will have capacity to produce 200,000 electric vehicles (EVs) per year and will be located on the site of Hyundai's former proving ground.
The company is currently producing EVs underpinned by its E-GMP platform but is planning to launch its next generation EV platform, the Integrated Modular Architecture (IMA), in 2025. Hyundai says the IMA platform will not only be utilised for its passenger BEV platform but also as its exclusive purpose-built vehicle (PBV) platform, helping to streamline production processes and reduce cost.
The IMA is being developed to standardise chassis, battery system and motor integration allowing it to be used for BEV models in all segments, improving driving range.
Where the existing BEV development system has different types of battery packs for each model, Hyundai says the IMA can be equipped with standardised battery packs to attach flexibly regardless of the model to improve cost efficiency. The company claims that using the cell-to-pack system, the new architecture can secure sufficient energy density and shorten charging time. Five standardised types of motors also will be installed on IMA according to model needs.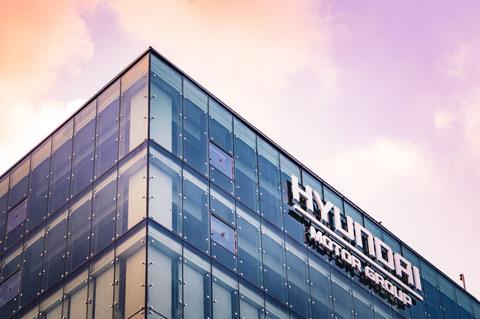 Developed at the Hyundai Motor Group Innovation Center in Singapore (HMGICS) the company says its new manufacturing innovation platform includes demand-driven, AI-based intelligent control systems; eco-friendly, low-carbon construction methods to achieve carbon neutrality and RE100 certification (100% renewable energy use); and human-friendly facilities that enable safe, efficient working.
There is a strong focus on the latter part of this with the nature friendly design of new plant intended to reduce worker fatigue and encourage interaction between colleagues. This design will maximise the use of natural light, feature an open plan group lounge and a central park that will act a hub to connect each building.
The EV-dedicated facility will be Hyundai Motor's first new plant in Korea in 29 years, following the opening of the Asan plant in 1996