The JV will produce materials from 2025 to make cathodes, a component which accounts for roughly half the cost of a battery cell.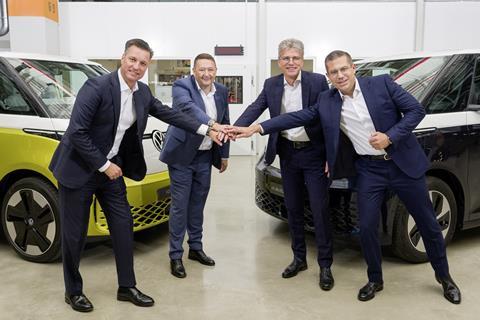 Volkswagen's recently-created batteries division, PowerCo, and Belgian mineral refiner and recycler Umicore will invest €3 bn in a joint venture to produce battery materials for 2.2 million EVs annually, the automaker said.
The new company, still be named, will start production in 2025 of materials to be used in precursors and cathodes which account for about half the cost of a battery cell, the VW statement said.
Production capacity will be around 40 gigawatt-hours (GWh) in 2026 and quadruple by 2030 to 160 GWh per year, the quantity needed to produce roughly 2.2 million EVs.
The joint venture partners will collaborate on sustainable and responsible sourcing of raw materials and eventually use Umicore technology and experience to "include elements of refining and battery recycling into the scope of the JV," the statement said.
"Cathode material is an indispensable strategic resource for battery production, accounting for roughly fifty percent of overall cell value. Immediate and long-term access to extensive capacity is thus a very clear competitive advantage," said Thomas Schmall, Volkswagen Group CTO and chairman of PowerCO.
Volkwagen Group's battery division, PowerCo, was formally established in July and plans to invest more than €20 billion by 2030 in six cell gigafactories with further investments possible in North America. It is headquartered in Salzgitter, close to key VW manufacturing sites and will source raw materials co-ordinate production as well as leading on battery research and development.
Umicore inaugurated on Sept. 21 what it called Europe's first cathode battery material Gigafactory in Nysa, Poland which will be fully powered by a nearby onshore wind farm operated by French utility Engie, making it carbon neutral from the outset, the company said. The plant is expected to produce its first commercial production volumes by the end of the year, it said in a separate statement.
The partners are searching for a location to base the production facility while the joint venture will be headquartered in Brussels and with each partner holding an equal stake and share costs, investments and profits.
Umicore will contribute intellectual property through a license agreement as well as its upstream expertise and gain a source of secured demand through firm take-or-pay contracts with Volkswagen, the statement said. The company has set a target of achieving net zero greenhouse gas emissions by 2035, its website says.
"This partnership is a strong signal of recognition of our product and process expertise and a testament to the success of our strategy to establish sustainable industrial-scale, closed loop battery materials value chains in key regions," said Mathias Miedreich, Umicore's CEO.