Truck and bus manufacturer Scania plans to build a battery assembly plant at its headquarters and main production location in Södertälje, Sweden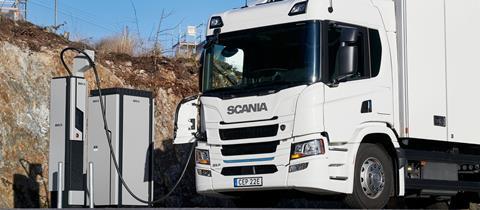 Construction on the facility will start in early 2021, aiming to be fully operational by 2023. Scania is developing a product line-up of electrified and fully electric trucks and buses and wants to bring the assembly of battery packs in-house. Bringing battery module production in-house helps overcome many of the difficulties involved with the delivery of lithium-ion batteries, which are heavy, expensive and subject to dangerous goods transport and storage regulations.
The cells will be manufactured by Northvolt, at its battery factory in Skellefteå, Sweden. Scania will then assemble the battery modules and packs. Currently, very few carmakers manufacture their own battery cells, Tesla being a notable exception. However, most electric car manufacturers do have local battery assembly facilities.
Ruthger de Vries, head of production and logistics at Scania, said: "Operating an on-site battery assembly plant is a prerequisite for large-scale production of electric vehicles and it also establishes Scania clearly as a part of the battery production value chain."
The new 18,000 sq.m facility will be built adjacent to the chassis assembly plant in Södertälje and represents an investment of over 1 billion Swedish Krone ($116m). The battery assembly plant will be highly automated, employing just 200 people. The chassis assembly plant is being reconfigured to allow for parallel assembly of electric and combustion engine vehicles.
Scania started production of hybrid buses in 2015 and introduced its first electric bus in 2019. The first fully electric truck will begin series production next year. As well as the battery assembly plant, Scania is also adding a battery laboratory to test future battery technology.
To hear more about how Scania is making its production greener, join the Automotive Manufacturing Solutions Livestream on Wednesday November 25 featuring Mathias Wijkström, head of global Scania production system, and Hugo Da Gama Campos, manager, sustainable development at ArcelorMittal Europe