Track electric vehicle lithium battery gigafactories by manufacturer, location, manufacturer, current and planned gigawatt (GWh) capacity.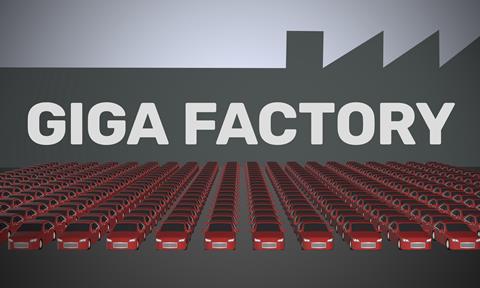 As electric vehicle sales and production rise, capacity demand for lithium-ion battery cells is rising exponentially. Download this database for a list of current 'gigafactory' locations, as well as the many further battery cell plants that are currently in the pipeline for production. These include plants by major battery cell manufacturers, including LG Energy Solutions, SK Innovation, Panasonic, BYD, Samsung SDI and others, as well as emerging and startup players across the lithium-ion battery supply chain.
Download lithium-ion battery gigafactory database
As vehicle manufacturers scale up their plans for electric vehicles, many including Tesla, Volkswagen Group, General Motors, Ford, Geely and others are also investing and expanding their gigafactory footprints, whether through joint ventures with battery cell manufacturers, or through eventual in-house battery cell manufacturing.
Download the lithium-ion battery gigafactory database for details on battery cell plant locations, battery manufacturers, current and planned gigawatt (GWh) capacity.
Download lithium-ion battery gigafactory database