Automation and economies of scale could see a reduction in battery production costs. Michael Nash takes a look
A study carried out by the Boston Consulting Group (BCG) in 2018 predicts that the price of battery cells used in electric vehicles (EVs) will rise significantly as demand in the segment grows. In order to prevent a sharp increase in cost, the report suggested that producers need to identify ways of enhancing manufacturing efficiencies by adopting "the concepts of the factory of the future, in which Industry 4.0 technologies enhance plant structures and processes."
The report specifically highlighted electrode production, cell assembly and cell finishing as three production areas that could wield a combined cost reduction of 20% to 35%. However, companies are taking different approaches. Some have been building enormous factories in the hope of taking advantage of economies of scale, while others are attempting to use automated production techniques.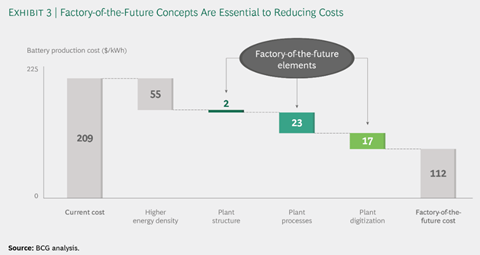 Automation
Comau is developing a fully automated manufacturing line for lithium-ion battery modules. The robotics specialist, which is a member of the FCA Group, has been commissioned to make the lines by Leclanché - a Switzerland-based provider of energy storage solutions.
The idea is to create an "all-in-one solution", with an automated line taking care of everything from pouch cell stacking through to welding and final assembly. The solution will also cover up to 32 different product configurations.
"We are proud of being selected by one of the leading companies in the booming battery sector for being part of their strategic growth," commented Mauro Fenzi, Comau's CEO. "This order acquisition confirms that Comau's unique mix of process, digital and robotics competencies is well suited to lead our customers to establish themselves on the E-Mobility market."
The lines will use Comau's robots, including its LHYTE laser solution that enables data management and maintenance monitoring.
Scaling up
Although demand for batteries will likely grow, the BCG report predicts that global capacity for battery cell production will exceed market demand by around 40% in 2021. This is due to the fact that several companies are building Gigafactories.
Tesla, for example, has been constructing its Gigafactory 1 in Nevada, the US, since 2015. The site is expected to be finished by 2020, and is set to become one of the largest battery production sites in the world. Its Gigafactory 2 site in New York was completed in September 2017, and the company is making a third site in Shanghai, China. Each of these sites are also jointly owned and operated by Panasonic.
Volkswagen has entered talks with SK Innovation with the prospect of building a battery production facility in China. The Korean energy and chemical company recently broke ground on a US$1.7 billion plant in the US to provide VW with lithium-ion battery cells, and is also building two further plants in Hungary. By 2022, SK Innovation plans to spend around $3.95 billion to boost EV battery capacity.
First things first
While building big batteries factories might help companies to prepare for the distant future (in which EV sales are far higher than they are at the moment), the most effective way to keep costs down today is to concentrate on enhancing processes and using tried and tested technology.
AMS is soon publishing an e-Mobility supplement, in which we explore battery production from various companies across different regions of the world.