UK vehicle production increased by 6% in the first quarter of 2023, according to new figures from the Society of Motor Manufacturers and Traders (SMMT). Vehicle makers turned out just under 220,000 units as supply shortage began to ease, said the industry body.
Exports helped drive growth, with SMMT figures showing that around 61,500 vehicles were exported in first three months of the year, a 6.6% increase on the same period in 2022. Exports accounted for 79.4% of overall production in the first quarter. Figures for March showed that the EU took the most cars from the UK and exports to Turkey, Japan, Australia and South Korea all increased. However, shipments to the US and China declined.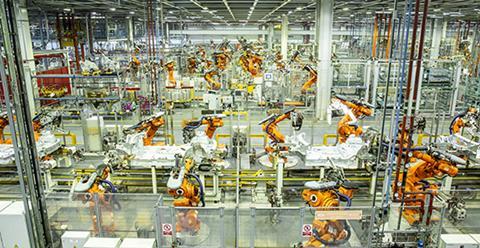 SMMT chief executive Mike Hawes said a second consecutive month of growth for UK car production gave cause for optimism but warned that reforms were needed to get the industry back to a competitive pre-pandemic level of production.
"That means driving down the high cost of UK energy, reforming business rates and vigorously promoting Britain globally to secure the investments essential to a zero-carbon automotive future," he said.
The SMMT reported that four in ten cars built in the month featured ultra-low or zero-emission powertrain technology, with that share forecast to grow as the UK works toward the goal of making 20 models of electric passenger and commercial vehicles by 2025. Hybrid, plug-in hybrid and battery EVs increased 75% in March to more than 32,500 units.
Commercial vehicle makers turned out more than 25,500 units (+1.1%) in the first quarter, with exports also up by 2.6% to 14,500+, of which almost 92% going to the EU.