Hesai Technology secures a significant design win with major Chinese automaker, FAW Group, heralding a significant milestone for lidar-equipped electric vehicles.
Hesai Technology, a leading provider of lidar solutions for Advanced Driver Assistance Systems (ADAS) and autonomous mobility, has secured a notable design win with FAW Group, one of China's major automotive OEMs. This partnership marks a significant advancement for in-cabin lidar technology, with Hesai's ET25 ultra-thin long-range lidar set to feature in FAW Group's upcoming EV model under the Hongqi brand.
This move represents Hesai's first series production design win for the ET25 lidar solution, with production and delivery expected to commence by the first half of 2025.
Throughout the collaboration, FAW Group has highlighted its technical expertise and extensive Research and Development (R&D) capabilities. Their pivotal role in seamlessly integrating and optimising the in-cabin lidar solution underscores the importance of this milestone. The official unveiling of the in-cabin lidar solution is scheduled for FAW Group's innovation technology conference in October.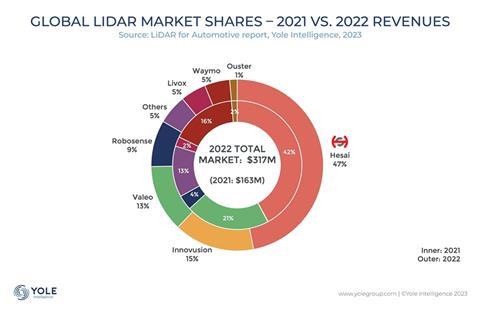 ET25 is tailored for ADAS-equipped production vehicles, offering an ultra-thin design at just 25mm in height. Positioned behind the windshield, it not only enhances aerodynamics but also ensures the lidar sensor remains shielded from dust and debris. Powered by Hesai's next-generation high-performance transceiver module, ET25 boasts an impressive detection range exceeding 250 metres (at 10% reflectivity), enabling precise decision-making in complex road scenarios.
Hesai's track record in the industry is noteworthy, with the delivery of over 190,000 lidar units to date. This reflects the company's dedication to reliable mass-production capabilities. A recent report by international research firm Yole Intelligence has highlighted Hesai's global leadership in the automotive lidar market, with a 47% market share for two consecutive years.
Hesai is actively expanding its presence and advancing ADAS development projects globally, collaborating with renowned OEMs in North America and Europe. Presently, the company has established series production programs with 13 OEMs worldwide.
As lidar technology continues to play a pivotal role in intelligent vehicles, Hesai is pushing for further collaborations with global OEMs. The aim is to drive innovation and deliver a driving experience that is not only more intelligent but also safer and more comfortable for consumers worldwide, according to the company,