OEMs and tier suppliers are now integrating additive manufacturing processes into their production operations – a prime example is BMW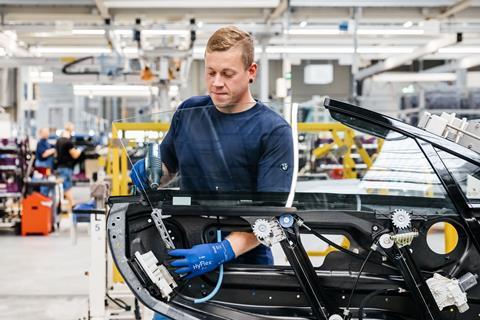 Last year BMW announced that over the previous decade it had produced 1m additively manufactured parts for prototyping, tooling and in-vehicle part applications in both polymer and metal materials, with one fifth of that total over just the previous 12 months. The OEM's commitment to the use of additive techniques is confirmed by Dr Jens Ertel, head of the company's Additive Manufacturing Centre in Munich.
"The additive manufacturing team at the BMW Group Research and Innovation Centre now processes annually almost 30,000 prototype orders and delivers over 200,000 components to BMW Group internal customers," he states. "We still see and expect a strong growth in prototype applications for functional testing due to more qualified materials and larger build volumes. Production projects are increasing but they are still in small series applications, though we expect more to come in the future. Our goal is to transfer additive manufacturing into an industrialised and highly automated series process."
As Dr Ertel also makes clear, BMW's explorations of additive techniques are highly variegated. "We use a wide range of technologies," he states. "For plastic parts these include stereolithography, fused deposition modelling, polyjet and selective laser sintering, but also new planar technologies like digital light synthesis and multi-jet fusion. In the metals sector we apply selective laser melting, laser metal deposition and binder jetting."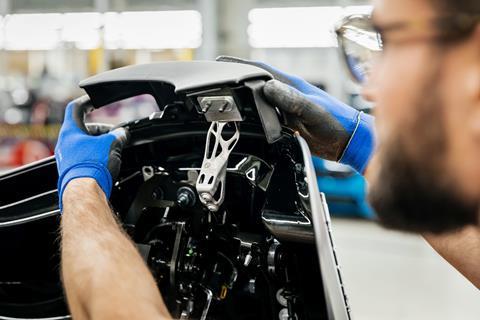 One particular technology that Dr Ertel mentions is digital light technology (DLS) developed in California by partner company Carbon. "We have been using DLS since 2015," he confirms, explaining that the technology is significantly faster than previous processes because it works by means of planar exposure in which the whole surface of a part is cured simultaneously instead of sequentially by a single traversing laser spot. The technique has already been used for the production of individualised side indicators for 100 BMW MINI cars in a German car hire fleet, an experience that has led the company to make that possibility a readily available option under the branding 'MINI Yours Customised'.
"We have now established this as an official MINI product and have therefore qualified an automated DLS production cell for mass individualised side indicator production," states Dr Ertel.
Integrating into serial production
However, BMW has also used additive techniques for the production of more practical if less obvious parts. An example is the guide rail for the window of the BMW i8 Roadster, which is located in the door and ensures smooth window entry and exit. It is manufactured using a multi-jet fusion system from Hewlett-Packard.
"Our specialists developed this part in just five days at the Additive Manufacturing Centre, and integrated it into the series production of the vehicle in Leipzig within a very short period of time," states Dr Ertel. "BMW Group has further developed the technology for production and is now using this particularly fast process for the first time in series production," he confirms. "With this technology up to a hundred window guide rails made of polyamide can be produced within 24 hours in one 3D printer."
"Production projects are increasing but they are still in small series applications, though we expect more to come in the future."

Dr Jens Ertel, BMW
In addition, the holder for the cover on the soft-top roof of the BMW i8 Roadster is also manufactured in the Munich Additive Manufacturing Centre. In this case, says Dr Ertel, the component is made from an aluminium alloy and is "lighter and significantly stiffer than a commonly used plastic injection-moulded part". He adds that both components are printed in "significant figures of several thousand parts".
Moreover, additive manufacturing within BMW is distributed throughout the company globally. "Most of our plants are already equipped with 3D printers with a focus on tools, jigs and fixtures, but also for hardware improvement processes in the production lines," Dr Ertel confirms.
He adds that the technology also supports product customisation specific to local demands. "We continuously evaluate how our customers can further benefit from 3D printing," he says. As such, the 'MINI Yours Customised' initiative has been "an important milestone" for the company and has been expanded beyond the initial side indicator application to include additively manufactured individualised dashboard trims.
"This form of mass customisation is only possible thanks to 3D printing and has enabled us to provide numerous country-specific editions with individualised parts," he states. These have included, for instance, nameplates in local dialects and city skylines on the dashboard trim and the side scuttles. He adds that, in the future, BMW also expects designers to use the design freedom facilitated by additive techniques to permit the manufacture of "integrated complex structures with an intriguing functionality and aesthetic to them, which could not be manufactured by other means."
Dr Ertel says that when evaluating the introduction of additive techniques BMW "sticks to our long-term strategy of doing so where it creates benefits like cost and time advantages over conventional production methods." He says the company sees a high potential to introduce changes where needed and that this is "something we know from our prototype production where iterations are made in very short time cycles." He adds that a major reason BMW targets the use additive manufacturing for prototyping and small batch production of customised or very complex components is because of its ability to facilitate tool free manufacturing.
Furthermore, Dr Ertel states, "while we believe cost effectiveness will improve with new production processes and we constantly try to give our view on new machines, materials or software that are in development." This active interest in the wider additive manufacturing business will, he believes, "lead to new innovations and possibilities that can then be directly applied in the automotive industry."
More Additive/3D Printing
To explore the world of automotive additive/3D printing on AMS click here.