Find out how Weldloop's technology achieves quality enhancements in automotive welding through machine vision technology.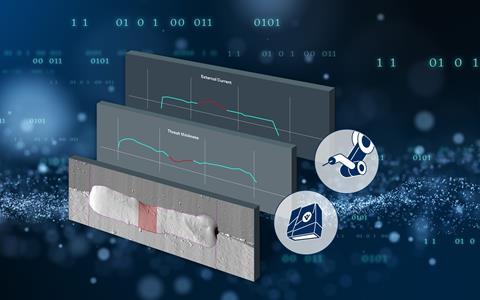 Welding systems are complex, and the quality of the weld is determined by a number of factors, with technology integrations always seeking to improve this quality through enhanced robustness, reliability and maximised component life cycles.
As a critical cog in the large machinery of automotive manufacturing, the welding process both employs and is improved by machine vision technologies, detecting details that escape the human eye.
Machine Vision: perceptions of quality and enhancement
In essence, machine vision is the ability of a computer or machine to perceive and interpret its environment through the use of one or more video cameras, capable of capturing visual information from the surrounding environment. But vision is not confined simply to lenses, in the background, a sophisticated system is both involved and necessary. The captured images are then processed using a combination of hardware and software, including artificial intelligence (AI), machine learning and deep learning algorithms to derive information and make decisions based on what it sees.
In automotive production, machine vision technology is near-ubiquitous, used for processes as diverse as visual inspection, defect detection, positioning and measuring parts, and identifying, sorting and tracking components across manufacturing - or welding lines, sitting in the upper echelons of the Industry 4.0 pyramid; with accelerating data exchange and automation marking its capstone.
Machine vision can vastly improve the quality of welding In automotive manufacturing. A machine learning model can even use data generated by welding controllers (whether human or machine) to analyse electric voltage and current curves during the welding process.
Vitronic is a company specialising in the conception, production and distribution of innovative industrial machine vision solutions – with significant ramifications for automotive production.
Among its software offerings is Weldloop, a system which stands out as a key contributor in weld seam inspection processes. Weldloop emerged as a result of a collaborative effort between Vitronic and Fronius, the technology leader in arc welding. The software is unambiguously automotive production-critical and is intended as a closed-loop system which synthesises data from various stages across the welding process – an integration which is instrumental in enhancing welding productivity and reliability through welding lifecycles.
As a software solution, Weldloop's primary function revolves around the optimisation of welding lines through the systematic collection and close analysis of critical test data and welding parameters.
Weldloop: Maximum productivity in the welding process
Vitronic's Weldloop software integrates weld inspection data with process data from the welding line. This makes it easier to identify causes of defective seams and optimise welding processes. The latest version of the solution has been enhanced with additional evaluations, visualisations and tools. They make it easier to analyse data and eliminate the sources of defects – and save valuable time in production.
"At the moment, in standard welding processes, there is a rift between quality inspection and process data; not to mention the added steps of inspection and destructive tests," says Vitronic product manager, Peter Daniel. "Vitronic's goal is to carry out the welding optimisation process with a far more structured approach; with our technology, we want to help our customers quickly and systematically identify the causes of any defects."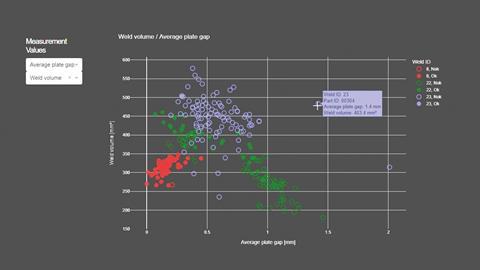 Daniel says, the present status of fault-identification in the welding process is, "frankly, inefficient. It consists of several laborious steps: First is the actual welding, which is followed by weld seam inspections, then analysis based on that inspection-data, and lastly, purely manual analyses of all the associated gathered data. This unnecessary complexity is counterproductive," he says. "Weldloop's data-driven technology simplifies the operation, effectively redefining the standard welding process; leading to much leaner and more efficient outcomes."
Optimising welding processes to avoid scrap
In the production of body parts or axles for vehicles, every single weld seam must be inspected: There can be no compromises when it comes to safety. Automated inspection systems use image processing to reliably find all defects and document the inspection results. The non-OK parts are rejected and reworked.
Every welding defect costs unnecessary time and money. Vehicle manufacturers have to work efficiently. Detecting defective parts before delivery is not enough. The aim must be to avoid defects and rejects from the outset if possible – by quickly finding and eliminating sources of error. In this way, welding processes can be made progressively more stable and reliable.
Daniel says that to achieve this, Weldloop helps tackle the first step in the optimisation process; synthesising inspection data with process data, "and this is the first time that such a convergence has been achieved."
Synthesising inspection data and process data
Without context, however, the data from the visual inspection do not allow direct conclusions to be drawn about the causes of defects. Such analyses still depend largely on the experience of welding engineers: They set out to find the fault, change the welding parameters and thus try to eliminate it. This can take time.
Meanwhile, the welding line is often at a standstill. In addition, this method prevents continuous automation of the line.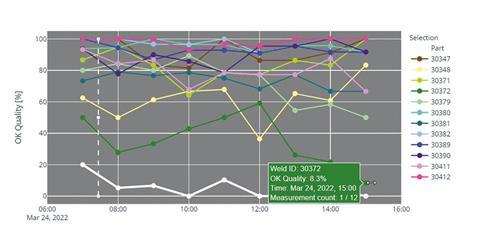 That is why Vitronic, the Wiesbaden-based specialist for industrial image processing, launched the Weldloop software at the beginning of 2022. Weldloop integrates data from two sources: 3D data from automated weld inspection with Vitronic VIRO WSI, and process data from the welding line in WeldCube Premium[BS2] ; the documentation solution from Austrian manufacturer Fronius. The software visually compares both data sets: this makes it easier to identify correlations between defective seams and deviations in the welding process.
Quickly eliminating errors with visual evaluations and integrated solutions
The latest Weldloop version provides a range of new evaluations, visualisations and tools. This makes it faster and easier for welding engineers to analyse defects and eliminate the causes. With visualisations such as scatter plots, large amounts of data can be displayed at once, for example different measured values from several welds in one overview (see Visualisation).
Daniel says, "from WeldCube we get the wire consumption calculated out of the wire feed speed and can compare it with our weld volume calculated out of our 3D scan. That data is then presented visually in a colour-coded scatter plot where you're able to analyse huge amounts of data. This easily digestible data speeds up welding lines, translating to quantifiable improvements throughout the process."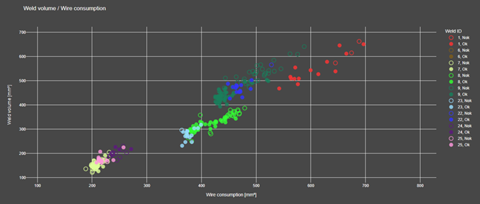 There are many other improvements offered by Weldloop. Daniel takes up the example of an undercut in the weld seam. "The cause of the defect could be due to an incorrect welding position or incorrect process data. The issue is that on the welding line, you could have anything from 30 to 100 different welding systems; which means that you cannot easily discern the actual source of the defective seam. Our system allows you to identify the source of the defect by linking data sets, with all the information being easily, and directly linked in our software ecosystem."
Using trend displays, the quality of a component and individual seams can be tracked over time on an hourly, daily and weekly basis. One click takes you directly to the detailed view with the measured values of individual seams. Causes of errors can be traced back to individual welding stations and exact times.
A few more clicks are all it takes to eliminate the cause: Workers can check in Weldloop whether the process data is within the specified limits and switch directly to WeldCube Premium to optimise the parameters and limits of the welding station. Manual analyses become unnecessary, as do constant changes between different stations and solutions. Weldloop also allows the import of manual defect evaluations by the workers; based on the data, pseudo defects can be minimised and test methods can be optimised.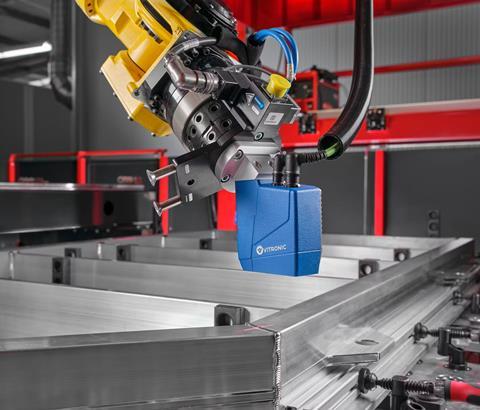 For documentation, optimisation and audits, the software comes with a number of standard interactive reports (see image gallery). All data can be transferred to external databases for long-term archiving.
Daniel comments that Weldloop can be deployed across all kinds of material, be it aluminium, steel and so on, "but of course," he says, "Vitronic mainly inspect safety relevant components, and so Weldloop can be used across a broad gamut, essentially subsuming everything that falls under that umbrella."
Weldloop's broad applicability is seeing a high-demand in its favour, both from tier-suppliers and OEMs, and such high demand can come with its own set of challenges in automotive production.
Daniels says, "Our main tiers and many OEMs are telling us that they want to use our technology in every factory worldwide. A big task is going to be the transformation of existing lines into lines with automated inspection. Usually, when we sell new systems, approximately 95% are implemented into new lines. The continuous modernisation of these lines will be a welcome challenge for Vitronic.