Vehicle production has become increasingly digitalised, with a variety of different tools helping workers on production lines. These tools can also help reduce energy usage. Michael Nash provides an insight
Research from the European Automobile Manufacturers' Association (ACEA) shows that the environmental impact of vehicle manufacturing facilities has decreased by almost 24% over the last decade, despite the fact that the total number of cars produced on the continent increased by around five million between 2013 and 2017 alone.
Energy consumption per car produced also decreased by nearly 16% during the last ten years, while the amount of waste generated per car was cut by around 14%. Carmakers have been exploring numerous ways to enhance the energy efficiency of their manufacturing facilities, while suppliers are busy developing digital tools to help.
In control
According to a white paper published by Schneider Electric, it is possible to reduce annual energy consumption at an average large industrial facility from US$6m to around $4.8m by making energy usage data more efficient and transparent. However, these figures can fluctuate due to changes in the price of energy.
Around a decade ago, the price of energy supplied to US manufacturing plants would typically change about once a year with each new utility contract. But today, prices can change every 15 minutes due to the complexity among assets, raw materials and utility costs. There are also the general peak demand times to take into account.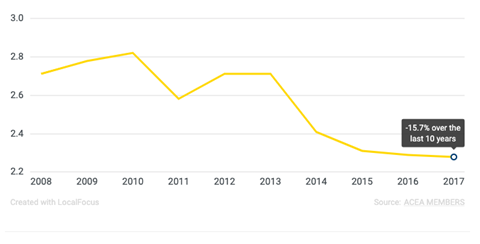 Some car makers are using digital tools and controllers to ensure their facilities are operating as efficiently as possible when it comes to energy consumption. These can be integrated within what Schneider calls the industrial internet of things (IIoT).
"Using these new IIOT-ready controllers, data is visible whenever and wherever it's needed," explained Sylvain Thomas, director of applied offer management, Schneider Electric. "Controllers are connected to power meters on machines and other assets across the plant. Their data can be gathered into a central point; integrated connections make data flows visible to whatever users need it. That includes sending information up to IT networks at the business level, and benchmarking all relevant results. Active energy management is built into the process. So managers can take maximum advantage of fluctuating energy costs. And assets can achieve optimum productive efficiency for the energy consumed."
By using energy storage systems, such as old batteries from electric vehicles (EVs), plants can draw power from the grid during off-peak times and then use it when energy is at its most expensive. Thomas believes that annual energy expenditures at the average industrial facility can be cut by about 30% by using these techniques.
Up in the Clouds
Volkswagen is one of several OEMs that have been championing energy efficiency in its manufacturing footprint. In 2017, the company changed the goal of its 'Think.Blue.Factory' initiative with the hope of achieving a 45% reduction in CO2 emissions, energy and water consumption, waste production and solvent emissions when compared to a 2010 baseline. This is up from the previous target of a 25% reduction.
Numerous approaches have been adopted when it comes to improving energy efficiency at plants such as Wolfsburg, like enhancing compressed air system units and lighting systems. The use of digital controllers to minimise energy consumption has also been a key focus for the company.
Siemens recently became the integration partner for the VW Industrial Cloud – a term used by the OEM to describe the network that connects 122 of its plants. By doing this, VW hopes to improve data transparency and analysis in order to lay the foundation for further productivity improvements and efficiency gains across its manufacturing footprint.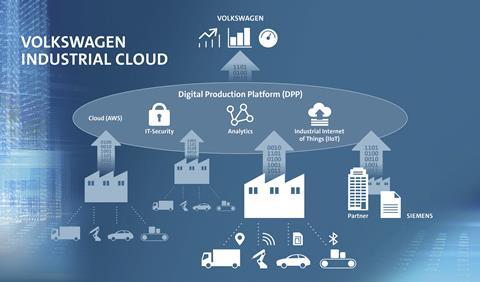 Machinery, production systems and equipment in VW's factories will all be linked to the Siemens MindSphere platform, with a wealth of data being sent to the Cloud and made available for those who have access anywhere in the world. "This way, Volkswagen, suppliers and machinery producers will be able to leverage the potential of production data even more effectively," commented Klaus Helmrich, member of the managing board of Siemens. "It will be possible to make production more efficient and flexible as well as further improving product quality."
VW is developing its Industrial Cloud together with Amazon Web Services (AWS). The idea is to create a base for the seamless digitalisation of both equipment and technology within its own plants, as well as data from the logistics teams. The OEM's global supply chain is spread across 30,000 locations and consists of over 1,500 suppliers.
Smart sharing
Keeping data secure and private has been a big focus for companies in the automotive industry in order to protect IP. However, some are hoping to encourage transparency and collaboration.
BMW, for example, has teamed up with Microsoft to launch their Open Manufacturing Platform (OMP). Built on Microsoft's Azure Industrial IoT Cloud platform, the OMP aims to provide users with a community to share smart factory solutions, with the primary goal of driving efficiencies in all vehicle production facilities across the world.
The OEM is planning to contribute information on initial use cases to the OMP, such as the integration of an IoT platform to operate autonomous transport systems at its plant in Regensburg, Germany. This allowed BMW to simplify and enhance the efficiency of its logistics processes at the facility.
As well as encouraging other companies develop solutions for manufacturing challenges, BMW hopes to use the platform to identify improvements to its own plants, such as innovative ways to enhance energy efficiency. Looking ahead, the company has said it will make more information on other use cases available, such as digital feedback loops, digital supply chain management and predictive maintenance.
Proof is in the paint
There are other ways aside from digital tools that have allowed car companies to save energy at their facilities. Ford recently published its 19th annual sustainability report, in which it celebrated reducing CO2 emissions from its global manufacturing footprint by 3.4m metric tons between 2010 and 2017 – meeting its target eight years ahead of schedule. The OEM did this by energy conservation and efficiency changes, such as the installation of more than 100,000 LED lights and the upgrade of its paint shops.
"Painting operations use a large amount of energy," said Andy Hobbs, director, environmental quality office at Ford. "Introducing technology that allows wet-on-wet paint application and eliminates a drying oven, in more plants has significantly decreased energy use while maintaining quality."
A primer coat is used that requires only a few minutes of open-air drying before the colour coat is applied. Furthermore, the colour coat is formulated with the same appearance and protection properties of the clear coat, eliminating the need for a separate clear coat. By doing this, Ford's painting facilities use both less energy and water, while also producing less CO2 and particulate emissions.
The company also reduced energy usage by introducing minimum quantity lubrication (MQL) technology. This allows machining tools to be lubricated with a very small amount of oil sprayed directly on the tip, which takes the form of a mist rather than a large quantity of coolant/water mixture.