Just over two years after it opened, the new paintshop at Skoda's Mladá Boleslav plant is fulfilling all the objectives set for it when it first went into operation.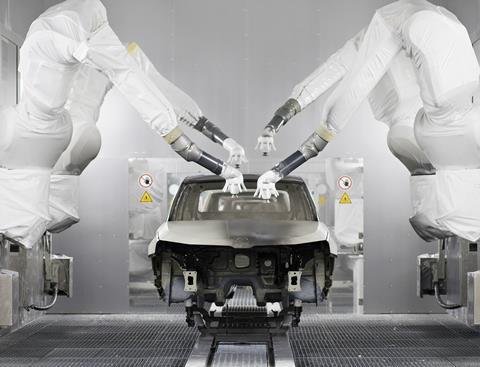 In quantitative terms the €214.5m installation was designed process 168,000 car bodies a year with a maximum possible daily throughput of 700, so increasing the total painting capacity of the plant to 812,000 vehicles a year. The models painted in this paintshop include the Karoq, Scala, Kamiq, Enyaq iv and Octavia, and the same painting processes are shared across all models.
The facility also exemplifies a commitment to automation, energy saving and environmentally efficient technologies. Relevant figures compared to previous practice include a 20% reduction in power consumption in paint drying procedure, a 17% reduction in paint usage, a 36% reduction in emissions of organic substances and the obviation of one complete drying cycle. An immediately visible factor contributing to all this occurs in the three curing stages in the paint shop where the car bodies enter the ovens transversely rather than head-on.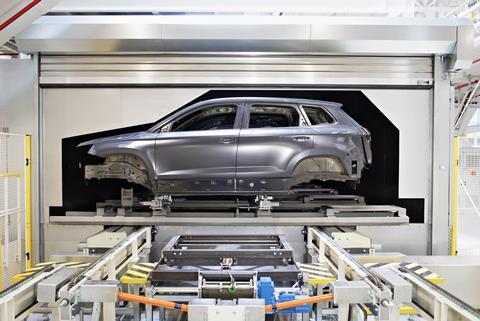 Skoda says that this means that the hot air in the ovens flows into the vehicle bodies through the engine compartments and window apertures so that the drying process takes place "in the direction away from the sheet metal and not from the top layer down". This helps shorten total drying line length to around 100m or only about half the length that would be required otherwise.
Effective use of digital data
The commitment to automation is also evident in the highly robotised nature of operations in the new paint shop. "A total of 87 robots are responsible for precise and efficient completion of the required tasks," the company states. Less obvious is the way physical operations are underpinned by the effective use of digital data in line with Industry 4.0 principles. "The paint application process includes, among other things, the use of digital data that is gathered during the body production process and then compared to the identity of the respective model at individual workstations," the company confirms.
Meanwhile the installation's environmental efficiency is manifested in several ways. "The paintshop uses a type of coating based on water-soluble materials, except for the topcoat which contains a large share of solids, 55%," the company states. "Compared to conventional paint shops, we use 210 grams less solvents and 17% less clear coats per car, which leads to paint waste reductions." In addition, the waste air cleaning system in the installation has reduced the amount of paint residues per body by more than two kilograms. As such, the company reports, "we have significantly reduced the consumption of material and energy while also reducing the volume of waste generated during the painting process. VOC (volatile organic compounds) emissions in the painting process have been cut by 36%."
Model specific paintshop programming
Another key feature of the installation in which process and control are combined is the ease with which it can be reprogrammed to suit different car models coming down the line rather than just the colour of paint being applied. "The paintshop is designed to adapt to the body type according to the model concerned," the company confirms. "This solution is one of the most advanced systems currently in operation." The company explains that standard practice on paint lines is to transport bodies on chain conveyors, but in this paint shop chain conveyor transport is only used in the transverse dryers. Elsewhere a different methodology is employed to move vehicle bodies. "We use roller tables to transport bodies on skids within the paintshop," states the company. "This involves a unique central control system across the whole paint shop control infrastructure."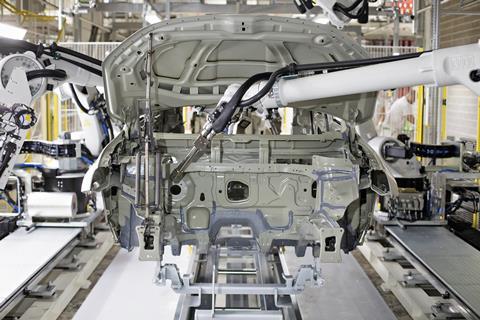 Right from the start of operations the company had a stated intention to phase out some of the human visual inspection techniques initially employed and to replace them with more automated procedures and it confirms progress has been made in this direction. "In order to systematise the digital body-surface-inspection process we have installed a system called EINES in the new paintshop," the company reports. "Its role is to scan and evaluate possible body surface defects and screen such information for the finish line staff."
For the moment, therefore, the company says it is entirely satisfied with the performance of the installation over its first two years of operation. "The paint shop meets all pre-set targets in terms of environmental friendliness and sustainability," it states unequivocally. "All of the technologies used in operating the paintshop are of great benefit to the company and we endeavour to implement this innovative operational concept across all areas of expertise." In fact, 2021 saw Skoda receive an award for the new paintshop under the Automotive Lean Production Awards project, primarily for using innovative technologies leading to high automation while setting high sustainability standards. As such the company says it will "stick to this model in other planned operations." For the future Skoda says there are no plans for further development of the paintshop now. In general, though, the company says that its Production Division makes every effort to meet the targets of the company's Next Level strategy, which, among other things, "includes the highest achievable sustainability of all production processes and areas within the Green Future policy." This means that "the focus of any future changes at the paintshop will therefore be on environmental friendliness in line with our Green Factory programme."
Watch Skoda's paintshop in action