The new contracts, one of which is France's largest corporate renewable energy supply deal, will guarantee supplies to Renault over 15 years.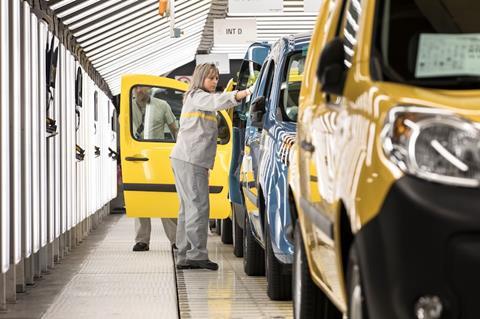 Renault has announced plans to slash its consumption of natural gas in the next few years through three new contracts with renewable energy companies to supply several plants in France, it said in a statement.

The new contracts mark a significant step forward in the automaker's aim of carbon neutrality in Europe by 2030.
"We take our responsibilities as a front-running automaker to innovate and reduce the carbon footprint of our electricity supply in France," said CEO Luca de Meo, who recently announced a plan to break the automaker's main activities into five separate businesses.
"[W]e are embarking on a strategic phase in our objective of obtaining carbon neutrality in our factories," he said.
The largest new contract is with Voltalia which will install enough solar panels to occasionally meet up to 50% of the automaker's electricity needs for car production by 2027. It is the corporate power purchasing agreement for the supply of green energy in France, Renault said.
Voltalia will install from 2025 enough solar panels to produce 350 megawatts (MW) of power by 2027 and will have a contract to guarantee the green energy supply to Renault for 15 years.
French energy supplier Engie will separately to carry out a first-of-its-kind project in Europe to exploit geothermal energy with the aim of using it to replace 70% of the automaker's natural gas consumption at its Douai, France factory by 2025. Renault will enter into a 15-year heat purchase agreement with Engie.
Works will begin at Douai at the end of 2023 to obtain a water supply at 130-140°C from a depth of 4,000 metres, energy which will be used for industrial processes and the heating of the site from 2025. The cooled water will then be returned into the earth's crust. The retrievable energy will equate to a continual 40 MW supply some of which can be used for electricity generation in the summer when heating needs are reduced, Renault said.
The Maubeuge plant will also be able to cancel out 65% of its natural gas consumption through a deal for Groupe EDF subsidiary Dalkia to install a biomass boiler using local feedstock with a heat output of around 15 MW from 2025 and a contract duration also running for 15 years.
The Douai and Maubeuge projects will enable these two factories plus gearbox-making site Ruitz, which together make up Renault's ElectriCity EV-focused manufacturing cluster to achieve carbon neutrality by 2025 by when the three sites will collectively produce around 500,000 electric vehicles a year.
The three plants in the cluster are located in the very north of the country in Hauts-de-France.
Renault recently announced progress in reducing its energy needs which since the start of 2021, have been roughly the equivalent to closing down a factory.