Despite competition elsewhere in the continent, South Africa retains its key place among global manufacturing strategies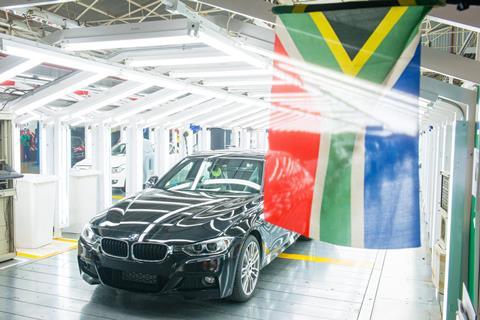 In 1995, South Africa launched a long-term strategic plan for the automotive sector, the Motor industry Development Plan (MIDP). This was designed to help the local automotive assembly plants convert from CKD into full manufacturing operations. BMW was the first to do this, in 1998, when the E46 3-series went into production. This was followed by Mercedes introducing production of the C-class; Volkswagen started producing the newest Polo for export (especially for the UK) and the local market, alongside some models made on old platforms for southern Africa as a whole; and the Japanese companies, and Ford, began to use South Africa as a base for pickup production and global exports.
The primary aim of the MIDP was to increase South African vehicle production volumes, essentially through increased export volumes, the local market being too small to absorb all the capacity being added. The South African government had identified automotive production as a key sector for modernising and industrialising the economy, and as a crucial source of skilled jobs. Various incentives were offered to the vehicle companies to produce in South Africa and there were no local content requirements, although this has changed as South Africa has begun to sign trade deals, including with the EU, which demand 55% local content to meet trade agreement rules. Although several global suppliers have moved to South Africa to facilitate this, in the early stages of the MIDP, vehicle manufacturers could ship parts in from abroad, so long as they assembled increased volumes locally.
Some countries did complain to the WTO about unfair subsidies and by 2012, the MIDP had been transformed, or upgraded, to the Automotive Production and Development Programme (APDP) with incentives and tariffs reduction etc. were specifically designed to be compliant with global trading rules and standards. This appears to have been successful, at least when judged in terms of continued and increased investment in the country's manufacturing sector.
Changing times
For many years the leading vehicle manufacturing country in Africa by volume, South Africa will soon be overtaken by Morocco, which has benefited from the huge plant built by Renault and the new factory recently opened by PSA. However, South African plants remain important parts of several manufacturers' global production strategies and will continue to do so. BMW, Mercedes and Volkswagen use their factories there as global supply points, and have done for some time; Ford, Nissan and Toyota also export – mainly pickups and some SUVs – from the country, but also rely heavily on the local and regional market.
Export volumes for 2019 are expected 388,000, worth around $9.25 billion; this would be a more than 10% rise from 2018's exports of 351,000. Vehicle manufacturing is worth around 7% of the South African economy, employing around 100,000. Volkswagen is the leading exporter, shipping 12,000 overseas in October alone – the UK is a major market as most of the Polos sold here come from South Africa, rather than the Spanish plant which makes most of the Polos for Europe. Mercedes exports around 8,000-9,000 C-class models a month, while Ford ships 7,000-8,000 pickups overseas every month; in fourth place is BMW, with around 7,000 X3s exported every month.
These increased exports have taken place following key decisions regarding investments and model allocations. For example, the BMW factory has switched from the 3-series sedan to the X3 crossover, partly because of declining demand worldwide for the sedan and partly because of capacity constraints in the US factory which made the old X3. And with the EU and South Africa having signed a free trade deal in recent years, it made sense for BMW to source the X3 from a tariff-free location rather than pay the 10% EU import tariff on US-sourced models (it could not do this for all SUVs, with the X4/5/6/7 continuing to be made in the US, and therefore attracting the EU tariff, but these vehicles have a higher price and greater margin within which it can absorb the tariff burden)
The BMW factory at Rosslyn, near Pretoria was the first plant in the country to become a full vehicle manufacturing plant, rather than a CKD plant. It was also BMW's first full manufacturing plant outside Europe to be fully integrated with the European production network when the E46 3-series went into production in 1998. It carried on making successor generations of the 3-series until recently but, as noted above, has switched to making the X3 SUV, mainly for Europe. Capacity exits to make 76,000 X3s, operating three shifts a day, five days a week, following total investment of 6bn rand for this new model. Much of this investment was for 288 robots which have been added in the body shop.
Reflecting the industry's increasing environmental focus, one-third of the factory's electricity comes from a renewable energy plant, powered by food waste and cow dung; BMW South Africa wants to be 100% 'off grid' in terms of energy supply by 2020. A similar policy energy is being followed at Volkswagen which is in the process of switching its 160,000 upa Uitenhage factory and its local suppliers off grid, instead taking their electricity from a biogas facility which is now being built following a 3.5bn rand investment which will create 1,000 jobs alone.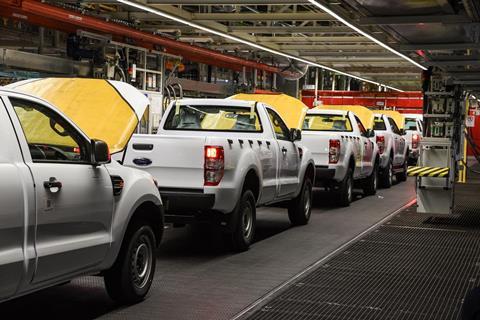 Expansion at Ford
Ford has also embarked on an expansion plan at its Silverton plant near Pretoria, where it makes the Ranger pickup and Everest SUV. Production capacity is now being expanded from 124,000 to 168,000 a year, adding 1,000 jobs in the factory, and – the company claims – 10,000 in the supply chain.
The factory will soon be running on a three-shift basis, making 720 vehicles a day; as well as supplying the local market, Ford Silverton ships to 148 markets worldwide, including Europe. Ford also has an engine plant in Struandale, Port Elizabeth making around 250,000 engines a year mostly for Silverton-made vehicles; engines and loose parts such as crankshafts and engine blocks and heads are exported to other Ford plants across the globe.
Ford's expansion is part of the government-supported investment scheme in the Tshwane Automotive Special Economic Zone located next to the factory (there are actually 10 such schemes or zones across the country, not all in the automotive sector). There are already nine Ford suppliers lined up to operate in this zone, employing 7,000 initially.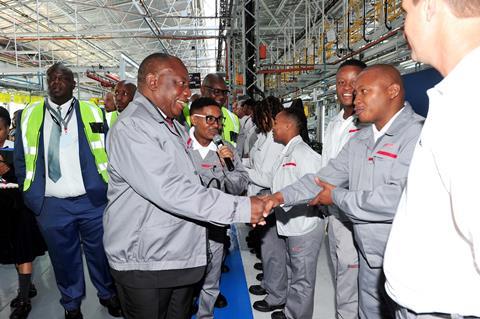 Not to be outdone, Nissan is now investing three billion rand ($214m) in its Rosslyn plant for the new Navara pickup. By comparison with Ford and the German brands' plants, Nissan's factory is small, with production capacity slated to grow from 30,000 to 65,000 following this investment. Production of the new model is due to begin in 2020, creating around 400 jobs, possibly rising to 1,200 in the long run. Despite Nissan's many problems elsewhere in the world, Africa is a key target market and the company wants to double its presence on the continent as a whole by 2022; it already sends Navaras to nearly 50 countries and wants to increase this.
The Nissan Navara is one of five pickups – or bakkies as they are called locally – made in South Africa. In addition to the Navara and Ford Ranger, the other south African made pickups come from Toyota, Isuzu and Mahindra. The Toyota Hilux is built in Prospecton in KwaZulu Natal; where over six billion rand has recently been invested in tooling and expanding the local supply base for the latest version of the Hilux. The Isuzu D-Max is a low-volume programme made in a former GM plant near Port Elizabeth for the local market, and is not exported. Finally, there is the Mahindra Pik-up, newly introduced to local manufacturing scene. This too is a small volume operation, making just 2,500 a year a present in a new factory near Durban. Production could be increased to 4,000, subject to demand, and the operation exists to add other models, piously the Bolero SUV, to the factory's line-up in the years ahead.
To download the full AMS Africa 2020 digital supplement click here.
AMS on Africa
1

2

3

Currently reading

AMS on Africa: Part 3 – Game plan for South Africa

4

5

6