Algeria has ambitions to be the Africa's next major automotive manufacturing hub and the OEMs are lining up to make it happen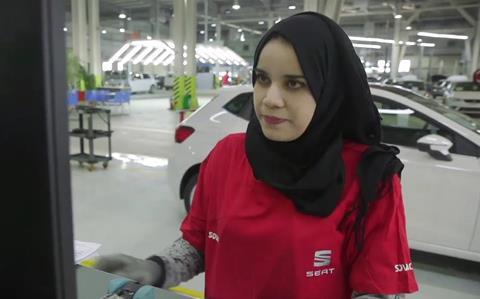 For many years, South Africa was the only country in Africa with a full vehicle manufacturing sector; now this has been joined by Morocco. While French vehicle companies dominate in Morocco and German companies are strongest in South Africa, a third manufacturing market is opening up in Algeria. Here, French companies are once again to the fore; in addition, Nissan will open an Algerian plant, and the VW group is also expanding in the country, assembling vehicles across all its major brands. In addition, Hyundai has a small scale CKD commercial vehicle plant in the country.
Ultimately, the Algerian government wants to see 500,000 vehicles made in the country, although by when is not clear. There is a long way to go, as the combined maximum output of Renault, Groupe PSA, VW Group, Nissan and the Hyundai CV plant is not yet 200,000 a year (the PSA and Nissan factories are not yet even in production).
For the government's ambitions to be met, a significant degree of regional exports will be required – independent market forecasts suggest that the Algerian market will be a maximum of 350,000 vehicles by 2022. Also, either Algerian consumers are going to have to buy a significant number of Renault, PSA, Nissan and VW group models, or yet more manufacturers will have to come to the country.
Vehicle manufacturers need to establish operations in Algeria to get around recent bans on vehicle imports, and in doing so they also have to let local investors hold a 51% stake in the local Algerian company. This has led to a reticence on the part of some companies to making their Algerian operations anything more than SKD or CKD operations. In addition, transforming their Algerian operations into full manufacturing facilities is hampered by a lack of local suppliers and a somewhat archaic banking system that has hampered local suppliers getting access to investment funds.

Renault-Nissan
Renault has a plant in Oran, on the north-west coast, where it makes the Renault Symbol and Clio. Initial capacity is around 50,000 units a year. Its long-term alliance partner, Nissan, has also decided to open a plant in the country, but independently of Renault.
In February 2019, Nissan said it would invest $160m to make 63,500 cars a year, with production beginning during H1, 2020. The factory will employ 1,800 initially inside the plant, indicating a very labour-intensive production system; a further 3,000 indirect jobs will be created in suppliers, logistics and dealers.
Nissan's local partner, holding the 51% stake mandated by the government, is Group Hasnaoui. Highlighting the challenge of finding local suppliers, the Nissan models are tasked with achieving just 15% local content by the start of year three of operations and 40% local content by the start of year five.
Groupe PSA
Meanwhile, Renault's French compatriot, PSA, is opening a plant in the country, having signed a deal to do so in November 2017. As with Renault, the plant, which will employ c.1,000 people, will be in Oran. Initial investment will around s100m ($112m), with annual capacity of 75,000 units. The PSA plant will make both Peugeot and Citroën models. Initially the plan was to source 30% of the parts for this factory from Iran Khodro but whether this will be possible in the long run in the light of sanctions against Iran is currently unclear.

Volkswagen
The VW group has a factory in Relizane, 220km from of Algiers; its local, 51% partner is Sovac. Investment to date has totalled $170m. It opened in 2017, making just over 17,000 that year. Production began with the Seat Ibiza, which accounted for over 8,000 in 2017. During 2018, Seat added the Arona and Leon and the plant also makes the Volkswagen Golf and Caddy, plus the Skoda Octavia. As well as expanding the Seat range, the factory will add the VW Polo and Skoda Fabia, plus an as-yet unnamed Audi model. The factory is now running at around 200 vehicles a day, with SKD kits still used. VW Group would like to increase local content significantly but cannot owing to a lack of local suppliers.
Hyundai
Korea's largest OEM has established a joint venture with a local company, Global Group, to make around 6,500 commercial vehicles a year in CKD operation at Batna, around 400km south-east of Algiers. Production is due to start in 2020 and is expected to include the Mighty compact CV, Xicent truck and Solati and County buses. Hyundai already has over 50% of a modest market, selling around 6,000 LCVs in 2018; the market is expected to almost double to 22,000 CVs by 2025.
To download the full AMS Africa 2020 digital supplement click here.