OEMs continue to repurpose established engine plant sites for the electric age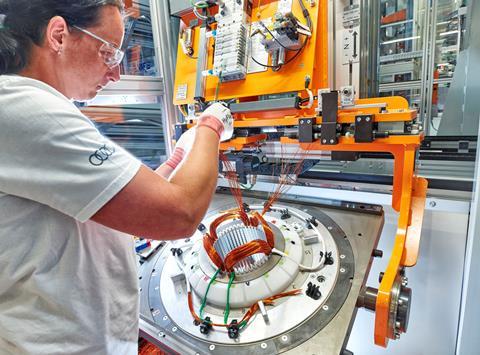 Renowned for huge volumes of petrol and diesel engine output, Audi's plant at Györ added to its portfolio midway through last year.
Audi Hungaria now uses an innovative modular production line for its daily volumes of around 400 electric axle motors, part of the e-tron drive system.
The assembly cells, equipment and measuring stations are in fixed positions but are not set in a linear arrangement. Instead, drive systems are assembled via a modular method across production islands. Still with a predefined assembly sequence, the modular system allows branched paths and greater freedom of scope in the process. AGVs, controlled from an intelligent IT network, convey parts between workstations.
Winding and inserting is a particularly strong competency at Györ, with optimal compact winding of the enameled copper wire. This is key in assembling the stator – a core component of the motor – as the tighter the winding, the more efficient the power delivery. In parallel to the production facility, Audi Hungaria has installed three test benches for electric motors in the engine and motor development department, for quality testing and continuous load operation.
PSA Tremery ready to adapt
Another high volume engine plant preparing for new ventures is Groupe PSA's factory at Tremery, near Metz in France. At one time reputed to be the world's biggest diesel engine factory, Tremery produced 1.2m of them last year as well 600,000 or so petrol engines. But with diesel sales declining, particularly in PSA's domestic market, a facility such as Tremery is ripe for change. PSA is preparing a significant push to electrify its range.
Seven new full electric models and eight plug-in hybrids by 2021. So the next step is to produce electric drivetrains at Tremery, co-developed with Japanese electric motor specialist, Nidec. The two companies announced a joint venture in 2017 – the stated aim being that by 2025 annual volumes will reach 900.000 electric motors.
In a more recent announcement, PSA says it will start assembling batteries for hybrid and electric vehicles at its own plants at Trnava in Slovakia and, at a later stage, Vigo, Spain. Peugeot's industrial director Yann Vincent says that sales of EVs rise, PSA anticipates assembling batteries at some other factories in the OEMs wider network.
Connection speed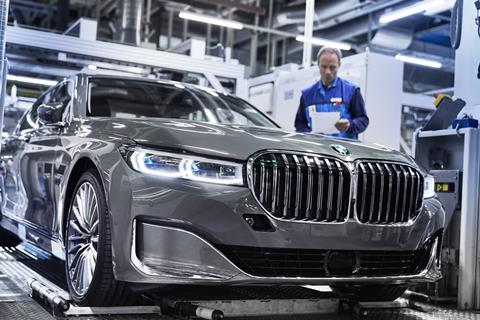 JLR and BMW have announced they are to join forces to develop next generation electric drive units (EDUs). The OEMs say joint investment in research and development, engineering and procurement will help them to provide the necessary economies as the industry transitions to autonomous, connected, electric and shared mobility (ACES).
A joint team of BMW Group and Jaguar Land Rover experts located in Munich are tasked with developing the power units with production of the electric drivetrains to be undertaken by each partner in their own manufacturing facilities. JLR's production will be at its Engine Manufacturing Centre (EMC) near Wolverhampton in the UK.