ZF is offering both hybrid and pure electric powertrain solutions to its customers in order to encourage the auto industry's transition to electrification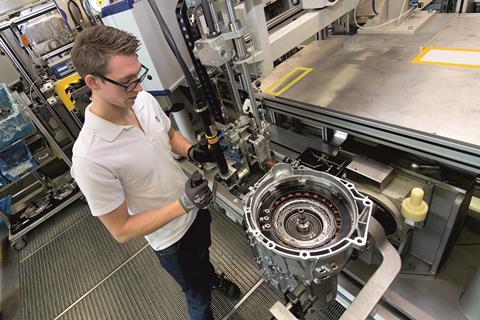 Many issues still need to be addressed before there is mass acceptance of battery electric vehicles (BEVs), such as the lack of charging infrastructure around the world and the time it takes to top the batteries up, let alone their range and price. Until this time, some industry experts believe the use of efficient hybrid powertrains is the best option. "This technology is available today and we can apply it immediately by working with an existing platform design," Jörg Grotendorst, head of E-Mobility division at ZF, tells AMS. "However, in the long term, there is no doubt that the future is electric."
The supplier is, therefore, determined to offer a wide variety of products in order to cater for both the near- and long-term. Drive units
ZF recently announced the official launch of its first full electric vehicle drive for passenger cars. The system, first unveiled back in 2016, features a 150kWh electric motor, a two-stage single-speed transmission and power electronics, all tightly packed into one small unit in order to simplify assembly and save on weight.
The technology can be used in BEVs, fuel cell vehicles and hybrids. Low volume production began for a European carmaker in 2018 at ZF's plant in Schweinfurt, Germany, and a major ramp up is expected to take place this year.
ZF is also working to electrify commercial vehicles and recently revealed a prototype electric light truck developed specifically for the Japanese market. Developed by ZF's engineering team at a technology centre in Yokohama, it features the 'CeTrax lite' – a drive unit based on ZF's electric drive for passenger vehicles.
"The beauty of our new e-drive module is that it can be installed in existing internal combustion engine (ICE) models and therefore converted to a fully electric vehicle without major modifications to the chassis and axles," commented Robert Seidler, head of R&D at ZF Japan. "This is thanks to our 'plug-and-drive' concept. The system is proven in terms of durability and cost efficiency as the electric drive system for passenger cars is already in series production in the market."
Similarly, the supplier has recently unveiled another electric drive unit specifically for buses and medium-duty trucks in the Chinese market. This was also developed locally in order to suit the demands of Chinese customers, and ZF is confident it "meets all the necessary standards for integration into established vehicle platforms."
ZF has further contributed to the launch of the first all-electric double-decker bus in the UK, supplying an electric portal axle – the ZF AxTrax AVE. This axle can be installed in a bus alongside a fuel cell drive, or it can operate as a hybrid or purely electrical unit. Automatic transmissions
Aside from the electric drive units, ZF has also been making a splash with its eight-speed automatic transmission. This has been in production since 2009, but the latest generation, which has been optimised by integrating a hybrid drive unit, is due to start rolling off the lines at the company's Saarbrücken plant in Germany by 2022.
"The share of hybrid drives in production will increase tenfold over the next few years – from 5% to 50%," commented Wolf-Henning Scheider, CEO of ZF. "We see the increasing market penetration of advanced hybrid drives as an opportunity, which in our view is much more than just a bridge technology. With longer ranges between 80-100km, they can complete the majority of all journeys electrically and thus help e-mobility to achieve a breakthrough more quickly."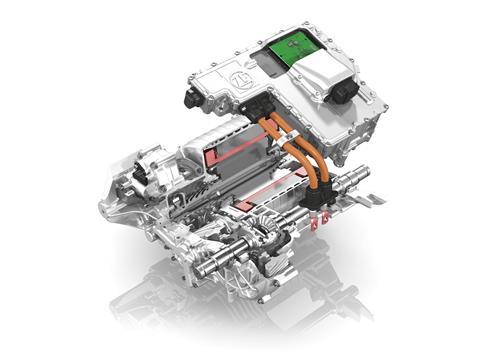 The Saarbrücken plant is ZF's lead location for transmissions. A sum of €800m ($891m) is being invested in order to ready the site for the introduction of the new eight-speed, with plans to enhance production systems, infrastructure and the supplier network. ZF has also introduced a variety of new projects at the plant that utilise artificial intelligence in order to help employees make quick and accurate decisions.
Elsewhere, ZF recently entered two joint ventures with Foton, the Chinese commercial vehicle manufacturer, to produce and sell commercial vehicle transmissions. The two companies have opened a new plant in Jiaxing, south of Shanghai, to make the TraXon 12-speed transmission for heavy- and light-duty commercial vehicles in the local market. A flexible fix
ZF typically works with companies that require premium quality high-performance drives, listing the likes of BMW and Porsche among its customers. While the supplier works with many major OEMs, production volumes requested by makers of pure electric and hybrid powertrain components are currently very unpredictable.
These two factors mean that the core processes of assembly lines must be incredibly flexible to manage volatile volume fluctuations as well as the rapid change of products being manufactured.
"To achieve this flexibility, we have engineered a high-performance stator and rotor line, with a production cycle time of 100 seconds," says Andre Grübel, manager process development electric drives, electric powertrain technology at ZF. "In addition, we can achieve 100% traceability of the product throughout the process. These flexible concepts allow ZF production to be more competitive in the market."
Furthermore, the company is focused on creating highly integrated and modular products, as witnessed by its eight-speed automatic transmission. This, in theory, means it shouldn't need to spend significant amounts of time and money restructuring manufacturing facilities to make its latest transmission or drive unit.
Finally, ZF has been using big data to optimise production processes. Its cloud-based internet of things platform, which was demonstrated at the 2019 Consumer Electronics Show in Las Vegas, accompanies products throughout the full life cycle. An example of this is a test bench for electric drives that has been newly developed by the ZF Group.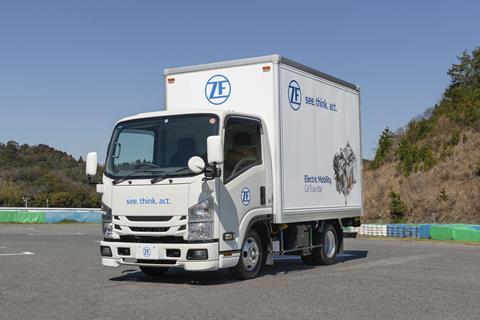 The test results contribute to continuous optimisation of production processes. Through the use of big data, potential problem areas can be identified quickly and either eliminated or optimised promptly, avoiding errors and their associated costs. A digital twin, in which test results are stored, is simultaneously created in the cloud from the data obtained for each electric drive produced. This 'digital birth certificate' provides relevant logistics and customer information for the associated drive module.
Divisional innovation
ZF set up a division dedicated to vehicle electrification to coincide with the unveiling of its electric drive unit back in 2016. This provides all products and solutions for both hybrid and full electric powertrains. Regular discussions with all the company's major customers allow exchange of current and future technology roadmaps. Trends in the markets and society often highlight close alignments.
Once these are identified, ZF sets up advanced engineering projects to devise product and systems solutions. These initiatives are not just worked through with established OEMs but also with new start-up companies. The idea behind this methodology is to combine mature systems expertise and product know-how with new agile methods and ideas.
An example of this is the new all-electric performance drive ZF developed for the Formula E Venturi Team. The drive was developed over a period of only 18 months from initial concept to delivery, and a further eight months saw the first race win in the fifth Formula E series in Hong Kong this year. The overall package was made possible by uniting materials expertise, toothing and gearing experience, optimal lubrication and cooling and the latest in power electronics.
"The experience gained from this racing application will impact on future ZF products," says Jörg Grotendorst. One example is silicon carbide in the power electronics, which ZF plans to use in volume production in around three to four years.