Mercedes-Benz has entered into a long-term strategic partnership with painting technology group Dürr with the aim of making vehicle painting CO2-free.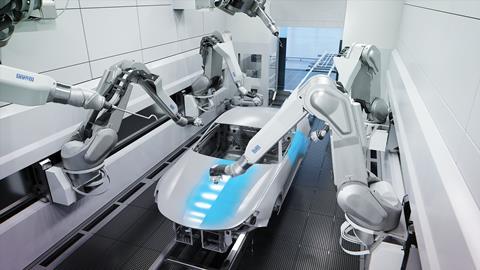 The partnership, which is set to last ten years subject to contractual conditions, has chosen Sindelfingen, Germany as its first project, where a new sustainable Mercedes-Benz paint shop will be constructed and equipped with the latest technologies from Dürr. Planning has already begun for the project, with Dürr expected to receive the supply order from the OEM next year.
The aim is to reduce the energy consumption per painted car body to less than 400 KWh, which is less than half the current consumption. This will be achieved through "the economical and intelligent operation of paint booths and car body ovens" and by using green electricity instead of fossil fuels in the painting process.
The companies have worked together previously. Back in 2017, Mercedes-Benz vans pioneered Dürr's Ecopaint RoDip technology in South Carolina to enable vehicle bodies up to eight metres long to rotate through an immersion bath, marking the first time the process was used in production of vehicles this size. Dürr was contracted to build the entire paint shop at the Mercedes-Benz plant in North Charleston and supplied robotic systems that were lighter and offered more maneuverability.
"By 2039, we intend to cover the energy needs of our global production network of Mercedes-Benz entirely with renewable energies," said Jörg Burzer, member of the Board of Management at the OEM. "Together with Dürr, we will take decisive steps in this direction in the coming years and take painting to a whole new level in terms of sustainability and energy efficiency."
Jochen Weyrauch, CEO, Dürr AG said: "Optimising energy consumption in the painting process is the key prerequisite for being able to build cars in a climate-neutral way. That is why the development of energy-efficient and climate-neutral technologies is at the top of our innovation agenda.
"The strategic partnership with Mercedes-Benz is an important lighthouse project in Germany as an industrial location. Together, we are implementing climate-friendly production processes on a large scale and are thus also playing a pioneering role internationally."