The Togg mobility device will be made available via direct sales instead of a dealership network when it goes on sale at 'touchpoints' from 2023.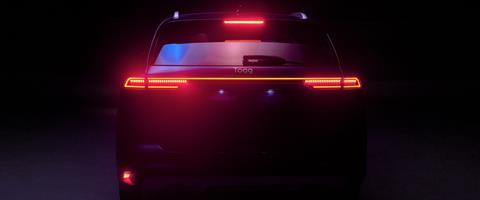 Turkish start-up Togg has revealed the first example of its all-electric SUV to roll off its production line ahead of sales from next year, the company said on Oct. 29.
The company refers to the vehicle as a digital device and "more than a car" and says it will produce it at a technology campus which is "more than a factory" and offer it to the public via "user touchpoints".
Behind the confusing marketing is a plan to launch an electric SUV with a heavy emphasis on connected and interactive features which Togg says will create convenience for the user, integrating details of their schedule and habits into onboard journey planning and entertainment software.
"We seized the opportunity in this era of technological transformation and set out to produce more than a car," said Togg chairman Rifat Hisarcıklıoğlu at the opening ceremony of the Togg Technology Campus.
"We are starting mass production with our first vehicle. When we complete the tests, that is, after about 5 months, Togg's first smart device C SUV will be on the roads."
Turkish President Recep Tayyip Erdogan attended the opening ceremony, the statement said.
Togg is backed by a consortium of Turkish companies and business organizations, including Anadolu Grubu Holding, BMC Otomotiv Sanayi ve Ticaret, Turkcell İletişim Hizmetleri, Zorlu Holding and the Turkish Union of Chambers and Commodity Exchanges.
Mehmet Gürcan Karakaş has held high-level positions in the auto industry for three decades, most recently in charge of the electric drive at Bosch. He is now CEO of Turkey's Automotive Initiative Group, or Türkiye'nin Otomobili Girişim Grubu ( Togg for short).
The five equal partners hold 19% of the enterprise, and Togg itself retains the remaining 5%. The shareholders include two firms, Anadolu and BMC, that already have some auto industry experience since they have built cars, trucks and buses for various foreign automakers.
Togg did not mention in which countries the vehicle will initially be offered, only that it would make "direct sales in a hybrid structure" starting with a first sales "touchpoint" in Istanbul.
Togg CEO M. Gürcan Karakaş said the company would not use a dealership model for sales of its cars.
"In global competition, those who puts the user at the center are more successful. We will bring our smart devices directly to our users and organize sales directly ourselves. We will serve in a hybrid structure that puts the user at the center and blends digital and physical experience. Our goal is to provide users with a faster, more effective and more efficient experience," he said.
Togg is also seeking to enter other digitally-driven spaces beyond mobility including big data, cyber security, fintech, blockchain, gamification and smart grids, it said.
The company said it is engaging in "valuable collaborations to grow the mobility ecosystem and develop new technologies" while "positioning our brand on the world's most reputable technology platforms."