The recovery of used parts suitable for re-sale builds on the company's existing initiative to refurbish and modernise second-hand trucks.
Renault Trucks will open a 3,000 square-metre facility near Lyon, France in early 2023 to recover reusable parts from end-of-life vehicles for resale, extending its circular economy initiatives beyond the refurbishment and repurposing of still-viable vehicles.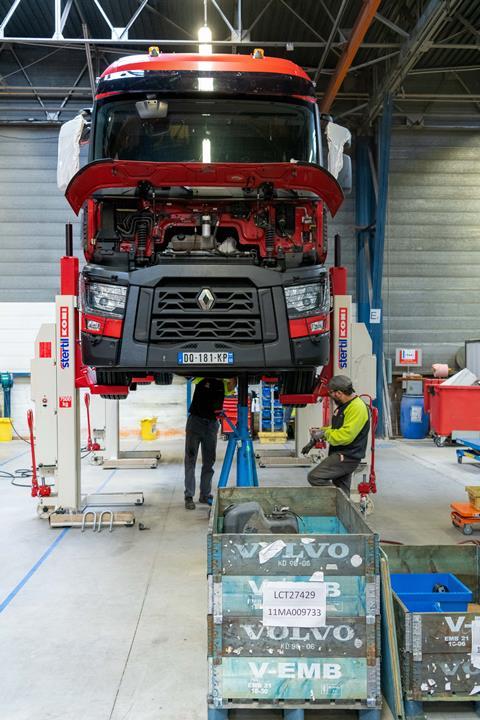 The used parts will be made available through the after-sales service network at a 50-60% lower price than new and go some way to easing a squeeze on component availability amid ongoing supply chain disruption, Renault Vice President for Used Trucks, Laurent Colpier told Automotive Manufacturing Solutions in an interview.
Used trucks will be dismantled at the facility in Vénissieux next to the company's engine-making and logistics centre to recover the drivetrain, cabin parts, the fuel tank and some bodywork while the frame will be recycled at a local foundry for re-use in new vehicles. Reusable parts are inspected, cleaned and labelled as used before re-sale.
"It's the opposite of assembly … It will remain very manual," Colpier said, adding that the operation would become profitable as volumes of processed trucks grows.
"If we need to be sustainable, we need to be profitable. We will recycle vehicles and make a profit," he said.
The company will set up the centre dubbed Renault Trucks Used Parts Factory on a spare area of its Vénissieux site. While it is likely to draw comparisons with Renault Group's circular economy initiatives for passenger and light commercial vehicles at Flins, northern France, Renault Trucks has been part of Volvo Group for two decades.
Renault Trucks conducted a feasibility study before committing to the dismantling project together with French car recycling specialist Indra Automobile Recycling and the French Environment and Energy Management Agency.
The Used Parts Factory will complement the Used Trucks Factory at Bourg-en-Bresse, also near Lyon, where vehicles are refurbished and updated with new technologies or even repurposed with different load-carrying formats prior to re-sale.
Colpier said the follow-up involved in inspecting and refurbishing of the company's trucks had given it valuable feedback that resulted in changes in the design of new trucks, particularly cosmetic aspects including a switch to more durable seat cover fabric and protection of areas found to be vulnerable to corrosion.
Renault Trucks sold an early batch of refurbished trucks in 2020 which are due to return to the factory next year when they will approach around 1 million kilometers of use, potentially for a further overhaul to extend their service.
"They could have a third life," Colpier said, explaining that trucks running costs are lowest from new until somewhere between 350,000 and 500,000 km after which heavier and more expensive maintenance becomes necessary. But refurbishment by the truck's OEM could make the vehicles an appealing economic proposition for some businesses.
With demand for reconditioned and repurposed Used Trucks Factory vehicles from the developing world, particularly the Middle East and Africa, the company makes significant adaptations to these vehicles prior to export to meet local needs and to reduce environmental impact.
With limited or no availability of the pollution-reducing urea additive commonly known as Adblue in these markets, Renault Trucks removes this fluid-adding system from Euro 6 emission standard vehicles altogether to recycle, raising the truck's emissions to those permissible under the Euro 3 standard of the early 2000's.
What needs rapid explanation however, is that the alternative of running a Euro 6 standard engine without Adblue, a feat achievable by hacking the engine cut-off system that usually engages in the absence of the fluid, would result in far higher emissions still.
"If you do that it is Euro 0 standard and extremely polluting. We wanted to give the best pollution level achievable without Adblue," Colpier said, adding that other truck exporters were frequently shipping used vehicles to those regions without taking this precaution.
"If you look you will see there are some who propose this solution and others who do not," he said.
The anti-pollution systems contain valuable metals including platinum and palladium which Renault Trucks recycles to produce new, similar equipment.