Commercial vehicle sales in Russia are on the decline, but Volvo Trucks has a plan in place to deal with the tough conditions. Michael Nash reports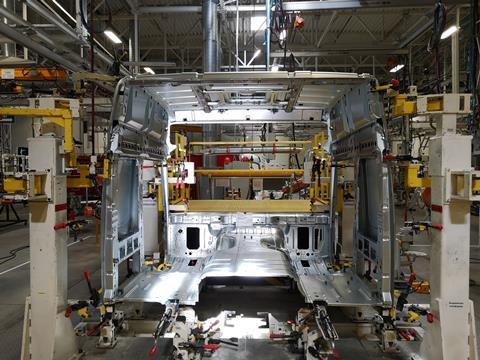 It's a tough job staying afloat in a volatile market, and perhaps none are as volatile as Russia's automotive industry. Companies have found themselves broadening product offerings, and some in some cases, even outsourcing capabilities to competitors in order to safeguard their manufacturing operations.
The key to remaining present in difficult markets, according to Nasser Abouayoub, vice president of the Volvo Trucks Kaluga plant, is flexibility.
How did Volvo Trucks deal with the crisis in Russia back in 2015?
So before the crisis happened the market was booming. Lots of companies were focusing on Russia to take advantage of the market, and foreign companies started to invest like Volvo and Renault. Volumes were good up until 2012. Then in 2013 there was a sudden dip, 2014 was poor, and the market dropped very badly in 2015. So we took the decision to shut down the plant for seven months. We continued to provide a small number of trucks to the Russian market from our plants in Tuve, Sweden and Ghent in Belgium.
And when did you become plant manager?
I was nominated for the position in 2015. I immediately had to make the decision whether or not to restart the plant. I saw the market was starting to recover ever so slightly, so we restarted production, making three trucks per day and operating only three days per week. It was a kind of ramp up. Between October 2015 until the middle of 2017, we moved from three trucks per day three days a week to 26 per day five days a week. And the capacity of the plant was only 24, so we did above the theoretical capacity. The new theoretical capacity is 30, because we made some changes to ensure we could react if the market started to boom again.
What have been the latest major investments?
Our Kaluga plant actually started life as a final assembly facility. But as a foreign OEM, we were required to support the state program on localisation, which pushed the Volvo Group to invest and create the cab plant here. So in 2014 we established our cab production plant here with body-in-white (BiW) production, painting and cab assembly. It cost 783m rubles (US$82m) and was only in operation for a year before the market collapsed, so it was a pity.
What about the changes you made in order to ramp up production from three trucks per day to thirty?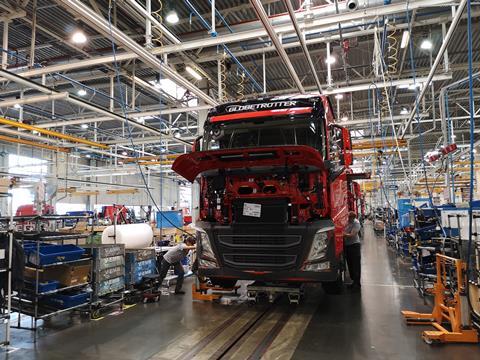 The Kaluga plant can make up to 30 units per day
There were a few efficiencies that we identified to speed things up. One of the big things was to make sure that all our workers were orientated in the same direction. So we had to work on things like teamwork and cooperation. In the Volvo Group we have an assessment called 'Going for Gold'. We were assessed last year and received a silver, and we have mapped out a path to the gold. It's a big internal push, to create an understanding among our workers as to what we are doing and why we are doing it.
Another one of the big things was to increase our flexibility. So before we were only producing for the Russian market as well as Kazakhstan and Belarus. We never exported elsewhere, but that has changed.
Where else are you sending your trucks?
We make most of our cabs at our plant in Umeå, Sweden before they are shipped to the Tuve and Ghent plants. The team at Umeå is running a new project in 2020, and so they are rebuilding some areas of the plant. As a result, it cannot fulfil the current volume demand from the European market. Because we can produce cab, we had the opportunity to support it, and so we now make around 12 cabs per day that are delivered to Ghent. We planned to stop doing this in April 2018, but because of high demand, we have taken the decision to continue. This shows how the plant is very flexible, and how it is becoming a very important part of the Volvo Group, providing support when necessary.
Was the decision to give the Kaluga plant this work a conscious one due to the unpredictable nature of demand in the Russian market?
It is no secret that Russia is a very volatile market, so we must stay flexible. There is no doubt it's our biggest challenge. We did see a decline in the first half of 2018, but we have also seen some positive numbers coming out of Europe. So we have to anticipate this and readjust our production accordingly.
That said, we are planning to keep making a total of 26 trucks per day five days a week during 2019 and 2020 – that's our current forecast. But that could change on Monday, we just can't be sure. If there is a steep decline in demand we have to be ready to ride out the storm. On the flip side, if the numbers go from strength to strength, then we need to be able to keep up and fulfil the orders. We need to keep both eyes and both ears open so we can be flexible and react as best we can to the conditions.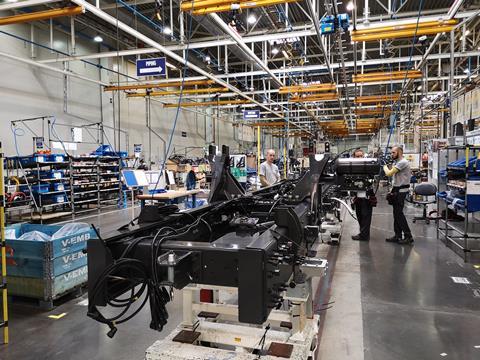 Are there any new projects on the horizon for you and your team at Kaluga?
The new FM is coming in 2020. We have a team working on that, getting us ready to make the new truck. We're working with the team at Umeå because they will be temporarily running with reduced capacity because of the rebuild. The plan is for us to take on some of that capacity.
Will you make many changes to the plant ahead of starting production of the new FM?
For me its adaptation, because we are not starting something completely new. Certain workstations might be more impacted than others. But each time we start a new project, we use the opportunity to rethink our processes, make things more efficient and easier for our workers. So we consider worker ergonomics, for example. We need to think about our people and how we can make things better for them.
So it's not a big change. We don't have fixed lines or cells here. There might be some changes to jigs and fixtures, but we won't need to do a big rebuild.
Volvo Group is a big champion of electrification. What are your thoughts on the trend?
We are looking at new technologies, but these won't be rolled out everywhere at the same time. Russia is not a market where there is currently a push for vehicle electrification, like there is in Sweden for example. So we still have time to adjust because it will come later in Russia, unless the government suddenly decides to jump forward with it. We will follow each market need. For example, if Russia decides to go with gas, then we will start making gas trucks.
But this is further in the future, and at the moment, we are more focused on being flexible and ensuring we are an important plant in the Volvo Group network. The principle for the Group is that all plants should be able to provide the same trucks for whichever market. So no matter if you get a truck that has come from Kaluga, Tuve or Ghent, there should be no difference in quality. This is why our processes and ways of working are the same across all our plants.
Truck sales
Figures from the analysis agency AUTOSTAT show that sales of new trucks fell by 18% during May 2019 when compared to the same month in 2018, with the total number reaching 5,000 units. It has now recorded a decline of 5.1% for the first five months of 2019.
The market leader was Kamaz, selling 1,500 units. Although this equated to 30% of total truck sales across all brands in the country, it was also 22.2% lower than in May of 2018. Volvo Trucks was ranked third, after GAZ. The Swedish manufacturer sold 441 units in May 2019 – 18.8% less than May 2018. The company sold 1,986 units in the first five months of 2019, 13.7% lower than the same period during 2018.
As Volvo's truck plant in Kaluga also ships cabs to Europe, Abouayoub keeps track of sales on the continent.Statistics from the European Automobile Manufacturers' Association (ACEA) show that sales of commercial vehicles in the EU were up by 2.8% in June 2019, marking the sixth consecutive month of growth.
The EU's market for commercial vehicles grew 5.8% during the first half of the year to 1,358,271 units. France represents the largest market, with a total of 289,936 units sold over the same period.