General Motors has confirmed that it restarted production of the Corvette sports car in Kentucky on Monday after a week of shutdowns that resulted from parts shortages.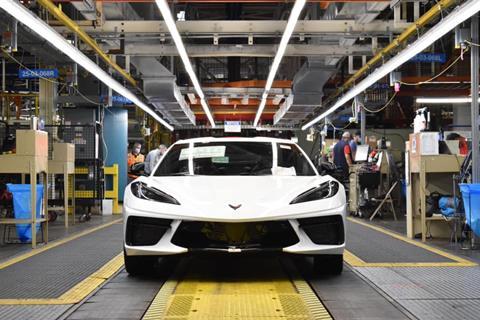 The assembly plant in Bowling Green, Kentucky, which exclusively manufactures the Corvette, had halted production starting on Monday, October 12. As of October 19, it has restarted.
The plant shutdown earlier last week. A GM spokesperson said in a statement: "Due to a temporary parts supply issue, we can confirm that Bowling Green Assembly will not run production the week of October 12. Our supply chain, manufacturing and engineering teams are working closely with our supply base to mitigate any further impact on production, and we expect the plant to resume normal operations on Monday, October 19."
GM declined to give further detail on the cause of the parts supply issue.
GM suspended new orders on the current generation of Corvette, the C8, along with a number of other models, in September over an issue concerning its brake-by-wire system, which the company said may have been contaminated during supplier production. It is unclear if the current parts shortage is related to the issue.
The C8, which features a mid-engine layout for the first time in the model's history, only entered production at the start of the year, a delay following UAW strikes late last year. Production was halted again in the spring as a result of the coronavirus pandemic. A GM spokesperson confirmed to Automotive News that Corvette inventory is extremely limited.
In order to catch up with pre-orders for the car, it added a second shift at the end of August. According to the blog Corvette Action Center, GM will extend production of the 2020 model year through December; normally 2021 model year output would have begun then. GM has yet to confirm these plans.