The partnership will focus on production capability as well as new energy vehicle sales, automobile component retail, EV charging infrastructure, battery sales and pre-owned vehicle brokerage.
Chinese automaker Geely and the region's technology giant Baidu, have formed an automotive joint venture focused on manufacturing electric vehicles.
The joint venture has been incorporated under the name 'Hangzhou Ji and Yue Automotive Technology Company' (or 'Ji and Yue') and has a registered capital of 10m yuan ($1.37m). The venture's primary operations will be in "new energy vehicle sales, automobile component retail, EV charging infrastructure, battery sales and pre-owned vehicle brokerage." The composition of Ji and Yue sees Geely hold a 65% stake, while Baidu's Mihang Automobile holds the remaining 35%.
Geely is headquartered in Hangzhou, China, and has 22 production plants across China, including one in Hangzhou. Therefore, it is likely that the new cars will be manufactured at one of Geely's production plants in Hangzhou, although the company has not yet revealed the exact production location to the public.
From Geely and Baidu's JIDU to its Ji and Yue: Technology and Automotive forges tighter relations
The collaboration is noteworthy as it represents the second joint venture between Geely and Baidu, following the creation of the JIDU brand in 2021. The CEO of JIDU, Mr. Xia Yiping, will also serve as the general manager of Ji and Yue.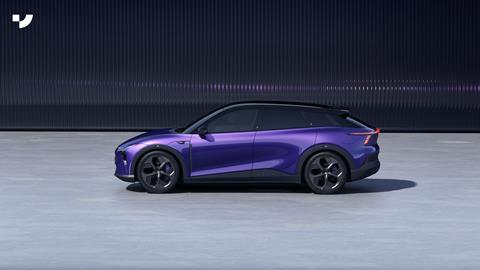 In March 2021, when Baidu and Geely joined forces to establish the JIDU automotive brand, the move was recognised as tech giant Baidu's official emergence as an automaker. Since then, it has moved remarkably fast to showcase concept and production models. In June 2022, the JIDU JV showcased its first concept vehicle, the ROBO-01, within the virtual realm of the metaverse, introducing its debut production model just four months later with the ROBO-01 Lunar Explore Limited Edition, and its second model by the end of last year at the Guangzhou Auto Show, with the ROBO-02 all-electric sports coup.
The ROBO-01 is built based on Geely's SEA (Sustainable Experience Architecture) platform, and is scheduled for large-scale deliveries in the third quarter of 2023, with the ROBO-02 expected to follow suit in 2024.
As a Geely-Baidu collaboration, JIDU has already established a network of brand experience centres in Shanghai and has plans to expand into 46 cities this year to solidify its market presence with a comprehensive network of 100 sales outlets. Similar, if not more significant moves are now expected by Ji and Yue.
Baidu has already been spotlighted as a company that is playing a major role in reshaping the auto industry's future with major projects and collaborations that have quickly garnered international attention, with its launch of driverless cabs in Beijing. With autonomous vehicles forecast to account for one-tenth of all road traffic by 2030, Baidu's recent collaborations and expansions are positioning it to be a key automotive player in China; with the establishment of Ji and Yue, further strengthening its potential market position.