Lithium-ion battery provider Farasis Energy has confirmed that it will add 24 gigawatt hour (GWh) per year production capacity to manufacture electric vehicle battery cells, modules and packs in China.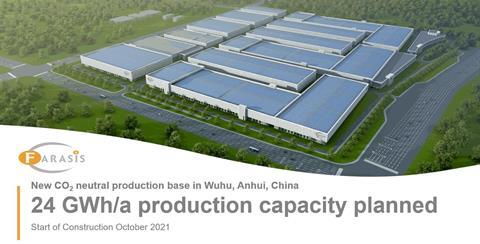 The construction of the new production base in Wuhu, Anhui province is planned for October 2021 and plans to be carbon neutral.
Overall, Farasis aims to increase global production capacity for batteries to 120 GWh per year over the next few years.
To achieve this goal, the company plans to expand the capacities of existing plants in Zhenjiang and Ganzhou up from currently 23 to 41 GWh per year.
Daniel Harrison, Automotive Analyst for Ultima Media, said that "the expansion in capacity and new plant are to be expected. What's most significant is that this is a carbon neutral factory."
"Increasingly battery cell suppliers who supply globally are having to make their manufacturing operations carbon neutral in response to growing pressure from regulators around the world to supply sustainably produced batteries to comply with tightening regulation e.g, Europe's new Regulatory Framework For Batteries," he added.
According to an AMS battery report, Farasis / Funeng ranked as the 9th largest supplier in 2020 with 10 GWh of capacity. The rapid rate of expansion expected means that the company is planning to double capacity each year.
New Priorities
Farasis also intended to begin production of battery cells with their German partner Daimler in the eastern region Saxony-Anhalt. However, there are conflicting reports regarding the status of the agreement.
In a company statement, Farasis has admitted to "shifts in priorities and timings, which also affect the planned site in Bitterfeld" but the strategy for the site would be announced, "in due course". The company has cited "turbulent developments in this market", "major European projects", and limited manpower.
Speaking to AMS, Daimler said that Farasis is "one of our strategic partners for Mercedes-Benz battery cells" and the company remains committed to the partnership.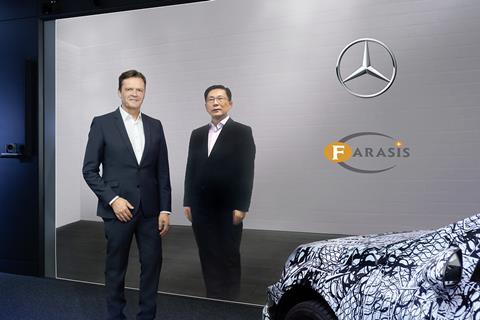 However, German outlet MDR reported that a "major customer" had actually terminated the cooperation, alleged to be Daimler. Farasis has reportedly insisted "that the strategic partnership between Daimler and Farasis Energy remains unchanged".
This was initially reported as an agreed-up postponing by two and a half years from April 2022 to October 2024.
The delay was seemingly the result of Farasis prioritising its resources to get its existing factories in China up and running without disruption.
Formal approvals are still required to begin the construction phase at the European plant in Bitterfeld-Wolfen.
Sebastian Wolf, the then-Regional President Europe at Farasis said: "We have decided to prioritise the ramp-up of production at our lead plant in Zhenjiang.
"In this context, we are adjusting the schedule for localisation in Europe."
Sebastian Wolf has since departed from Farasis as its regional head and in August joined Volkswagen as head of operations for battery cell at the carmaker, which is planning new six new battery gigafactories in Europe.