Experts discuss how they are using digital technology to streamline time-consuming and expensive processes from supply chain monitoring to assembly planning.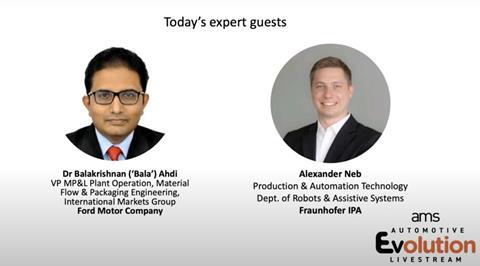 Automotive manufacturers are turning to new opportunities to exploit data analytics and artificial intelligence, from manufacturing engineering and planning to daily production control and logistics.
A recent AMS Automotive Evolution Livestream featured the visions of assembly and automation experts that could reduce inefficient planning and supply disruption in production – something which Ford sees as a key step towards the industry reaching the next stage in smart manufacturing and supply chain in 'Industry 5.0' as it embraces digital technology to gain supply chain visibility and bolster resilience.
Meanwhile, a German entrepreneur has developed a system to automate production of assembly instructions, streamlining a time-consuming, expensive process needed every time a design is changed.
Balakrishnan Adhi, head of Ford material planning and logistics (MP&L) plant operations across Asia, Africa and South America, told Automotive Manufacturing Solutions (AMS) during a recent livestream broadcast that the live feeding of supplier data was a component of a push towards a more human-centric Industry 5.0, which he suggested would facilitate more agile decision making for production.
"Industry 4.0 is more technology-driven whereas industry 5.0 is more like value driven, which involves a lot of collaboration. It is more of a human interface and how we can maximise the interface," said Adhi, known to his peers as Bala.
This further transformation in manufacturing boils down to machine-generated and human-inputted information that workers at Ford plant can use to gain precise advanced knowledge of supply availability when preparing production schedules, Balakrishnan explained.
"You ensure all the parts are there and then produce [the vehicle]. This is all basic information and data that you are trying to get," Bala said, admitting that current processes remain more reactive than predictive.
"You look at that insight and see if you can go ahead and allow the production to happen. We are doing a lot of baby steps in these areas. In the future, it is definitely going to grow and become more data driven."
CLICK HERE TO WATCH THE AMS Automotive Evolution LIVESTREAM on connected production ON DEMAND
Automating the automation
Alexander Neb, a researcher with German research institute Fraunhofer IPA who has now founded his own automation company, has also discovered opportunities to take complex information of a different nature but to apply the same focus on efficiency. ARCaide Assembly Systems, which Neb has formed together with others from Fraunhofer IPA, has set out to automate much of the work involved in producing assembly instruction documentation.
Neb said production of assembly instructions for goods not delivered pre-constructed by the producer is a process that can sometimes take months because of the time taken to gather the necessary information and collaborate with the parties involved.
The system Neb is developing, and which originated as part of his PhD research, still requires inputting of key information such as weight, dimensions and colour of a part and variables like gravity direction versus the position of a part. However, using this information, the software can automatically generate a full set of instructions for assembly processes.
"The AI analyses everything then we get structured assembly information out of it. With that, we can define what assembly is needed, define the tools, the assembly direction and so on," Neb said, describing how a factory's assembly planner can interact with an assembly composer software to generate documentation and video instructions.
"It's pretty easy and first studies showed that we are 92% faster than the state-of-the-art systems, by using the assembly composer," he said.
The software can simultaneously take account of many thousands of variables which a human might instead get around through a trial-and-error approach.
Neb said around 80 companies are currently waiting to trial the software, which is driving an expansion of the start-up as he seeks to expand his team to meet industry interest. He said there were several automotive companies among these, some of which had already attempted similar automation work but with limited success.
The next AMS Automotive Evolution Livestream on July 28 will explore EV battery and powertrain production, featuring Italvolt's Lars Carlstrom and AMS analyst Daniel Harrison. Register to join live or watch it on demand.