From training, quality and work station design, OEMs are seeing a host of applications that can benefit from virtual and augmented reality technology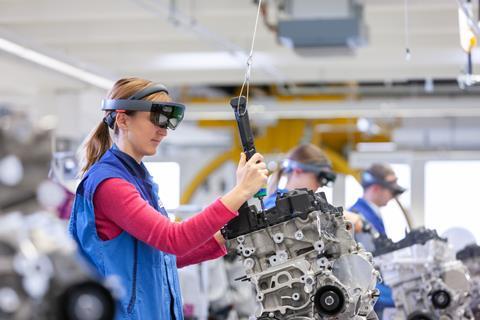 At its production academy in Munich, where BMW provides training for its managers, production planners, process leaders and quality specialists, augmented reality (AR) technology is being put to good use.
Since last year, AR headsets have been assisting trainees through sessions on engine assembly units. Participants, kitted with headsets, are taken through the stages of collecting parts from bins, selecting tools and applying the part to the block. Their view of the surroundings is augmented with visual instructions, such as arrows directing them toward the part bin, synthesised images of the component and its placement, all laid over the real block in front of them.
They can work at their own pace, determining the progress of the training through voice control, calling "next" when they are ready to proceed.
BMW says the technology has allowed faster throughput. Whereas previously, the supervising trainer worked one-to-one, the AR approach means that three trainees can proceed simultaneously. In addition, according to feedback received, it is proving positive from the trainees point of view.
Besides engine assembly, the training can also be easily adapted to other screw joint processes. BMW can retain a great deal of control as the team at the production academy developed its own authoring tool, meaning design and set up of training programmes is quick, easy and adaptable.
Hole new look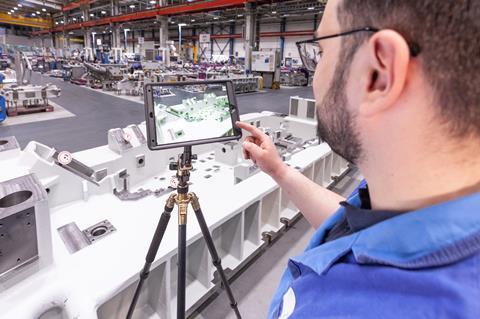 Given the scale and weight of a typical body-part press tool, inspection and verification can be complex and time consuming. At BMW's toolmaking and plant engineering unit, the team has solution in place that makes use of a simple tablet device, mounted on a tripod.
With the tool in view, the AR application superimposes the image with the CAD construction data of the tool specification. The process works across on a criteria of around 50 items ­– this could be drill holes and other clear surface features – the viewer can check whether all production specifications have been implemented.
With inspection taking place at the toolmaking unit, any rework of deviations can be addressed more quickly than if the tool is inspected at its assembly area destination.
Fitting response
Using an application BMW has developed in cooperation with the Fraunhofer Institute for Computer Graphics Research, plant engineers can use AR to assess construction integrity and maturity of pre-series vehicles.
With an algorithm calculating best fit, the application compares the image on screen with CAD data from several parts at once. Engineers can determine, for example, whether a side wall fender has the correct dimensions, an exhaust system is installed in the target position, or how the necessary parts have been mounted.
The virtual workstation
As preparations were made to ramp up production of the new 3 Series in Munich, planners created individual workstations, laid out completely laid out in virtual form.
In a joint effort, production teams along with building, systems, logistics and assembly planners were able to assess a production station in virtual reality and test new procedures in 3D.
A key example was cockpit preassembly. With development work in progress in the virtual world, the existing cockpit assembly line could continue with interruption or disruption.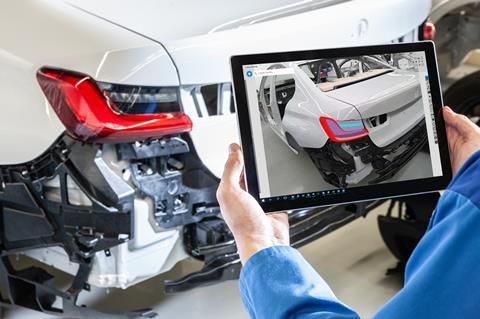 As a tool it is easy to use, BMW says. With no specialist knowledge required, project can be commenced with only a brief introduction for the team of representatives from different specialist areas. It's the software which handles calculations for real-time rendering of all objects in virtual-reality glasses and simulations.
Matthias Schindler, heading up virtual planning and implementation in production at the BMW says: "Time-consuming trial installations that replicate the workstation were no longer needed. And the fact that all the specialists involved were easily able to exchange ideas in the early stages was an important added benefit for the team. We were more transparent, more flexible and faster overall."
Underpinning the system and the planning process is digitalised 3D factory data. Over the past several years, BMW has been capturing the real-world structures of its plants in digital form, using special 3D scanners and high-resolution cameras.
It's created a series of three-dimensional images of the production network, accurate down to the millimetre, to form a so-called cloud diagram.
The tool means that time-consuming, digital reconstruction of real structures and manual recording on site are no longer necessary. BMW can now combine existing data with its virtual library of shelves, lattice boxes, small load carriers and other widely-used operating resources in planning future workspaces, whether large scale assembly halls or individual stations.
Picture perfect
Earlier this year, Skoda began a large-scale trial featuring augmented reality projections to supporting teams as they pack knocked down kits at the Mladá Boleslav plant's CKD centre.
Using a video mapping system (comprising an ultra-high-resolution laser projector and an HD camera), Skoda sees a significant advantage in that the operator isn't required to wear a headset or goggles. Video projections are cast onto the floor, carrier or pallet surface – 'mapping' any uneven parts of the surface to retain the correct and undistorted form for viewing.
The image, visible to the naked eye, indicates the correct position for a part on the pallet. AR features such as text, images and videos further assist the staff in optimally securing and protect the components. Once the operator scans the component serial number, a laser indicator line is activated and points to the exact location on the pallet where this component is to be placed. Poka-yoke features mean that the system can alert the team when a part has been placed incorrectly.
Skoda is testing and developing the technology. One particular challenge is to enable the cameras to adjust according to intensity of the ambient lighting in order the the imaging stays sharp and legible.