Developments in hardware and increasingly sophisticated software and data management have created more opportunities for automated production systems. Automation expert Jörg Reger, managing director of ABB Robotics' automotive OEM business line, discusses the challenges and opportunities created by the transition to electric vehicles.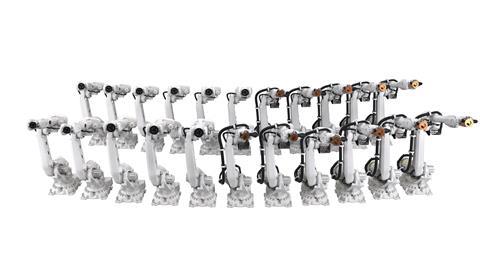 With the automotive industry transitioning to electric vehicles what is the context for automation? What are the drivers and challenges you see in the industry?
Jörg Reger (JR): E-mobility is a huge driver of change. Now, globally the overall market share of electric vehicles (EV) is around 14% but the outlook is suggesting that every second car produced will have an electric powertrain by 2030. So, the pace of change is very fast.
One of the big challenges in this change is the increasing complexity in the manufacturing process. We still have a high mix of powertrain variants. Alongside the existing ICE we have the variations of electric powertrains, from pure electric battery electric vehicles (BEV) to the various levels of hybrid technologies. And then there are also hydrogen cells coming into the market.
So, the manufacturing processes are having to be adapted to meet this new complexity. Development of EV architectures and battery technologies is continuous, and this requires a different approach to manufacturing, and we can see this with the newer manufacturers, like Tesla, who have started something of a revolution in how they are manufacturing cars.
These changes also increasing the need for more skilled and qualified people in the workforce. And there is a shortage in this area, so it's another challenge for the OEMs and tier suppliers to recruit and retain enough of the right people.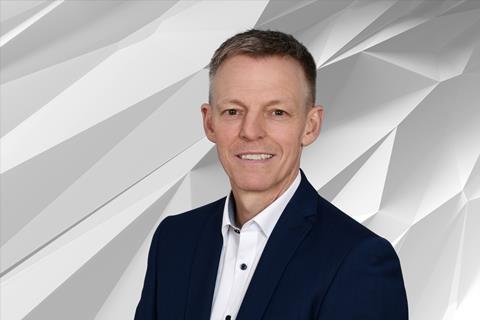 You mentioned the changing vehicle designs and technologies that are more challenging in manufacturing. Could you offer some examples?
The battery itself is still in a development phase. For example, Toyota is saying they want to launch a new long-range, fast charging solid based lithium-ion battery in 2026. So, when it comes to the production and assembly of the battery cells it is a new process, installing the battery cells into the enclosure could also be different. The design of the enclosures is also in development and different companies are looking for different solutions to make the battery safe in this box, to cool it and integrate the electrical control units for the battery.
The design and manufacturing of the electric motor is also new for us. At ABB we are supporting the manufacturing of the rotor, stator and the motor control units. And this also has an influence on the chassis, and we are seeing a lot of changes in this area. There is a trend towards reducing the number of parts in the vehicle structure, so processes such as megacasting (used by Tesla and Volvo) means handling bigger parts and therefore, the need for higher payload robots.
"This is taking automation to the next level with higher levels of flexibility, repeatability and greater control, with feedback from the data collection and analysis bringing more information to the operators to help them to take the right decisions" – Jörg Reger, ABB
What has ABB been developing in response to these new requirements in manufacturing?
At the Automatica show we launched a completely new robot family to support the automotive industry in this transition. There are 22 new robots which have been designed with lower weight and with a new state-of-the-art controller, so we are supporting sustainability with a 20% reduction in energy usage. As I said, in many areas we are handling more heavy parts, so we are offering a wide range of payloads from 130kg up to 310kg and a greater choice of reach, from 2.5m to 3.2m, to cover a range of applications.
Productions cells are something else we have been developing. We are designing and building standardised and separate application cells. Also, using autonomous mobile robotics (AMR) to support logistics, bringing parts to the production cells, we can create a very dense installation, reducing the footprint and making the production operations very flexible. When it comes to up or downscaling it is easy to add or remove cells as needed depending on the application. This supports production for very high mix of variants, and batch sizes.

This is taking automation to the next level with higher levels of flexibility, repeatability and greater control, with feedback from the data collection and analysis bringing more information to the operators to help them make the right decisions.
I would say Automatica is the most important fair we have in Germany, showcasing the technologies which are supporting trends in the industry and society. We will launch two new variants of cobots, demonstrating the possibilities in collaboration between human workers and robotics. Sustainability is another important topic and as mentioned something that is a key part of our development process.
You mentioned many changes and developments. Do you see a different mindset and approach towards automation now?
The changes in production operations mean that manufacturers really need a broad range of robots, for example with higher payloads. Digitalisation is also a big factor in automation because using the data from the line, bringing it to the cloud or to an AI system can really help optimise the production line, and support the operators in making the right decisions to increase productivity and efficiency. This is an important trend. Flexibility is also really important, and we see a strong demand from manufacturers for this.
Also, there are influences coming from outside the automotive manufacturing sector, for example, from the mobile phone industry. They have a lot of experience in lean and efficient production, and some are stepping into automotive, recruiting people from this industry, and combining the knowledge and experience they have together to develop flexible production operations.
It's perhaps a bigger challenge for the established, high-volume OEMs, as they are working with existing plants and processes. When it comes to the car design there is also a different mindset, with the newer vehicle manufacturers focussing more on other areas like connectivity, software, driver assistant systems. We are already seeing this in China where they are really focused on the entertainment, information, connectivity in the car.
We talked a little about skills shortages. Carmakers have always needed a strong business case to automate any process. Are you seeing the skills gaps being supported by more automation now?
We can see there is a trend for more collaboration between robots and human workers, where the manufacturers are looking more closely at different areas where they can use cobots and these systems are now more sophisticated and offer more options in applications.
Another factor is that competition globally is very strong and with EVs it's still hard to make a good profit, so the OEMs are looking to reduce costs. Increasing automation also requires the workforce to be trained with different skills. So, the trend is towards the dull and repeatable work being done with robots and that human workers work closer with robots in a collaborative way and are taking the more qualified and the higher skilled jobs.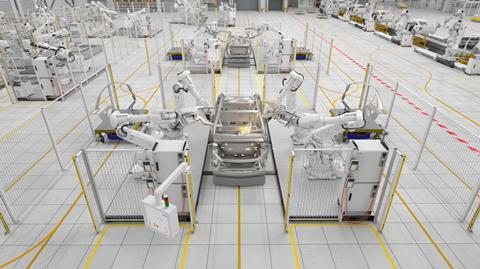 As we've discussed, there's a lot going on around those engineering challenges. Is that something that you pick up on as an automation partner and supplier when you're when you're discussing projects with clients?
JR: I think the automotive industry is the most exciting and inspiring area you can work in now, because as you said, the constant and rapid change in design is enormous. For a long time, the technology has been on very high level and the design in many areas has been fixed, but now it's completely new. For us it offers the opportunity to develop different solutions. We are having a lot of discussions with tiers, OEMs, with battery manufacturing, on a global scale. So, we have a really a broad overview. This means we can combine ideas and requirements from different customers and develop them into new solutions.
We bring extensive knowledge of vehicle manufacturing operations, for example car body production, covering the whole process from press shop, painting, assembly, and final trim. And we can bring all this knowledge to our customers. On the R&D side we are now working on new solutions and applications, for example on megacasting operations and motor and rotor assembly production.
We see car makers and tier suppliers increasing their competences through either acquiring or partnering with companies. Does ABB look to outside expertise to bringing in extra competencies?
You cannot do everything on your own. You have to partner with companies, particularly when it comes to digitalization and there you have to work together combining strengths and experience. And then also you need to consider new start-ups. There are so many great small companies coming up that have developed good solutions.
Acquiring a company can also be a good option for both companies, for example, ABB acquired a company that brought AMRs into our portfolio because we understand that the future of flexible production will require a flexible transport system, not a fixed conveyor as we see still in a lot of factories. Teaming up with other companies is now very important as it enables you to make a big shift in technologies and competences in a short time frame.
To summarise, the keyword is change, isn't it? Everything we've spoken about is not fixed. Everything is changing.
Yes, the automotive industry is undergoing a dramatic change throughout the whole manufacturing process. This change to an electrical powertrain means that the complete design of the car and manufacturing is going to be different. And the whole industry is now also being challenged by these pioneers like Tesla, like BYD. They have started from the beginning with no 'legacy' thinking or infrastructure and asked the question 'how can we produce an electric car in a better way?' And as I mentioned, there are other companies entering the automotive sector, such as mobile phone producers who also bring a totally different approach and experience to manufacturing, bringing more change
Find out more here