How does Audi build its two most powerful vehicles, one conventionally powered and one pure BEV, on the same line? Martin Kahl talks exclusively to Audi Sport executives about the automaker's low-volume assembly operation at Böllinger Höfe
On an unremarkable industrial estate on the outskirts of Heilbronn, Audi has a low-volume production facility where it produces its two most powerful and highly distinctive road vehicles. What is remarkable is that one is conventionally powered, the other pure electric. What is even more remarkable is that Audi builds both models, in any sequence, on the same line.
The R8 V10 is Audi's combustion-engined two-seater supercar, designed for track days and more; its non-identical twin, the e-tron GT quattro, is a high-performance Gran Turismo EV – and there's even a more powerful RS version. The R8 and the e-tron GT sit on different platforms and have little in common, save for the four rings on the front and the Audi Sport DNA running throughout them.
Audi Sport GmbH is a wholly-owned subsidiary of Audi AG, with responsibility for Audi's high-performance RS range. Like BMW's M offering and the Mercedes AMG range, RS models are the pinnacle of the Audi product range, and these two vehicles are the pinnacle of the RS portfolio.
Audi builds RS models alongside the standard versions of the corresponding model line; the RS 4, for example, runs down the same line at Ingolstadt as the A4. But the R8 and the e-tron GT have their own dedicated facility, run by Audi Sport.
When it introduced the R8, Audi knew its mid-engined performance car needed its own assembly area—hence the development in 2014 of a dedicated R8 assembly facility at Böllinger Höfe in Heilbronn. Five years later, with significant ambitions for electrification, and in need of somewhere to assemble its new high-performance EV, the e-tron GT, the automaker looked to Böllinger Höfe and the assembly team that had already proven itself capable of high-quality small-series assembly.
RS stands for motorsport
To understand the importance of Böllinger Höfe is to understand Audi Sport and the role of RS. Originally founded in 1983 as quattro GmbH, Audi Sport as it is now came into being in 2020 when RS series production, 'Audi exclusive' vehicle customisation, 'Audi collection' lifestyle products and merchandise, and all Audi motorsport activities were brought together under one roof. As far as motorsport activity is concerned, Audi has since gone a step further and established Audi Formula Racing for the company's next and—from 2026, only—motorsport endeavour: Formula 1.
"To accommodate the wider RS chassis, we widened the body line, and the paint shop, but there were always phases of production that could not be completed on the line."
The RS range bridges the gap between road and track, and has since 2006 been spearheaded by the R8. Indeed, according to Stephan Reil, Audi's Head of Technical Development at Neckarsulm, "The R8 is the best example of true technology transfer from motorsport to road car." For 16 years until 2017, Reil was responsible for the development of all whole-vehicle projects and equipment ranges of Audi Sport (and quattro before), as well as for the customisation of Audi vehicles.
"We build several R8 variants, starting with the motorsport version, which is the most successful GT3 car in the world, and has around 50% parts commonality with the road car," he continues. "And the R8 GT4's parts commonality is even higher, at around 60%. For the high-performance gearing of the second-generation R8, we developed the GT3 and the road car in parallel and launched them at the same time."
The chassis of the GT2, GT3, and GT4 racing cars are made in-house by Audi Sport, explains Wolfgang Schanz, Head of Audi Sport Production at Böllinger Höfe.
We'll come back to Böllinger Höfe later; first, let's consider what RS means for Audi.
RS production
"RS is always the sporty pinnacle of the corresponding car line," says Reil. Not every Audi model line is topped with an RS version, however; technical and business case considerations play a key role in the decision to hand a model over to Audi Sport for RS development.
As noted, apart from the R8 and the e-tron GT, all RS models are built on the same line as the base model, but this was not always the case.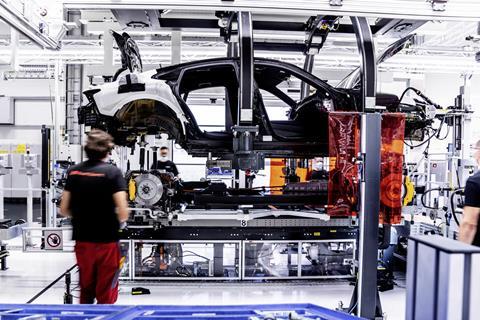 "We began RS production in 2000 with the RS 4, and our volumes were much lower," explains Reil. "To accommodate the wider RS chassis, we widened the body line, and the paint shop, but there were always phases of production that could not be completed on the line. RS wheels were too wide, and complex engine bay assembly processes could not be completed in the normal 'takt' (assembly stage) time. So we finished assembly of RS vehicles offline in our own assembly hall and did our own quality control."
By the time Audi launched the RS 6 in 2015, notes Reil, volumes justified planning the RS models into series production. "Now they all go down the mainstream line with the A and S models." Audi Sport employees work line-side to carry out RS-specific assembly tasks.
Böllinger Höfe
And so to Böllinger Höfe, that Audi Sport building on an industrial park 6km from the main Neckarsulm factory.
"The first-generation R8 was assembled in a craft workshop-style hall at Neckarsulm," says Schanz. "For the second-generation model, we decided to build a dedicated low-volume centre focused on flexible manufacturing processes, and we retained the craftsmanship, manual assembly, and the manually welded aluminium spaceframe from the first-generation R8."
"We proved the value of low-volume production. We showed we were ready for a second low-volume model, and the volume forecast for the e-tron GT fitted Böllinger Höfe perfectly. Our Audi colleagues examined what we were doing and proposed that we add the e-tron GT at Böllinger Höfe."
The second-generation R8 spaceframe introduced carbon fibre components, which Schanz says make it 40% stiffer than the first-generation, and improved handling and driving dynamics. By contrast, the e-tron GT's body is a mix of ultra-high strength steel and aluminium.
The R8 and e-tron GT take the same route through the factory, and can be sent through in any order. To make this possible, Audi extended the R8 production line from 16 to 36 'takts'. For context, says Schanz, "I was previously responsible for the mainstream A6 line, where we had 250 takts. In this regard, Böllinger Höfe is a small and exclusive assembly line. And thanks to our driverless transport system, we don't have a classic conveyor line, differentiating us significantly from high volume assembly."
Parts and systems are delivered to the line using the so-called pearl chain system, and vehicles are assembled in the sequence in which customers place their orders.
Each chassis moves from one takt to the next on a combination of fully autonomous automated guided vehicles (AGVs)—the driverless transport system mentioned by Schanz—and an electric overhead monorail. As well as transporting the vehicles along the assembly line, the AGVs are height adjustable, to enable assembly operations to be carried out. One of the key features of these AGVs is their ability to navigate autonomously around the factory, each equipped with its own CPU and laser scanners to measure distances and surroundings.
With the addition of the e-tron GT and the subsequent increase in production volumes, Audi extended the AGV system, and added the monorail. "This enabled us to raise the working height, and rotate the chassis at all workstations," explains Schanz, "increasing productivity, and saving the time taken to transfer the chassis from the AGV to the monorail."
R8 and e-tron GT: the pinnacle of low-volume production
The question is, why would Audi decide to build a high-performance battery EV on the same line as a combustion engine-only performance car?
"To put it simply, we proved ourselves with the R8," grins Schanz. "We proved the value of low-volume production. We showed we were ready for a second low-volume model, and the volume forecast for the e-tron GT fitted Böllinger Höfe perfectly. Our Audi colleagues examined what we were doing and proposed that we add the e-tron GT at Böllinger Höfe."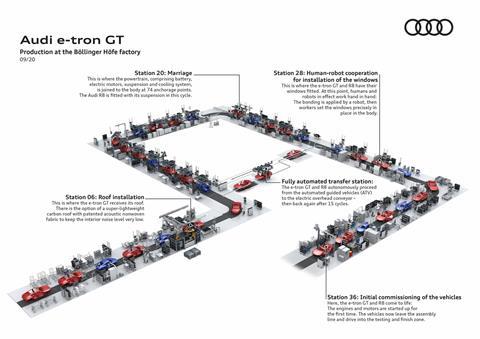 Audi's real-life production lab
Audi keenly promotes Böllinger Höfe's mix of craftsmanship and smart production, with considerable levels of manual labour used alongside automation and innovation.
"Böllinger Höfe is first and foremost a small-series, flexible, and innovative assembly operation," notes Schanz. "However, we do also operate as a real-life production lab where we try out new ideas that are deployed in the main factories if appropriate."
Made at Böllinger Höfe: Innovations piloted at Audi's 'real lab'
The list of innovations at Böllinger Höfe is long, and includes:

Autonomous guided vehicles (AGVs)

Used at Böllinger Höfe, these have since been deployed in the main Neckarsulm factory.

Prototype-free manufacturing planning

The e-tron GT was the first Audi model to be planned entirely virtually. It also went into series production faster than any other Audi model.

Virtual reality glasses

Piloted at Böllinger Höfe, VR glasses are now being rolled out group-wide for production planning.

"Edge Cloud for Production"

Cloud-based digitalised production data stored on a separate server limits the amount of data storage required at each workstation. Böllinger Höfe is the pilot plant, ahead of an Audi-wide roll-out.

Workstation monitors

Assembly station workers use line-side monitors to enter suggestions to improve the assembly process, and to receive assembly instructions.

Highly accurate milling centre

Can achieve an accuracy of +/-0.3mm for fixing points.

Collaborative robots

Used for windshield mounting; the assembly worker positions the windshield and rear window, and the adhesive is applied by a robot.

AI camera technology

Used for surface finish quality control.
Net zero production at Böllinger Höfe
Audi proudly boasts of net zero production at Böllinger Höfe; indeed, it was the first Audi plant in Germany to become net zero. "Since the launch of the e-tron GT, we have improved the sustainability of our operations and achieved net carbon neutral production," explains Schanz. "We can't avoid all CO2 emissions, so we finance some of this carbon neutrality with carbon credits, but we use CO2-free electricity, and have every form of renewable energy source on site.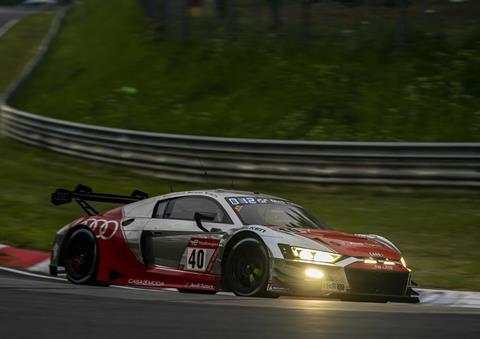 "In terms of sustainability, we go one step further," notes Schanz. "We have a closed loop for aluminium parts. We use a considerable volume of aluminium, especially for the e-tron GT, and all cuttings are returned in a closed loop to the aluminium supplier for recycling. We're also trialling a similar closed loop for polymer waste."
Electrification and life after the R8
In production since 2006, and offered only with a combustion engine, it's no secret that time is nearly up for the R8. Although no date has been set for the end of production, Audi has added the Audi R8 Coupé V10 GT RWD, a special edition, 333-unit limited-edition run, marking the V10 engine's swansong.
In July 2023, Rolf Michl, Managing Director of Audi Sport confirmed a long-anticipated cutback on motorsport activities ahead of Audi's F1 entry; given the importance of road car production to motorsport, the R8 plays a central role in GT racing, and the company's decision to direct all motorsport funding exclusively to F1 is a further indicator of the imminent retirement of the R8. There is no planned successor to the R8 in its current form with a combustion engine; from 2026, Audi will only launch new pure electric road cars; and from 2030, Audi's full product range will be electric.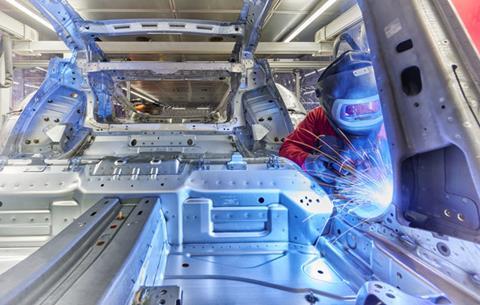 Since RS is the bridge between motorsport and mainstream road cars, what are the implications for RS of racing in F1, which uses hybrid rather than full electric propulsion? "Audi has a clear electrification strategy," says Stefan Bamberger, Head of Technical Development at Audi Sport. "But we also have bridge technologies, and we will be hybridising all of our core models, drawing on our F1 hybrid technology expertise."
Audi Sport took the leap into electrification around four years ago, with the installation of a 48-volt system in the current RS 6. "Since then, we've successfully launched the e-tron GT at Böllinger Höfe, and it's now our sportiest vehicle, the pinnacle of the whole Audi portfolio," says Bamberger. He adds that Audi will assess the core elements of an RS, such as steering and handling, to see how electrification fits into the model range.
"It worked very well with the e-tron GT, and we will continue to develop future fully electric RS vehicles."